The COVID-19 pandemic is unprecedented, and it's had a (sometimes) surprising effect on our lives. Whether it's extra time in bed, the occasional argument with a loved one or a brand new hobby, self-isolation has affected everyone differently. Our study on British people during the lockdown has revealed some interesting results; read on to find out how you stack up against the average Brit.
Adapting to the new normal
Unsurprisingly, 84% of the people we spoke to said the lockdown has turned their life upside down. 23% of the people we talked to told us that they're struggling to differentiate the week from the weekend, and 23% no longer get that 'Friday' feeling. 14% of people even told us that they miss commuting to work.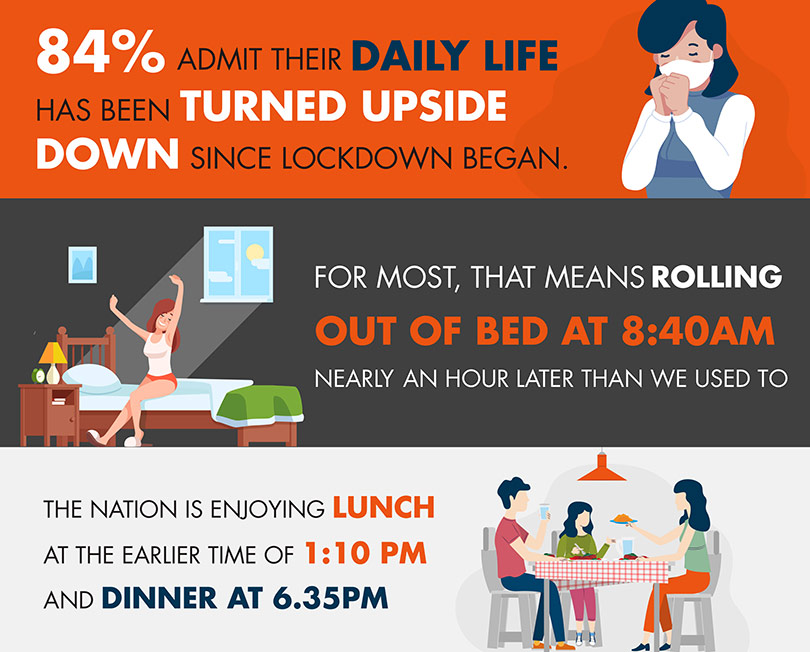 Our research shows that most British people are getting out of bed at 8:40 am, almost an hour later than the previous average of 7:45 am, and the average Brit is enjoying lunch earlier (1:10 pm) and having dinner earlier (6:35 pm).
As a nation, we're spending a lot of time online during lockdown, with the average Brit spending five hours a day online and three hours a day video calling friends or colleagues. On average, we're shopping online three times a week and having two parcels delivered a week. We're also spending three hours a day reading or watching the news and over 2 and 1/2 hours a day listening to the radio.

Unsurprisingly, the nation is missing the freedom they had pre-lockdown. 35% of the people we spoke to said they couldn't wait for a holiday and 38% said they're eager to go shopping.
Eating and staying fit and healthy
It probably won't surprise you to hear healthy eating habits are in decline during the lockdown. The average Brit is consuming an extra 333 calories a day, and the most popular lockdown snack of choice is cheese on toast, which 22% of Brits admitted to being their favourite. Other popular lockdown snacks include cheese and onion crisps (21%), bacon sandwiches (19%), chocolate cake (19%) and cheese and crackers (18%).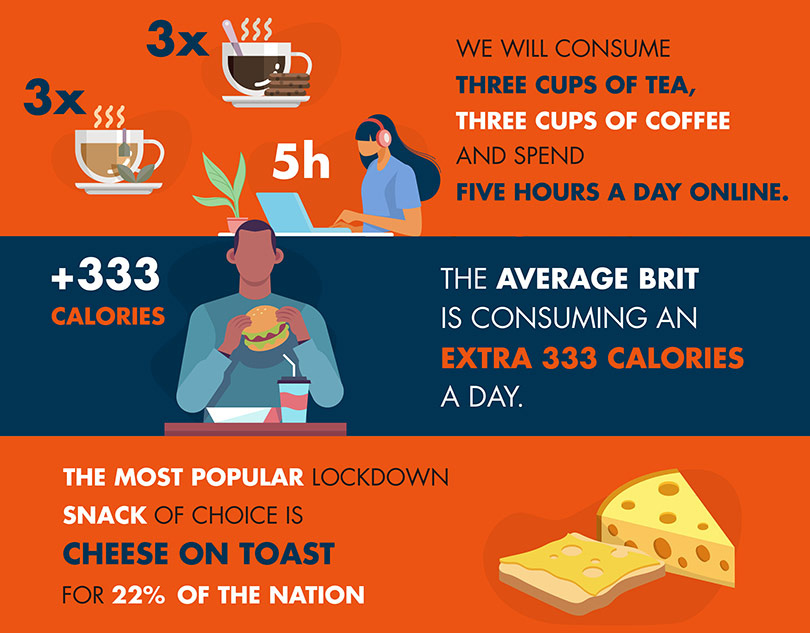 On average, we're comfort-eating two portions of ice cream, two chocolate bars and two and a half slices of pizza a day, washing it all down with three cups of tea and three cups of coffee a day.
Although the average Brit might not be eating particularly well, 16% of those we spoke to have created a new or improved fitness regime, with around 10% of people doing more running, yoga or cycling. Our research also shows that Brits are spending up to two hours a day on beauty treatments at home, including face masks and long hot baths.
Cleanliness is next to godliness
We found that British bathrooms are being cleaned three times a week, the house is being hoovered four times a week, and the floor is being mopped three times a week. 72% of the people we spoke to admitted to doing more household chores than before. As a nation, we're washing our clothes four times a week and using the dishwasher three times a week.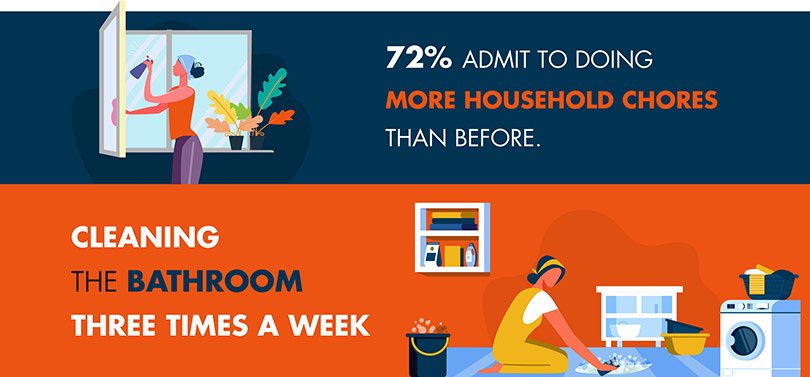 Keeping the peace at home
Unfortunately, the lockdown has caused tension in some households. 24% of the people we spoke to admitted to arguing over things they wouldn't usually disagree on, 20% of people said they had argued with someone about slacking off on cleaning and chores, 18% of people argued about what to watch on TV, and 16% of people complained that others were being too noisy. Believe it or not; 12% of the people we spoke to admitted to arguing about when the lockdown will be over.

This is only one half of the picture. 76% of the people we spoke to told us that they are grateful to be self-isolating with others, with 27% of those people confessing that it can be challenging at times. Just under half of the nation says that the thing they miss most about life before lockdown is being able to see friends and family, with 35% of people missing going for coffee or drinks with loved ones.
We're still enjoying ourselves
We found that Brits are taking advantage of their time at home by trying out new hobbies. Brits are spending more time in the kitchen, with 22% of people cooking things they've never tried, 25% baking cakes and 13% making their own bread.
35% of the people we spoke to confessed to using time in lockdown simply to watch extra TV than normal, but 23% said that they're reading more and an inspiring 4% told us that they're writing a novel.
The lockdown and your money
According to our research, the average Brit in lockdown organises their finances between once and twice a week. Have you considered using any extra time you've gained to give your savings a boost? At Raisin UK, we've taken steps to ensure that you can still grow your savings through our savings marketplace. It's free to register for a Raisin UK Account and everything's online, so why not check it out today?

Kevin Mountford, the co-founder of Raisin UK, had the following to say about the UK lockdown:
"It's safe to say that it's been a turbulent few weeks for the nation, with more testing times ahead. While Britain's time in lockdown has seen some negatives, it's extremely encouraging to see the positive aspects of what people are doing with their extra time; whether they're taking up a new hobby or finally getting around to organising their finances.
"At raisin.co.uk spending just 10 minutes organising your hard-earned savings could earn you hundreds of pounds more than if you left them in a low-interest paying account. With extra time on your hands, getting to grips with your finances and savings could help you secure a better financial future."