Claim £50 for opening your first savings account (terms apply) ›
Wedding on a budget - Planning Tips
There's no getting around it, weddings are expensive and costs can get overwhelming. With wedding costs a staggering 3,000% higher than they were in the 1950s*, many couples in the UK are now planning their weddings on a budget, and they're still having an amazing day. On this page, you'll find out how to plan for a wedding on a budget, get wedding budget tips and understand how you can best maximise your wedding savings.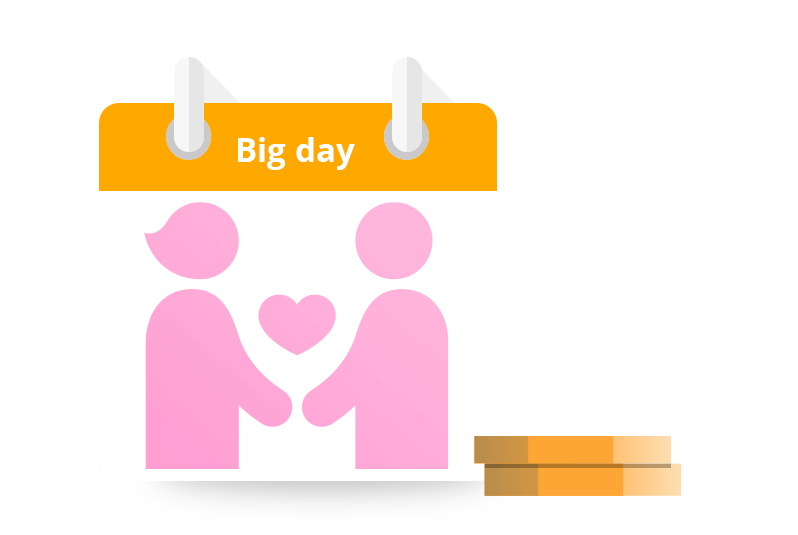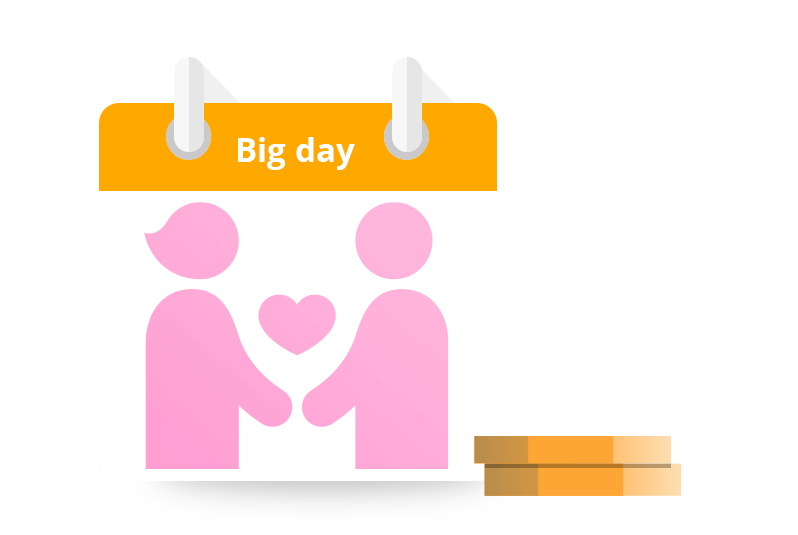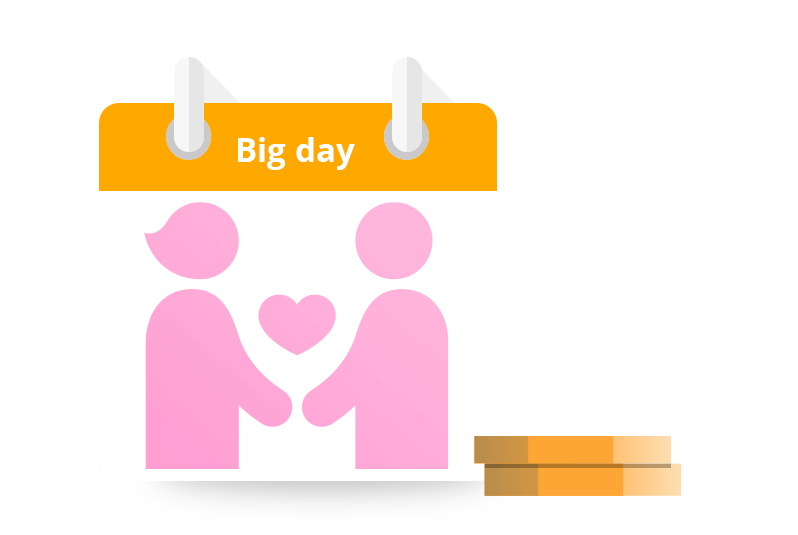 How do I plan a wedding on a budget?
While the average cost of a wedding in the UK in 2020 might be £17,000**, there are plenty of ways you can reduce costs if you're on a tight budget. 
A good first step is to agree on the kind of wedding you want, and bear in mind that keeping it simple generally means that you'll save money. Rather than thinking about the finer details at this point, consider what you want to do and what your priorities are for your wedding day (beyond getting married).
Once you've decided on the kind of wedding you want, set your budget. List everything you'll need to pay for and how much each aspect of your wedding might cost, so you have a total cost. Once you have your total wedding cost, you need to do what many people find to be the hardest part of planning their wedding; you need to work out how much you can spend. This should include how much you already have saved, and how much you'll be able to save up to your wedding day. If your family is making a financial contribution to your special day, include that, too. 
Once you know how much your wedding might cost and how much you'll be able to spend, you'll then know where you need to cut costs and make savings. It's a good idea to put your list in order of priority so you know you'll be spending your money on the things that mean the most to you, while saving money on the things that might be less important.
7 quick wedding budget tips
1. Choose an unconventional day or season for your wedding
The biggest cost of most weddings is the venue, but if you're prepared to get married out of season or on a weekday, you might find that venue costs start to drop. 
2. Double-check that everything's included
When you've chosen your venue, make sure that everything you'll need on the day is included in the cost, so you don't get any unexpected bills. It's not unheard of to be charged extra for things like cake knives, crockery and linen. It's important to ask your venue as many questions as possible, no matter how small or obvious the answer may seem. You could end up saving a lot of money.
3. Look for cheaper venues
The good news is that there are now a lot of different types of wedding venues to choose from and many are good value, especially if you can keep your guest list down. Look for a venue that hosts simple celebrations with basic food and drink. Your day will still be very special.
4. DIY invitations, RSVPs, table plans and cards
Planning a wedding on a budget means you'll probably have to do some DIY. Making your own wedding invites, RSVPs, table plans and table cards can save you a substantial amount of money. You could also hand out your invites rather than mailing them, and email wedding invites are becoming increasingly popular, too.
5. Include a contingency in your budget
When you're planning your wedding budget, it's a good idea to include a 5-10% contingency so that you'll be able to cover any unexpected costs.
6. Open a wedding savings account
Organising your finances is one of the best things you can do if you're planning a wedding on a budget. Opening a savings account that's dedicated to your wedding will mean you're less likely to be tempted to spend your funds, and you'll also earn interest, so you've got that little bit extra in your budget.
7. Compare, compare, compare
It's not just important to compare savings accounts. Comparing costs for everything you'll be buying, from venues and cakes to photographers and honeymoon travel companies, will help you find the best budget-saving options.
How can I maximise my wedding savings?
If you're saving for a wedding, you might consider opening a wedding savings account so you can earn interest on your savings. Depending on the amount of time you have to save before your wedding day, it's worth comparing different types of savings accounts so you can get the most from your savings. 
If you have one or two years to save and a lump sum to deposit, the competitive interest rates you'd earn with a fixed rate bond might be right for you. If you have less time to save but still want to maximise your savings, you might consider a notice account.
Which countries spend the most on weddings?
When it comes to weddings, many couples like to go all-out. From the all-important dress to the all-too-often tragic wedding DJ, there is no shortage of things to spend your money on when planning your big day. There are, however, differences around the world in terms of which aspects of a wedding are considered the most important, and most worthy of our hard-earned cash.
While some countries go big on the dress, others splash out on the honeymoon, with cultural significance deciding which aspect gets the most attention.
At Raisin UK, we understand the value of saving more than most (and love a good wedding party), so we have combined search trends and average spends to figure out which wedding must-have is the most popular of all.
If you're a wedding crier, get your tissues ready. It could get emotional.
Japan spends more money than most countries on weddings
Among the top spenders are Japan, Norway, and Germany. All four spend, on average, a total of £6,659.81 on their top three wedding priorities, but what exactly do they put their money towards first?
The wedding kimono is crucial in Japan
Japanese brides don traditional wedding kimonos, representing the purity and sacred nature of the bride, and this cultural significance means that, in Japan, there were more searches in the last 12 months for 'wedding dress' than for any other wedding-related term (5,400 searches). The average wedding dress there will set you back around £722.16, so it's safe to say the costs are racking up already.
The next most popular search term is 'wedding ring', with 2,400 searches and an average cost of £2,712.45, while the third most popular term is 'honeymoon', with 1,600 searches, and a cost of around £3,225.19. Get those swimsuits ready; Hawaii is calling.
Norway's brides place huge value on the dress
Like Japan, Norway's search history reveals that the most desired wedding item is the dress, with 5,400 searches. While many brides now opt for the white gown that is synonymous with Western weddings, there are many rich traditions involved in Norwegian weddings. If choosing to go down the traditional route, the bride will wear a 'brudekjole' (wedding gown) with a Norwegian bridal crown, which is usually a family heirloom. While many won't wear this exact outfit, the dress itself remains a significant part of the wedding, so it goes without saying that many will spend as much as they need to to find the perfect one.
Norway places slightly more importance on the honeymoon than Japan, with 1,600 searches making it the second most searched-for wedding term. The term 'wedding ring' had the same number of searches, but did not trend as high, so it finds itself in third place.
Travel-loving Germany puts honeymoon's at the top of its list
With a huge 12,100 searches, the term 'honeymoon' is by far the most popular search in Germany. In German culture, it is a common tradition to create a 'wedding newspaper', including pictures and stories of the happy couple, which is then sold to guests at the wedding reception to help fund the honeymoon. Anticipation for the honeymoon is evident through this tradition, so it is no surprise that this search term clinches first place for Germany.
Also with 12,100 searches, but trending lower, is the term 'wedding dress'. The dress has much less of a cultural significance in Germany than the previous two countries, so second-place it is. There were only 4,400 German searches for 'wedding rings' in the last 12 months, but as we all know, as long as you have a holiday booked, the material stuff doesn't matter so much.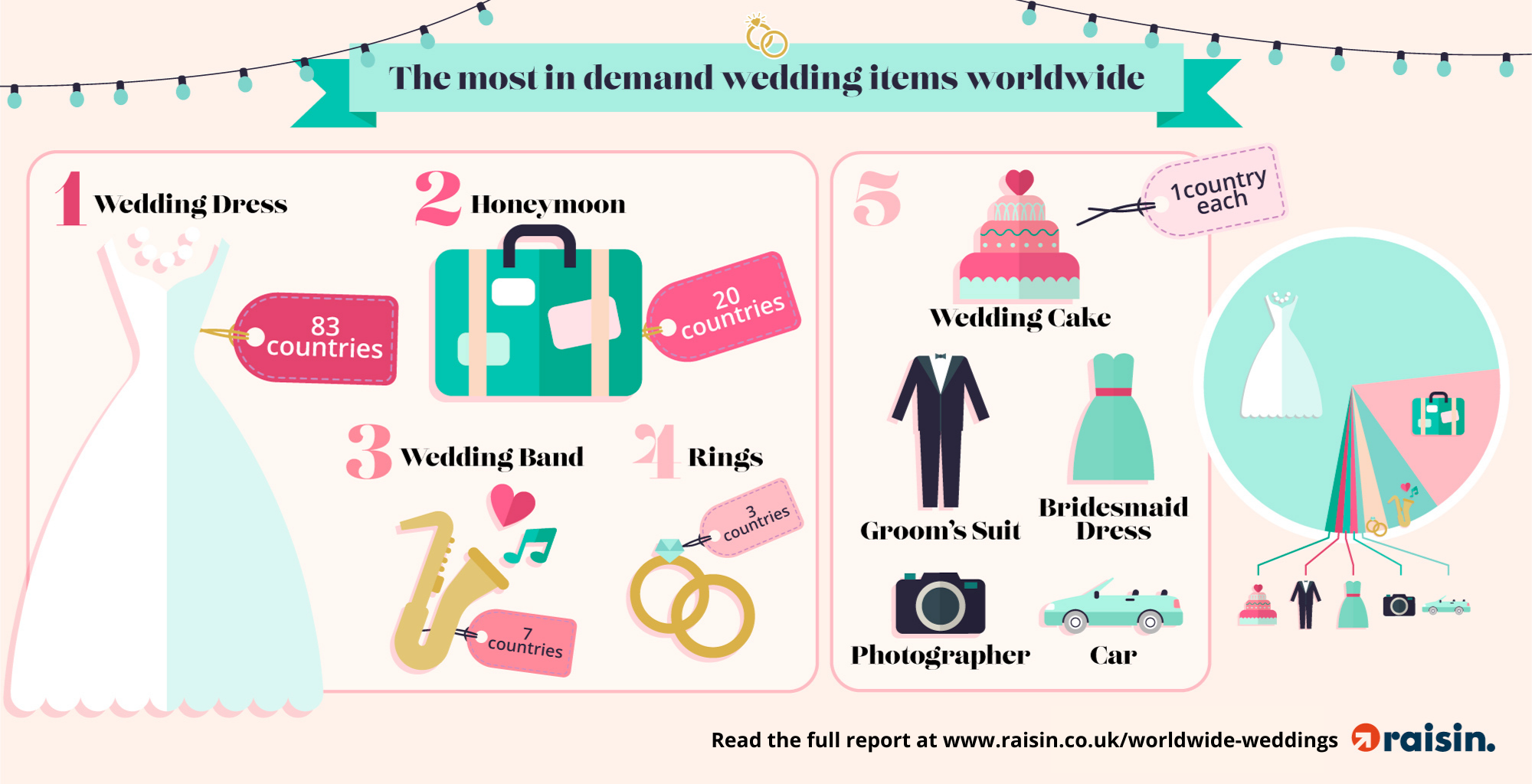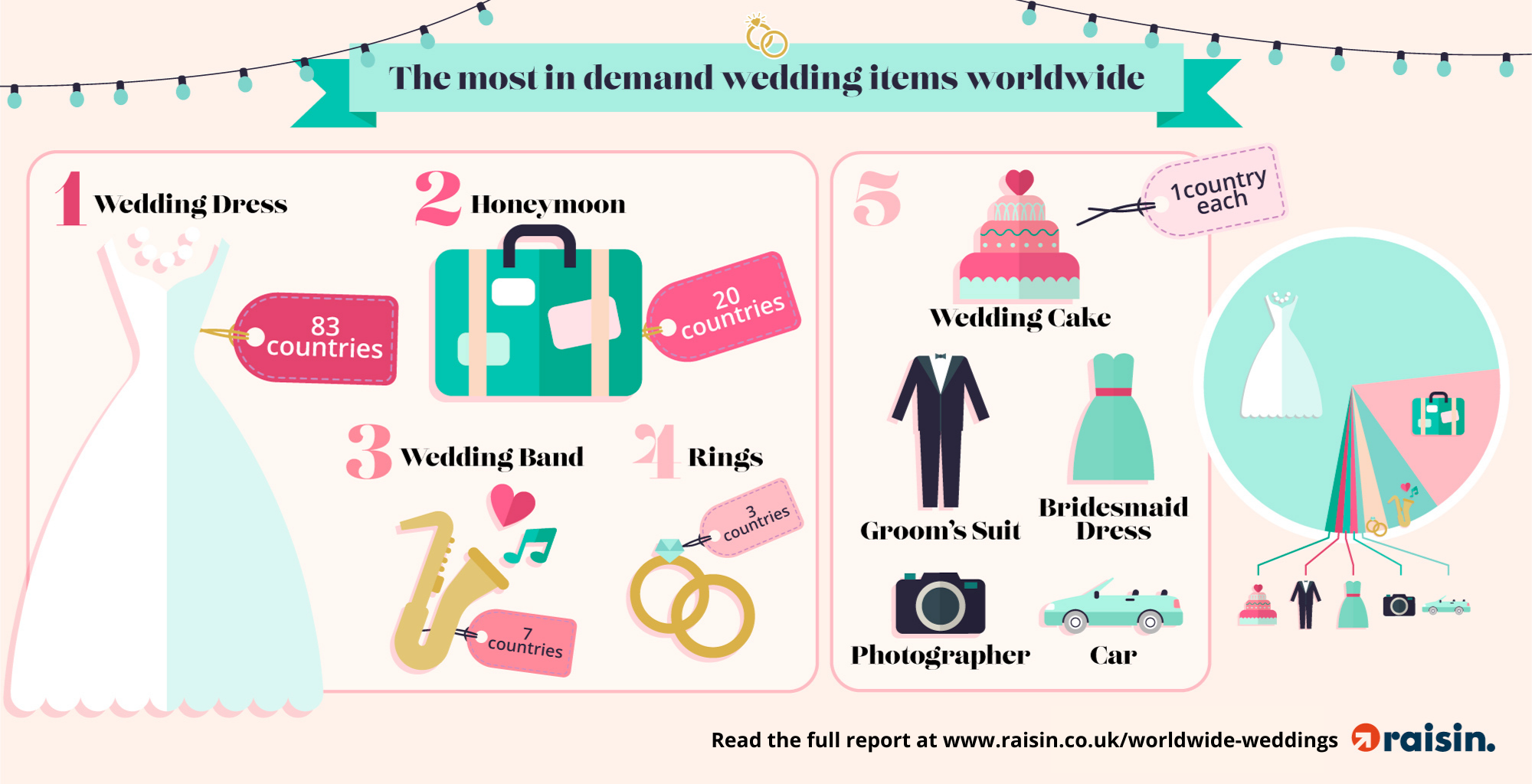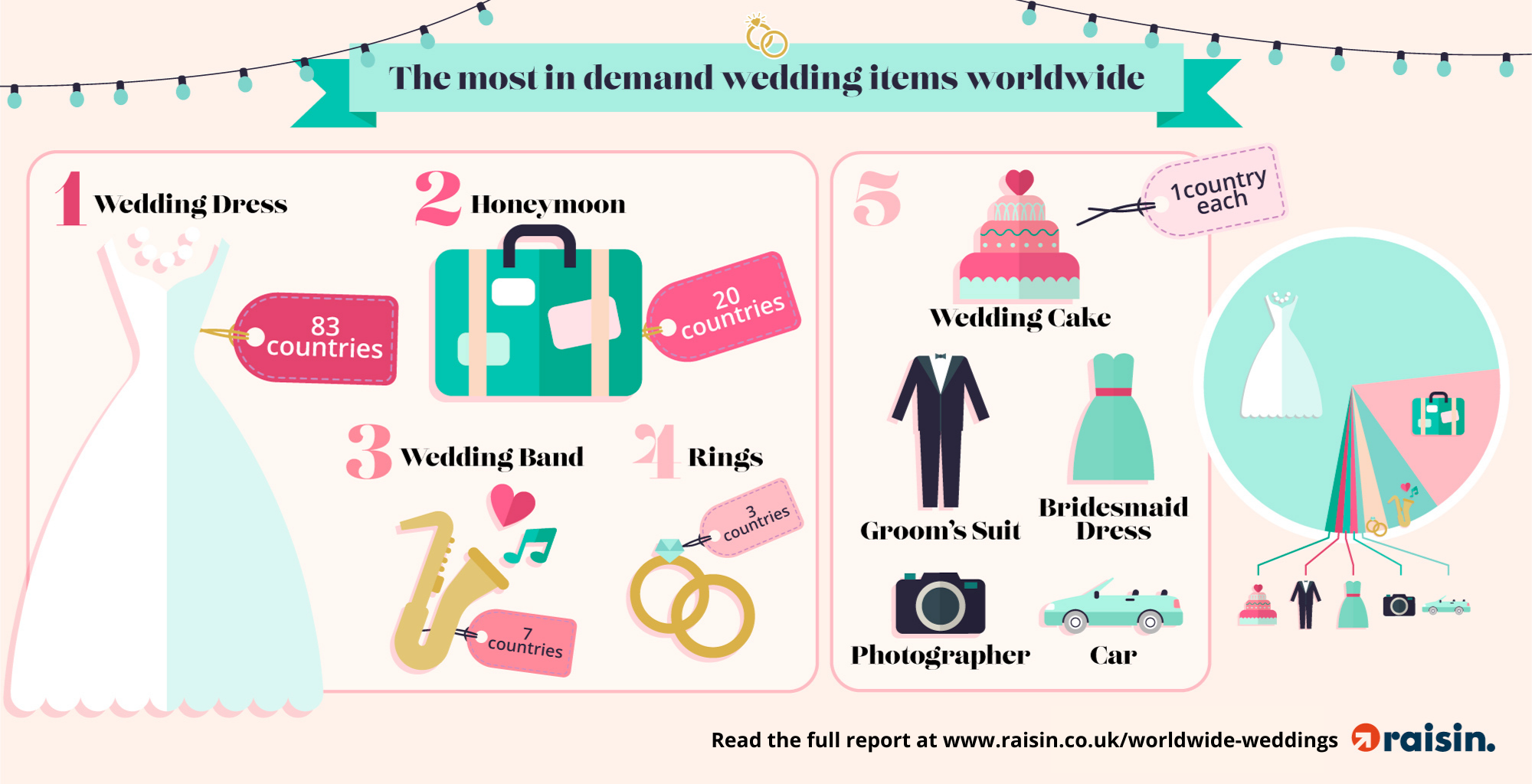 The UK and the USA value similar things when it comes to weddings
The UK puts the outfits first
We recently discovered that the average Brit thinks they must set aside £26,300 for their dream wedding, and 41% of women alongside 34% of men would be willing to sacrifice the traditional hen and stag do to make this happen. However, while there may be more than just three main expenses involved in planning a wedding, focusing on your top priorities can help you decide where to cut costs, and where to splash out, in order to make your dream wedding happen within budget. When looking at the UK's top search terms linked to weddings, 'wedding dress' comes top, with 368,000 searches in the last 12 months. It's clear that for many, spending money on a dress is well worth the cost.
What's the point of the bride looking beautiful if all her bridesmaids look like they just got out of bed? The British understand the importance of a great wedding photo, so, naturally, bridesmaid's dresses are the second most searched-for wedding term in the UK, with 135,000 searches.
Finally, to finish off the outfit, 'wedding rings' were searched for 110,000 times over the last year. The average wedding ring costs £2,712.45.00, however a recent survey discovered that 35% of people believe that spending the traditional amount of three month's wages on a ring is too much. If the ring is one of your priorities, though, it could be well worth cutting costs elsewhere to splash out on your dream bling.
With all three top priorities costing a total of £4,262.95, the rest of your wedding can afford to be budget-friendly without having to sacrifice your style – or your hen do.
The USA loves to say yes to the dress
If you've ever ventured onto any daytime TV channels out of boredom, chances are you will have seen a reality show based entirely around the 'finding a wedding dress' process. They are mostly, if not exclusively, based in the US, so it's no shock that 'wedding dress' is the most searched for wedding term in the USA. Around 1,000,000 searches of this term were made in the last 12 months: the highest of any term from any country.
Following fairly far behind this, but still racking up the search numbers, is the term 'wedding ring'. With 45,000 searches, it is clear that this wedding item is still very much a part of the weddings in the USA, and whether it's Tiffany or Target, all budgets can make room for this important tradition.
Like the UK, the USA searches a lot for 'bridesmaid's dresses': 246,000 times over the last year, to be exact. With the bride's dress at the forefront, complementing it with a uniform look for all the bridesmaids is something very common in US weddings, and for many this is a non-negotiable part of the wedding costs.
With the same three priorities, albeit in a slightly different order, the USA spends the same amount as the UK on the most important parts of their weddings.
Madagascar spends the least money when it comes to weddings
The countries which spend the least on their top three wedding searches prioritise very different things to the big spenders. These features of a wedding cost a lot less than the three prioritised by Japan, Norway, and Germany, but all carry their own unique importance.
Madagascar wants its grooms to look flawless in their suits
On average, a groom's suit costs around £298.67, and considering they will be standing right next to the bride for the entire ceremony, it's only fair they get a look in, too. Madagascar agrees, and with 70 searches for the term in the last 12 months, 'groom's suit' seems to be their top wedding priority.
Also important in a Madagascan wedding are the invites, costing around £290, and also searched for 70 times in the last year. Finally, the wedding cake is the third highest search term, with 40 searches and costing £252.76 on average. These three priorities together cost a total of £850.11. Invites, cake, and way under budget? Sounds like a pretty good wedding to us.
Cape Verde and Montenegro spend less than £1,500 on weddings
Saving money left, right, and centre are Cape Verde and Montenegro, both of which spend under £1,500 on weddings. Cape Verde spends an average of £1,344.04 on the top three items, and quite rightly puts the wedding band at the top of the list (no music, no fun, after all), with 90 searches and costing around £995.59. Like Madagascar, the country understands the importance of actually inviting people to the wedding that is being planned, so 'wedding invites' is the second most searched-for term, with 70 searches. Their third place goes to one of the more intimate and meaningful parts of the wedding: the vows. Since it's free to declare your undying love to another person, all you have to pay for is the registrar (around £50), so this one won't break the bank.
Montenegro saw 110 searches for 'wedding dress', 70 for 'wedding invites', and 40 for 'wedding cake', and the average cost for these adds up to a manageable £1,273.60. If these are your top wedding priorities, chances are you can save some money by spending less on the rest.
The significance of cultural traditions
In the cases of many of these countries, the top three searches are impacted significantly by local wedding traditions, which in turn impact the amount of money set aside for these specific parts of the wedding. Here are a few of these traditions, and how they are reflected in the wedding priorities of the countries they take place in.
Wedding dresses often have cultural significance
India, South Korea, and many other countries see the dress as a vital representation of the culture. Indian weddings see the bride traditionally dressed in a red lehenga (a full ankle length skirt), as opposed to the traditional white of Western cultures, as it represents prosperity and fertility (165,000 searches). The traditional South Korean wedding dress is called a Hanbok, and it represents the culture and lifestyle of the bride's predecessors (2,400 searches).
In each of these countries with tangible and prominent bridal dress traditions, 'wedding dress' is the most searched term by far. This goes to show how much cultural traditions affect our wedding spending habits.
Greek traditions involving the rings can impact the amount spent on them
In Greece, the second most searched term in relation to weddings is 'wedding ring'. In Greek tradition, only one ring is used for the entire process of getting married. The ring is worn on the right hand throughout the duration of the engagement, and moved to the left hand during the traditional wedding ceremony. For this reason, it is clear to see why this item is so important (1,600 searches). It is worth spending much more on a ring if it is the only one being used.
In France, the cake used comes from a longstanding custom
The most searched for wedding term in France is 'wedding cake', with 14,800 searches – perhaps no surprise, considering the country's reputation for food. However, this stems from an important French tradition. Instead of a wedding cake as we know it, the French often have what's known as a 'croquembouche', which is a huge pyramid of individual vanilla cream filled choux buns. This is the lasting result of a middle-ages tradition, when guests would all bring a small cake to the wedding to be piled high. The top search terms have been dictated by the cultural traditions: search history has been affected by the country's history.
Saving for your wedding
Whether you want to prioritise the dress, the cake, the honeymoon, or something completely different, planning and understanding what you are going to spend is vital to keep everything running smoothly during the planning process. That's why we at Raisin UK have compiled a list of ways you can most effectively save for your wedding, to make sure all your priorities are met. Give yourself the wedding you deserve by planning your spending with us.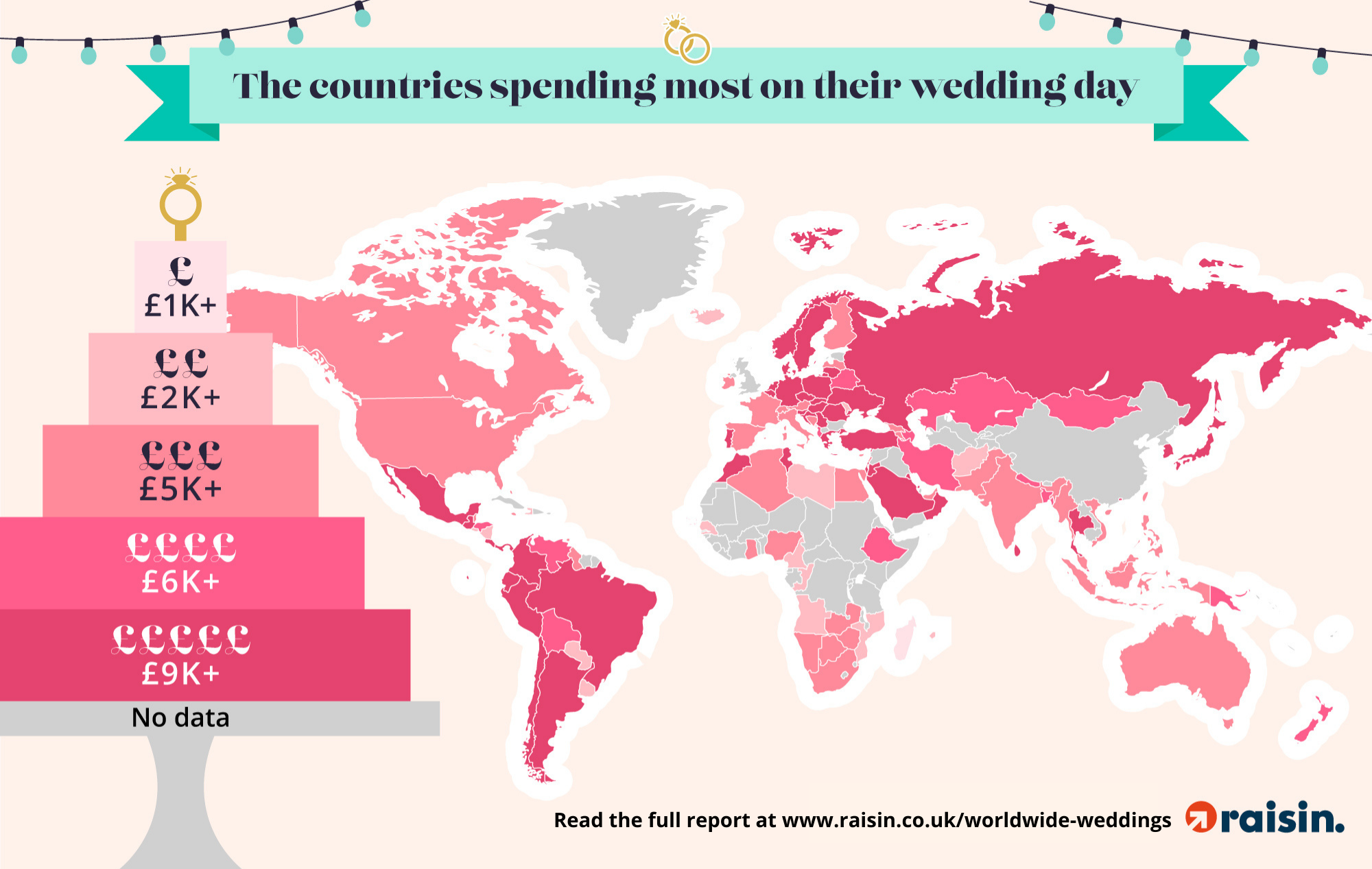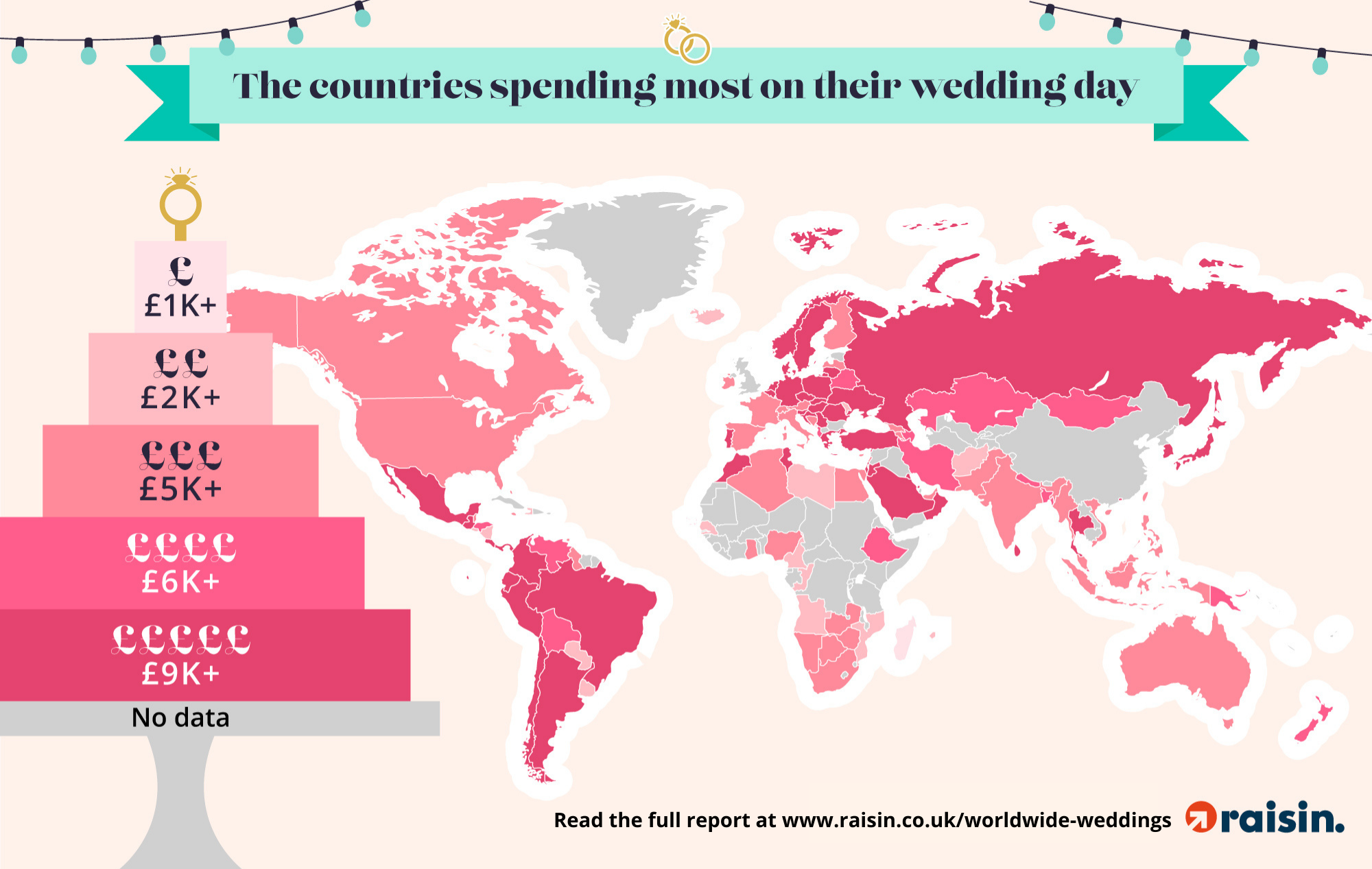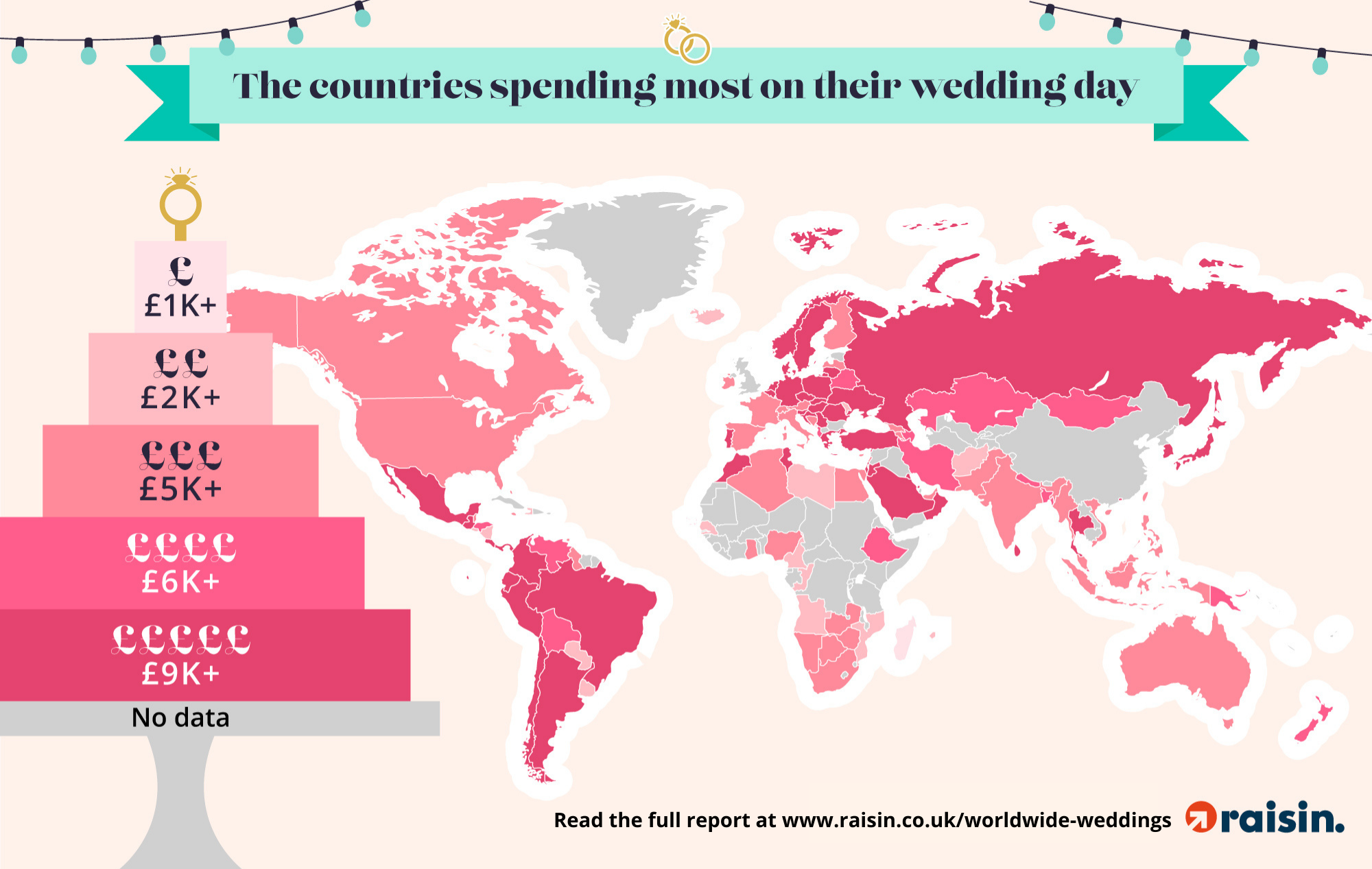 Open a savings account for your wedding
If you want to quickly and easily open a savings account for your wedding, register for a Raisin UK Account and log in apply today. It's free to register for a Raisin UK Account, and we don't charge you for opening savings accounts with competitive interest rates from a range of banks.
*https://www.weddingideasmag.com/wedding-costs-decades/
**https://weddingplanner.co.uk/wedding-inspiration/the-costs-of-a-wedding-in-2020#:~:text=The%20average%20cost%20(excl%20honeymoon,around%20the%20%C2%A317%2C000%20mark
Save time, make money
After you register for your one single login, you can conveniently view, purchase and manage savings
accounts with competitive interest rates in one place; the Raisin UK savings marketplace. Start
making money on your savings today.