Claim £50 for opening your first savings account (terms apply) ›
Wedding on a budget - Planning Tips
There's no getting around it, weddings are expensive and costs can get overwhelming. With wedding costs a staggering 3,000% higher than they were in the 1950s*, many couples in the UK are now planning their weddings on a budget, and they're still having an amazing day. On this page, you'll find out how to plan for a wedding on a budget, get wedding budget tips and understand how you can best maximise your wedding savings.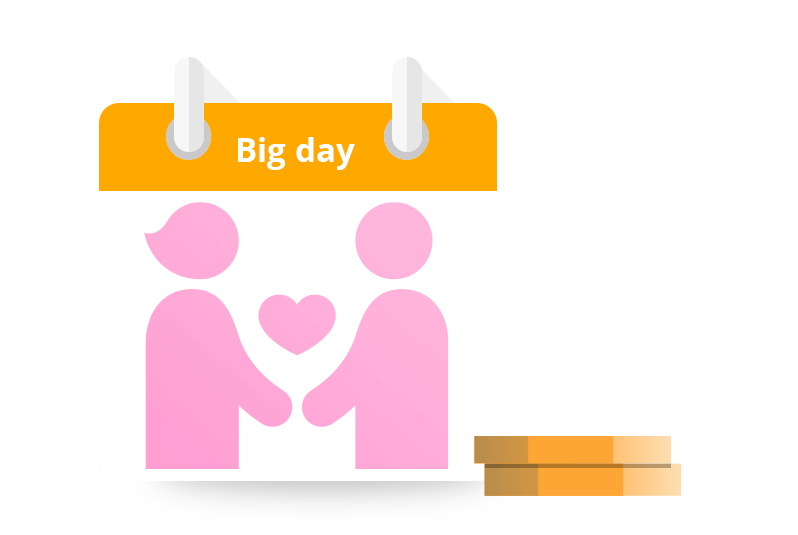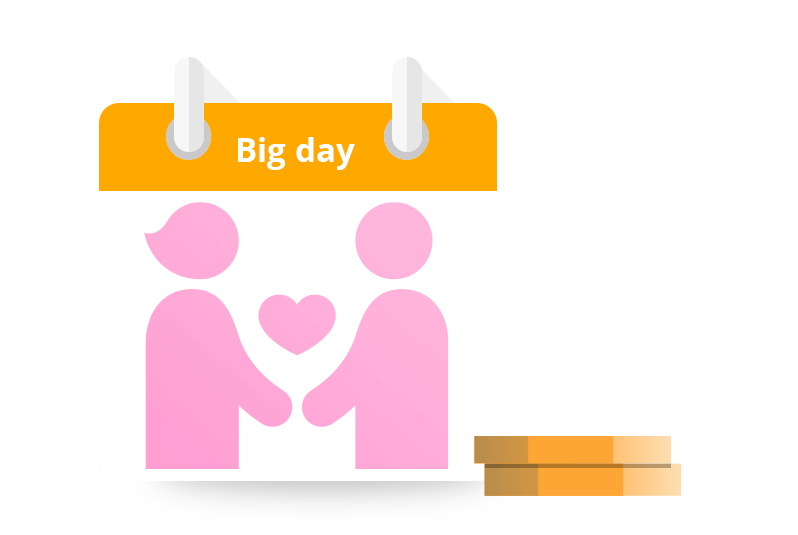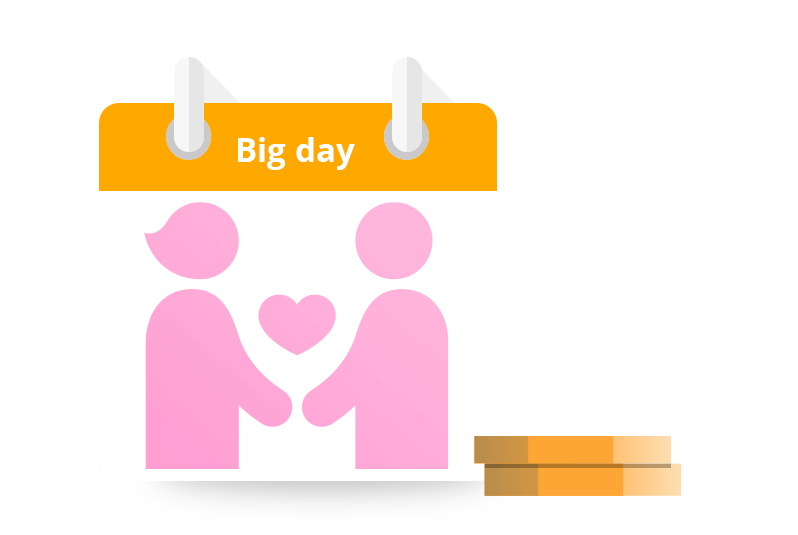 How do I plan a wedding on a budget?
While the average cost of a wedding in the UK in 2020 might be £17,000**, there are plenty of ways you can reduce costs if you're on a tight budget. 
A good first step is to agree on the kind of wedding you want, and bear in mind that keeping it simple generally means that you'll save money. Rather than thinking about the finer details at this point, consider what you want to do and what your priorities are for your wedding day (beyond getting married).
Once you've decided on the kind of wedding you want, set your budget. List everything you'll need to pay for and how much each aspect of your wedding might cost, so you have a total cost. Once you have your total wedding cost, you need to do what many people find to be the hardest part of planning their wedding; you need to work out how much you can spend. This should include how much you already have saved, and how much you'll be able to save up to your wedding day. If your family is making a financial contribution to your special day, include that, too. 
Once you know how much your wedding might cost and how much you'll be able to spend, you'll then know where you need to cut costs and make savings. It's a good idea to put your list in order of priority so you know you'll be spending your money on the things that mean the most to you, while saving money on the things that might be less important.
14 quick wedding-on-a-budget tips
Wondering how to plan the wedding of your dreams without blowing the budget? Hopefully some of our savings tips below will help you have a cheap wedding.
1. Choose an unconventional day or season for your wedding
The biggest cost of most weddings is the venue, but if you're prepared to get married out of season or on a weekday, you might find that venue costs start to drop. The 'wedding season' in the UK typically runs from May to October, meaning you're likely to find cheaper prices throughout late autumn, winter and early spring.
2. Consider an alternative approach to your wedding
While many people have dreams of a big white wedding at a grand hotel or venue, others are happy to cut costs with a more unconventional approach. This might mean going to a town hall or registry office to tie the knot, followed by a celebration at your own home or a family member or friend's house. A good way of looking at this is the more unusual, the more likely your guests are to remember the day. 
3. Double-check that everything's included
When you've chosen your venue, make sure that everything you'll need on the day is included in the cost, so you don't get any unexpected bills. It's not unheard of to be charged extra for things like cake knives, crockery and linen. It's important to ask your venue as many questions as possible, no matter how small or obvious the answer may seem. You could end up saving a lot of money. Some venues might also be open to dropping some extras that you don't feel are necessary, in order to save you some cash. 
4. Look for cheaper venues
The good news is that there are now a lot of different types of wedding venues to choose from and many are good value, especially if you can keep your guest list down. Look for a venue that hosts simple celebrations with basic food and drink. Your day will still be very special.
5. Ask to be informed of cancellations
Weddings are cancelled for all different kinds of reasons, which can be good news for you if you'd like to score your dream venue at a discounted price. Just keep in mind that this will often mean little notice, and that could have a knock-on effect on your guestlist and other things that you need to have ready for the big day. 
6. Make use of family heirlooms
Rather than splashing the cash on new rings, you can save money and make it extra special by using the rings of family members and loved ones that you have lost. While you might have to pay to get the rings resized, this often won't come anywhere near to the cost of a new ring. The same goes for wedding dresses too, which can be altered to suit your style and shape while bringing something special and sentimental to your big day.
7. DIY invitations, RSVPs, table plans and cards
Planning a wedding on a budget means you'll probably have to do some DIY. Making your own wedding invites, RSVPs, table plans and table cards can save you a substantial amount of money. You could also hand out your invites rather than mailing them, and email wedding invites are becoming increasingly popular, too.
8. Make use of talented friends
Other expensive aspects of a wedding day include things like photography, hair and makeup and the DJ. If you're having a wedding on a budget and happen to have friends with talents in any of these areas, consider asking them to do it as a wedding gift for you, or for a small charge to save you some cash. 
9. Skip the formalities
Weddings might be considered an old-fashioned tradition, which is why you can get away with scrapping some of the things that many people do on their big day. This includes things like canapés, three-course meals and champagne toasts, swapping them for more budget-friendly and relaxed options such as a buffet and the bring-your-own-booze approach. 
10. Shop second-hand
When it comes to things like suits, shoes and your dress, it's unlikely that you're going to wear them again. A great way to avoid this expense is to shop second-hand instead, which will not only save you money but reduce your carbon footprint, too. 
11. Drop the 'W' word
Just like any other special celebration, there's often a sneaky hidden surcharge for wedding essentials. When shopping for your dress, decorations and other items, avoid using the term 'wedding' and see how much you can save. 
12. Include a contingency in your budget
When you're planning your wedding budget, it's a good idea to include a 5-10% contingency so that you'll be able to cover any unexpected costs. If you don't end up needing this money, it could act as a great starter for an emergency fund, or you could use it toward a honeymoon for the two of you to enjoy.
13. Open a wedding savings account
Organising your finances is one of the best things you can do if you're planning a wedding on a budget. Opening a savings account that's dedicated to your wedding will mean you're less likely to be tempted to spend your funds, and you'll also earn interest, so you've got that little bit extra in your budget. 
14. Compare, compare, compare
It's not just important to compare savings accounts. Comparing costs for everything you'll be buying, from venues and cakes to photographers and honeymoon travel companies, will help you find the best budget-saving options.
How can I maximise my wedding savings?
If you're saving for a wedding, you might consider opening a wedding savings account so you can earn interest on your savings. Depending on the amount of time you have to save before your wedding day, it's worth comparing different types of savings accounts so you can get the most from your savings. 
If you have one or two years to save and a lump sum to deposit, the competitive interest rates you'd earn with a fixed rate bond might be right for you. If you have less time to save but still want to maximise your savings, you might consider a notice account.
Open a savings account for your wedding
If you want to quickly and easily open a savings account for your wedding, register for a Raisin UK Account and apply today. It's free to register for a Raisin UK Account, and we don't charge you for opening savings accounts with competitive interest rates from a range of banks.
Sign up for the latest offers and news
Receive specially curated news and articles, and be the first to hear about exclusive rates and exciting offers when you sign up with us.