Protecting your deposits
All of the partner banks featured on raisin.co.uk are either UK-based, and subsequently, the savings products that they offer are protected by the UK's Financial Services Compensation Scheme (FSCS), or they're registered in a European country where deposits are protected under the European Deposit Guarantee Scheme (DGS). Because of this, you can rest assured that any savings products that you open through the Raisin UK savings marketplace will be protected up to the statutory limits provided by these deposit protection schemes.
What is the FSCS?
The FSCS covers deposits in savings products up to £85,000, or £170,000 if you have a joint account, and investments up to £85,000 per person, per banking group regulated by the Financial Conduct Authority or the Prudential Regulation Authority. FSCS protection is available for deposits with most UK high-street and online banks, and it will protect your deposits if a bank fails and is unable to return your deposits.
The FSCS will pay compensation up to the limit of £85,000 per person, per authorised institution/banking group. Should you have multiple deposits within a banking group, you will only be protected up to the statutory limit of £85,000, regardless of how many deposits you have within the group. This limit will be for the total of all the savings products you have with the different bank brands under the authorisation, irrespective of how many different institutions a person holds accounts with.
Raisin UK will always let you know which savings products are within the same banking group, so you can make informed decisions as to which savings products are right for you.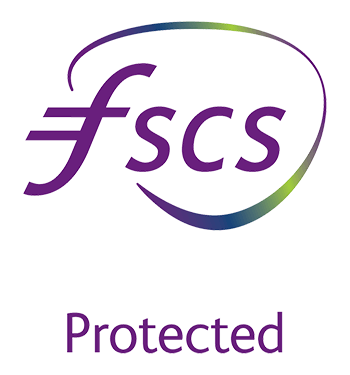 What is the European DGS?
The European DGS protects savings deposits held in European banks. Under EU rules, each member state must reimburse depositors up to a defined limit if their bank fails and their deposits become unavailable.
Each EU country is legally obliged to protect deposits held in registered banks and financial institutions. The level of deposit protection across the EU is €100,000 (or the equivalent amount in a European country's local currency), and this amount is guaranteed, irrespective of the financial means of any country-specific DGS. The protection that the depositor receives is dependent on the location of the bank that holds deposits, and not dependent on the nationality of the depositor.
How do I know which scheme my savings product deposit is protected with?
We make it easy to see how your deposits are protected when you're on our site. Simply look for the FSCS or European DGS logo next to the bank or savings product you are looking at on our website.
Save time, make money
After you register for your one single login, you can conveniently view, purchase and manage savings
accounts with competitive interest rates in one place; the Raisin UK savings marketplace. Start
making money on your savings today.