Should you choose a 1 Year Fixed Rate Bond?
Why choose a 1 year fixed rate bond? You might have asked yourself this question if you're looking to do more with your savings. If you have a lump sum of money that you're prepared to lock away for a year, you may find that you can get a higher interest rate through a 1 year fixed rate bond (also known as a fixed term deposit) than you would typically get with an ISA or Easy Access account.
Find out if a 1 Year Fixed Rate Bond is best for you
You don't need to access your savings for a year
You want to know exactly how much you'll earn at the end of the term
You'd like to protect your savings from any interest rate changes over the next 12 months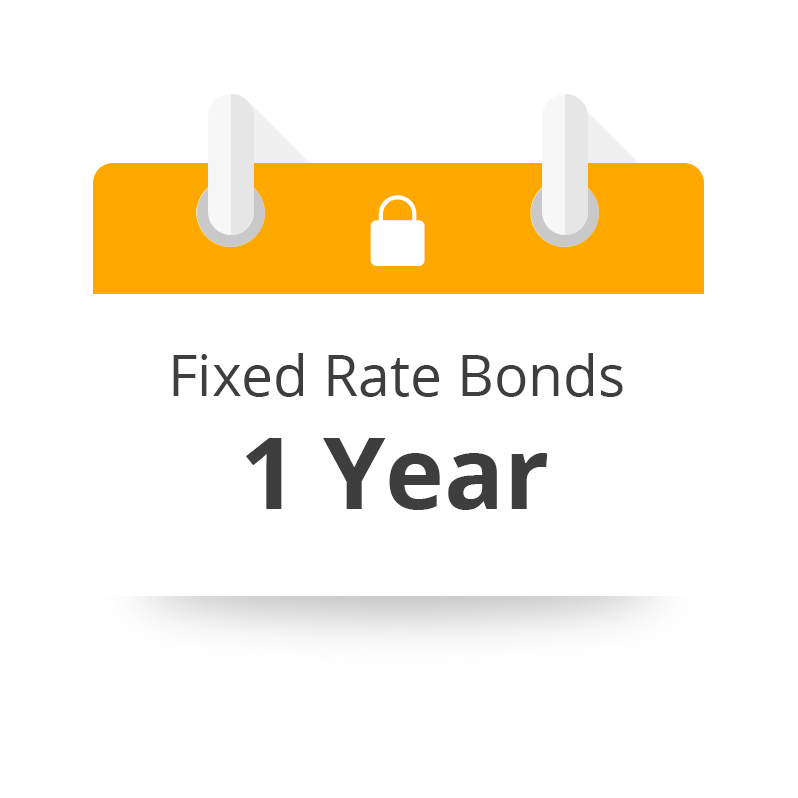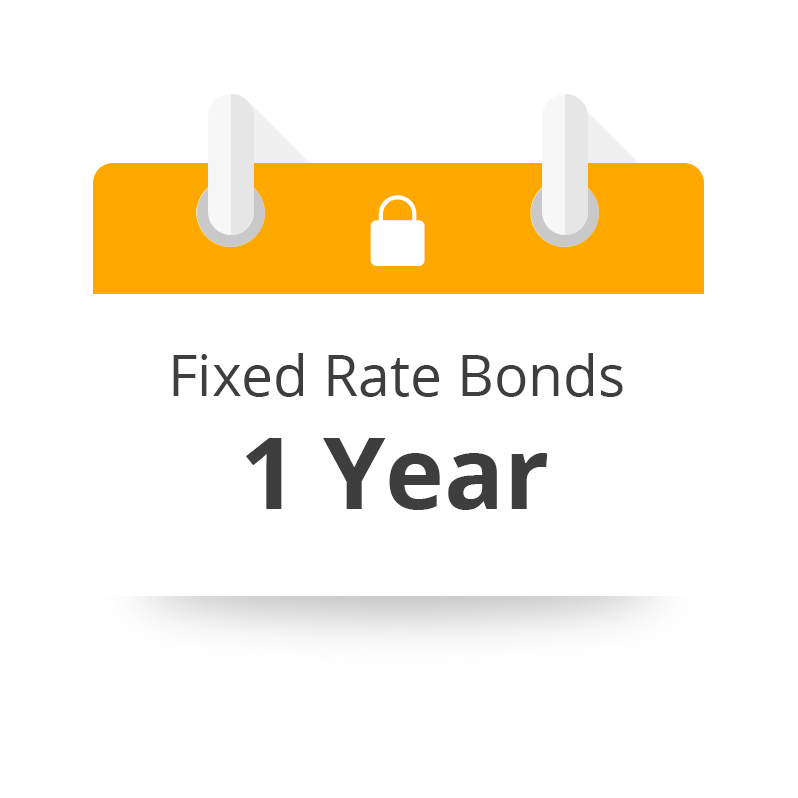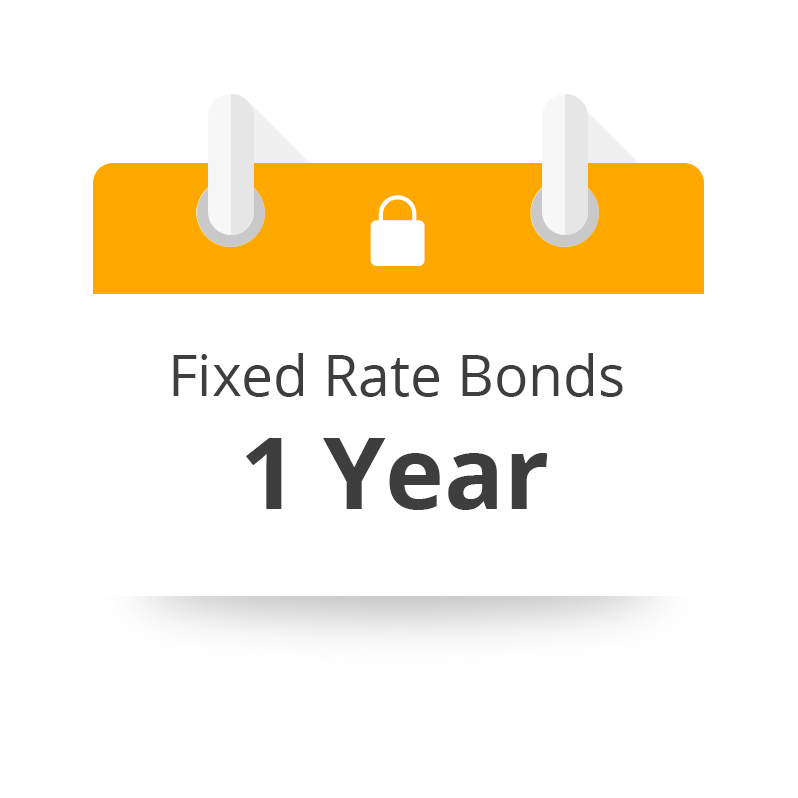 1 Year Fixed Rate Bonds
Today's climate of ever-lower interest rates and an unprecedented global pandemic may leave you uncertain of how to find competitive interest rates that will maximise your savings. In March 2020, the Bank of England cut the base rate to just 0.1%, which isn't the best of news for UK savers looking to earn from their savings. However, 1 year fixed rate bonds typically provide a higher interest rate than ISAs or Easy Access accounts and could enable you to earn more from your savings.
What is a 1 year fixed rate bond?
A 1 year fixed rate bond is a savings account that guarantees your interest rate for one year. No matter what happens to the country's interest rate, the rate on your fixed rate savings will last for 12 months. It requires one lump-sum deposit upfront, following which your savings bond is locked for a year.
The same principle applies to periods of different lengths. You can apply for six month, two year, three year and five year fixed rate bonds, for example.
It's a simple way of guaranteeing results, and because this type of savings account locks you in for a year, it's important to look for a savings account which will earn you as much interest as possible and that best suits your needs.
You may hear fixed rate bonds referred to as fixed term deposits, fixed rate savings, savings bonds or fixed rate savings accounts; these terms all refer to the same type of savings account.
How do 1 year fixed rate bonds work?
You open a fixed rate savings account by depositing a lump sum. Your money is then locked in for the duration of your term, so you can't access it until your maturity at the end of your bond term.
The amount of interest you could earn from a fixed rate bond is calculated as a yearly percentage, or annual equivalent rate (AER), and how much you can earn depends on a few things:
How long your fixed rate lasts for; twelve months, in this case
How much you deposit
The annual equivalent rate (AER)
How the bank pays out interest
Most 1 year fixed rate bonds have a minimum cash deposit amount, normally between £500 and £1,000. There's usually also a maximum deposit amount, which for some banking groups can go as high as £2,000,000, but it's important to keep in mind that deposit protection schemes such as the FSCS only protect deposits into savings accounts up to £85,000 per person, per banking group. At Raisin UK, we only allow you to open a savings account with an amount that's within the applicable deposit protection limit.
The amount you can deposit will depend on the savings account you take out, but bear in mind that it isn't possible to make more deposits during the term of your account and you probably won't be able to close your account early.
If you're a basic rate taxpayer, you can earn interest of up to £1,000 per year without having to pay tax on that interest. For higher-rate taxpayers, that's reduced to £500 per year.
Finally, there's no limit to how many fixed rate bonds you can open. As mentioned above, the FSCS only protects savings account deposits in the UK up to £85,000 per person, per banking group, so keep in mind that each savings account you open with one bank or banking group contributes to this total figure and anything that exceeds this amount won't be protected by the FSCS.
What are the benefits of a 1 year fixed rate bond?
1 year fixed rate accounts can be very beneficial, especially if you're in a position to deposit a lump-sum that you don't need to access for twelve months:
Your interest rate is fixed for one year
You are certain of the interest you'll earn
You know how long your savings period lasts for
You can protect your savings from interest rate changes
Accounts are typically free to open (they are at Raisin UK)
Is your money protected in a 1 year fixed rate bond?
As a fixed rate bond is a savings account, for UK banks the Financial Services Compensation Scheme (FSCS) will provide deposit protection and cover up to £85,000 of your deposit including any interest if the bank fails and is unable to return your deposit.
It's critical to ensure that your provider of choice offers deposit protection. All of the savings accounts from UK banks you can open through Raisin UK include FSCS deposit protection.
How is interest paid on a 1 year fixed rate bond and how much interest can I expect to earn?
Interest on your 1 year savings bond is typically paid out on maturity, i.e. at the end of your one year term. This means you usually won't have access to your interest until your maturity date. At Raisin UK, the interest you earn is paid either into your Raisin UK Account or straight back into your savings.
The amount of interest you can expect to earn will depend on your deposit amount and the interest rate offered by your provider.
What happens at the end of the year?
When you reach the end of your 1 year term, you have a couple of choices. You can either withdraw your original lump sum and any interest you've earned and close the account, or you can move your savings to another account.
At Raisin UK, you can renew your fixed rate bond either with your original deposit and the interest you've earned, or you can withdraw your interest and renew with your original deposit amount only.
It's important to tell your provider what you'd like to do with your money when your term comes to an end.
The 1 year fixed rate savings accounts from Raisin
Our marketplace provides a choice of 1 year fixed rate savings from different UK banks, all of which can be managed and accessed from one place, and all of which are free to open. Currently, the highest interest rate for a 1 year fixed rate bond through our marketplace is 0.75% AER.
To find the best 1 year fixed savings account for you, compare 1 year fixed rate bonds or look for a bank, search the table above and log in or register for a Raisin UK Account to apply.
If you're not sure which savings account is most suitable for you or if you'd like something a little more flexible, check out the notice accounts from our partner banks.
Save time, make money
After you register for your one single login, you can conveniently view, purchase and manage savings
accounts with competitive interest rates in one place; the Raisin UK savings marketplace. Start
making money on your savings today.