2 Year Fixed Rate Bonds
• Lock away your money for two years to earn a competitive fixed interest rate
• Enjoy financial certainty with a fixed interest rate and no fees on our marketplace
• Free yourself of interest rate change concerns for two years

Claim £50 for opening your first savings account (terms apply) ›
Compare zero-fee 2 year fixed rate bonds
Raisin UK customers get access to even more:
Register and log in now to view our full marketplace of savings accounts with competitive rates.
Benefit from a competitive fixed interest rate that's typically higher than what you would earn from an ISA or easy access account by locking away a lump sum deposit for two years
A two year fixed rate bond might be right for you if you meet the following criteria:
You can afford to lock away your savings for two years

You want to earn a fix your interest rate and protect your savings from

interest rate

changes over the next 24 months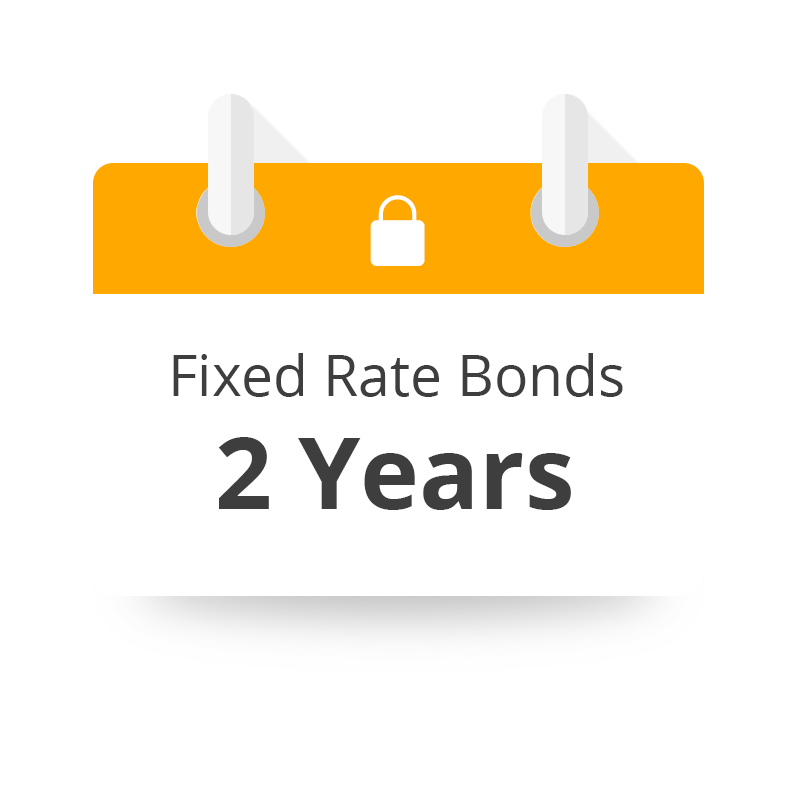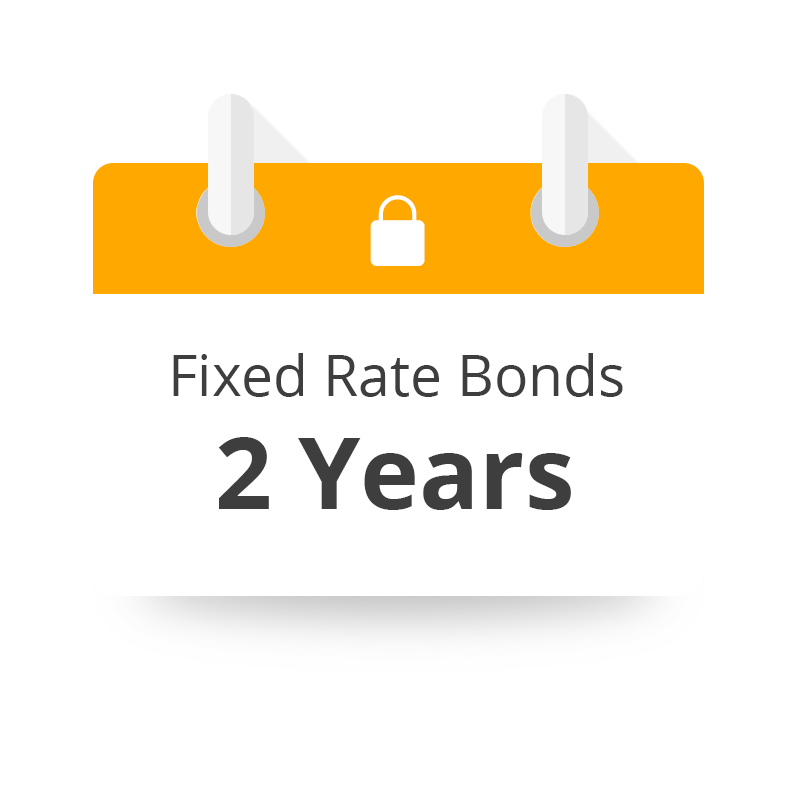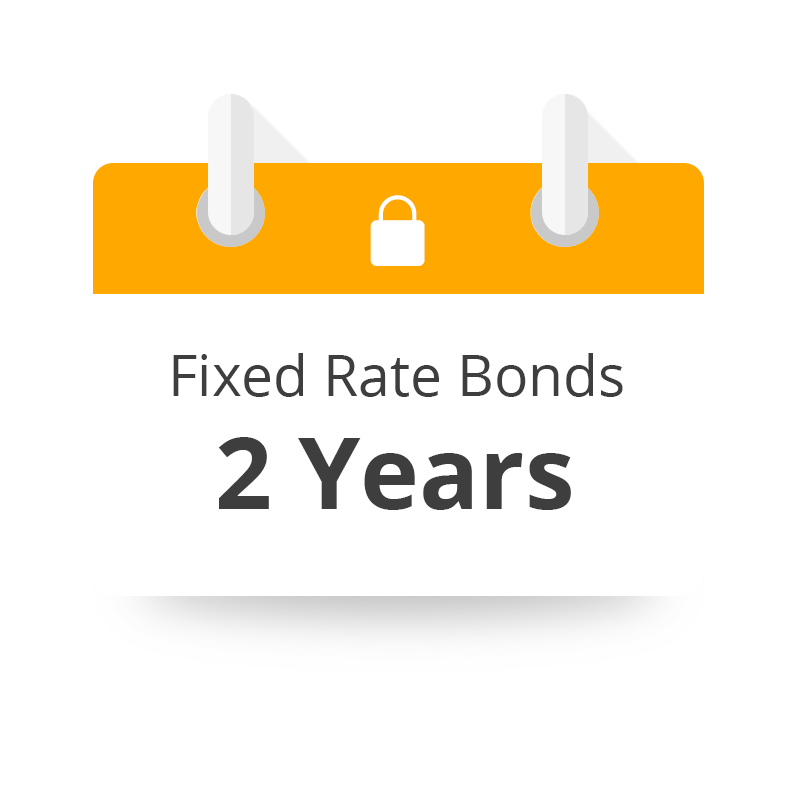 What is a 2 year fixed rate bond?
A 2 year fixed rate bond savings account allows you to fix the interest rate you earn for 24 months, regardless of whether the Bank of England changes the base interest rate. You can open a 2 year fixed rate bond with one lump-sum deposit, which you can make with multiple transfers at Raisin UK. Once your savings account is open, you can't make any further deposits or withdraw your money for 24 months.
It's a simple way of ensuring you get the results you want from your savings in the medium-term, as you're locked in for two years. If locking your money away for two years doesn't sound right for you, fixed rate bonds are also available in six month, one year, three year and five year terms, or you could consider more flexible savings accounts, like easy access and notice accounts. Simply choose the savings account that best suits your goals.
Is a 2 year fixed rate bond the same as a 2 year savings bond?
Yes. This type of savings account goes by several different names, all of which mean the same thing. You may hear a fixed rate bond called a fixed term deposit, fixed rate savings, savings bonds or a fixed rate savings accounts, too.
How do 2 year fixed rate bonds work?
No matter the term's length, you deposit a lump sum to open any fixed rate savings accounts. After that, your money is locked in until your bond term ends.
Most 2 year fixed rate bonds have a minimum deposit amount, typically between £500 and £1,000. There's also a maximum deposit amount, which for some savings account service providers can go into the low millions. At Raisin UK, the maximum we'll allow you to deposit is £85,000 per banking group to ensure that your deposit is protected. 
Be aware that you can't make any further payments into your fixed rate bond account once it's open, and it typically isn't possible to close a fixed rate bond savings account early.
It is possible to apply for any number of fixed rate savings accounts, but keep in mind that deposit protection limits apply to the banking group that holds your money, rather than the individual savings account.
Is it the right time to open a 2 year fixed rate bond?
The world can be an uncertain place. Fluctuating interest rates, coupled with a global pandemic, may leave you unsure of the best way to earn money from your savings. Fixed rate bonds could be the solution to your concerns, as they offer fixed interest rates and typically offer higher interest rates than easy access accounts and ISAs. With a 2 year fixed rate bond, you would give yourself 24 months of financial certainty.
Calculating the amount of interest & tax implications
The amount of interest you earn with a 2 year fixed rate account is advertised as an annual equivalent rate (AER). How much you can earn depends on the following:
How long your fixed rate lasts for, i.e. two years

The amount you deposit

The annual equivalent rate (AER)

How the bank pays interest
Basic rate taxpayers can earn interest of up to £1,000 per year without paying tax on their interest. For higher-rate (40%) taxpayers, you can earn interest of up to £500 per year without paying tax.
What are the benefits of a 2 year fixed rate bond?
If you're looking for a medium-term savings account and can deposit a lump sum that you're prepared not to see again for 24 months, 2 year fixed rate bonds feature the following benefits:
The interest rate is fixed for two years 

You know how much interest you'll earn

You know exactly how long your term is and you can plan accordingly

Your money is protected from interest rate changes
Five things to consider in a 2 year fixed savings account
The 2 year term is one of the most important considerations you'll have for a fixed term savings account, but don't forget you'll also need to think about:
The amount you can deposit

Deposit deadlines 

The frequency with which interest is earned

How much of your money is protected

Tax implications
Does the FSCS cover fixed rate bonds?
The Financial Services Compensation Scheme (FSCS) offers deposit protection on all savings accounts offered by regulated banks in the UK, including 2 year fixed rate bonds. The FSCS will cover deposits of up to £85,000 per person, per banking group, including any interest, if your bank fails.
All of the fixed rate savings accounts from UK banks that you can apply for through our marketplace offer FSCS protection. The European Deposit Guarantee Scheme (DGS) covers savings accounts offered by European banks through our marketplace.
How is the interest paid on a 2 year fixed rate bond?
How you earn interest from a 2 year fixed rate bond depends on which bond you open and which bank is offering the account. At Raisin UK, the interest you earn from a fixed rate bond will usually be paid to you upon maturity at the end of your fixed term, regardless of how frequently you earn it. You can view how often you'll earn interest and when it will be paid to you by reading the product summary of any savings account you want to apply for.
What happens at the end of the two year period?
At the end of your 2 years of fixed rate savings, you'll be presented with the following choices:
Accept a renewal offer to open a new fixed rate bond from the same bank with your original deposit amount and choose to withdraw or deposit the interest you've earned
Move your savings to another account
Withdraw your original deposit with any interest you've earned and close the account
Discuss your options with your provider when your bond is coming to an end.
Advantages of opening a 2 year fixed rate savings accounts with Raisin UK
Our marketplace provides a choice of 2 year fixed rate savings accounts from UK banks, all of which are free to open. Currently, the highest interest rate for a 2 year fixed rate bond is 1.65% AER. 
If you're looking for a savings account with a little more flexibility, consider exploring easy access or notice accounts from our partner banks.
At Raisin UK, you can apply for and manage savings accounts from a range of partner banks in one place. Simply click to apply and forget about the hassle of filling in a new application form for every savings account you open. Register for a free Raisin UK Account and to easily grow your savings. 
Sign up for the latest offers and news
Receive specially curated news and articles, and be the first to hear about exclusive rates and exciting offers when you sign up with us.