Claim up to £15 for opening your first savings account (terms apply) ›
Wish savings could be simple?
They can be. We find savings accounts with competitive rates, so you don't have to. Pick and mix savings accounts from a range of specialist banks and manage them all under one roof. Full financial growth visibility and no more paper forms or hassle.





Welcome to Raisin UK
We know that trying to find the best rates for your savings can feel like a hassle. With ever-decreasing high-street bank interest rates, and the inconvenience of filling in yet another form when you do want to switch accounts, it can feel like it's just not worth it to move your money around.
But it is worth it, and it doesn't have to be hard work. Just like your energy or broadband provider, it often doesn't pay to stay with the same bank year after year.
So we've made the whole process of growing your savings simple. Once you've registered with us, you'll gain access to our full range of savings accounts from our partner banks. We work with challenger and specialist banks that you may not have heard of, because we know they can usually offer you better rates than high-street banks. You can apply to open as many accounts as you like, and you don't need to fill out a new application form each time – that's all taken care of when you register. Pick and mix from a range of savings accounts and terms to ensure your money is working for you exactly the way you want it to, then all you need to do is sit back and watch your money grow.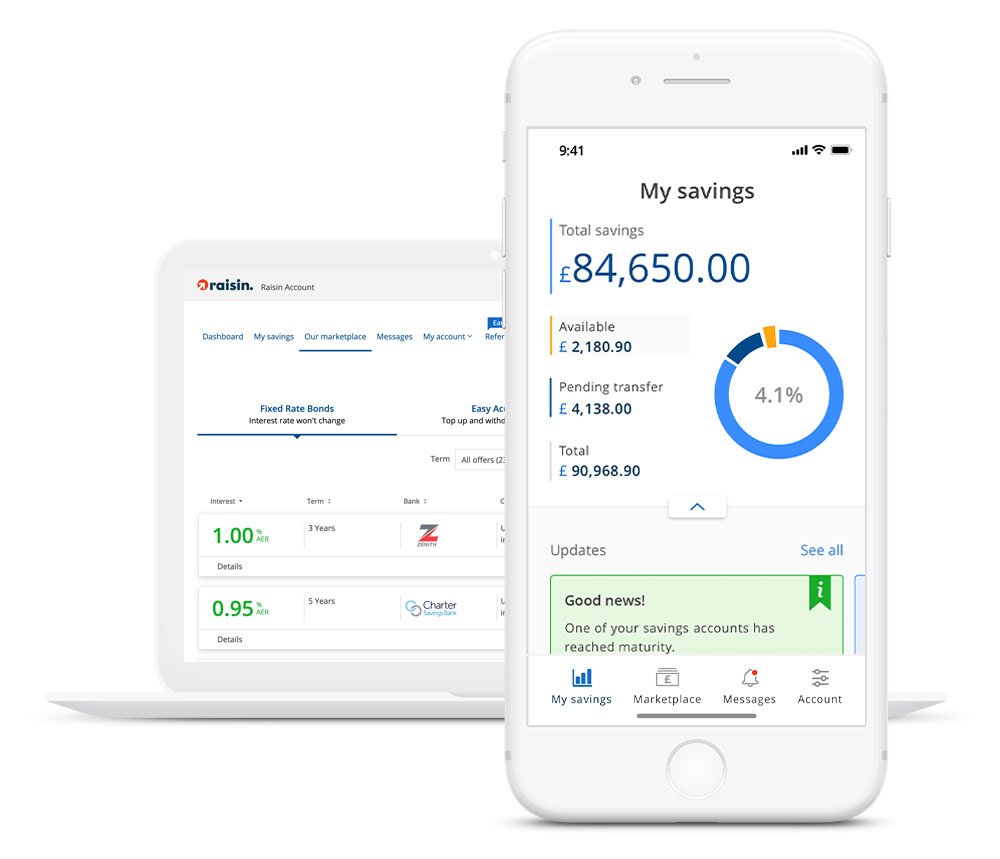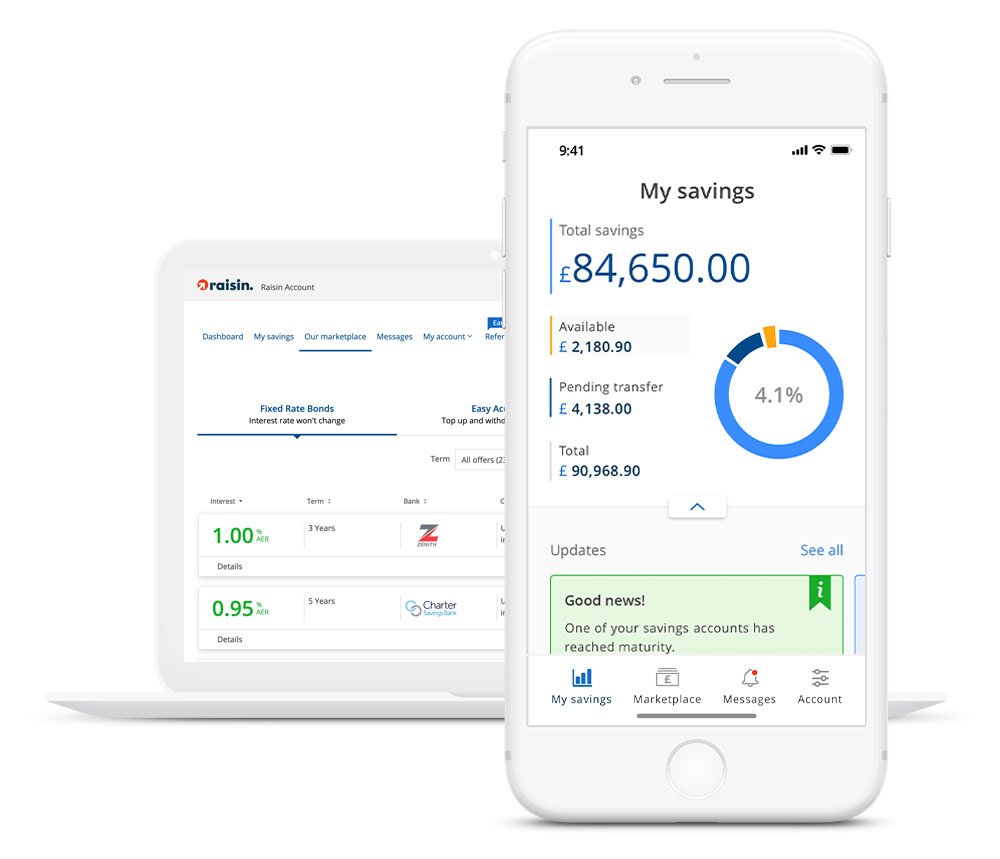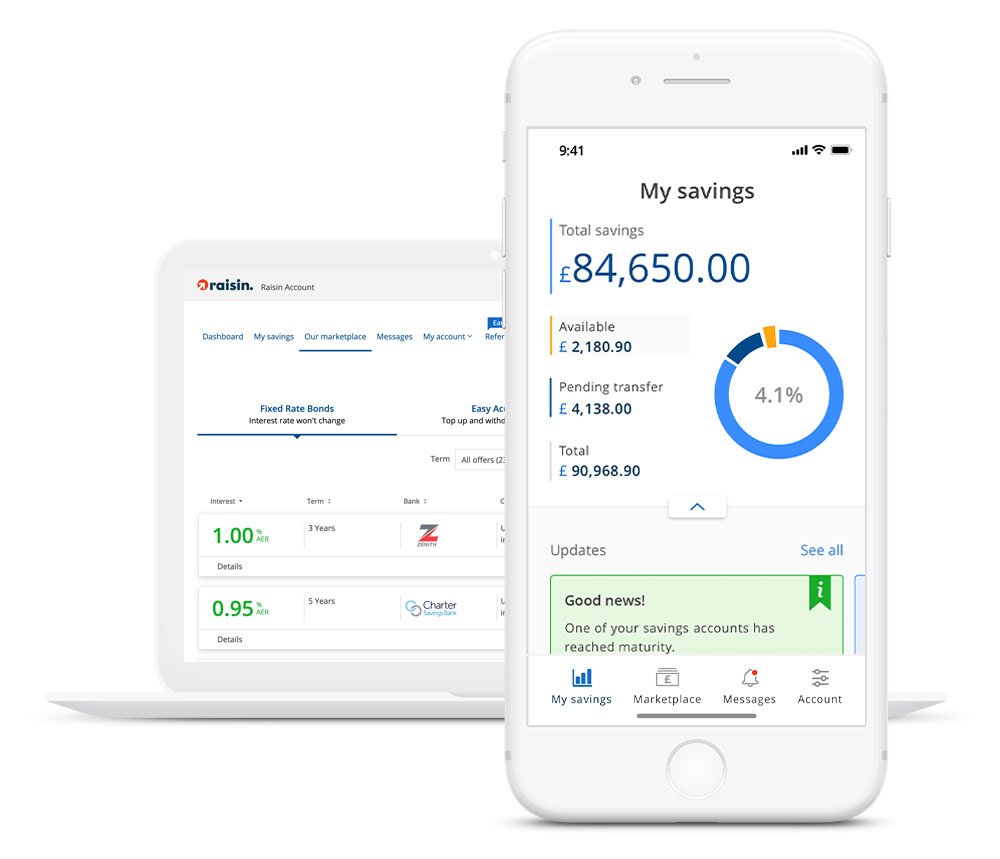 Why choose Raisin UK?
Safe
Your money is secure at every step of the journey, and we only work with banks who are protected by the FSCS or the European equivalent
Competitive
Saving with specialist and challenger banks often gives you access to better rates than you'll find on the high street, which means your money grows quicker*
Straightforward
Say goodbye to application forms, endless logins and hidden fees. Our easy, free-to-use service helps you make your savings work harder. Simple
See what our customers say about us on Trustpilot
Great New Service
Ive been a customer of Raisin since it launched in the UK. Although the business has recently gone through some changes I've been regularly updated and now able to open a very competitive 9 month fixed product.
Kevin
Very easy process to invest via the…
Very easy process to invest via the Raisin platform. Bonus come through on time. Communication was good throughout.
Thomas Ballard
Very Good Service!
I can really recommend Raisin! I was able to open a deposit without any real hassle. One point, it should be clearer on the registration page that you have to be really careful as to exactly how you enter your data. Even just a hyphen missing in a name can cause the application to fail! However, after three attempts, NO problem! Very friendly customer services team, by the way! Jean
Jean
Raisin uk
Raisin Uk from my experience are great , I phoned them to clarify something and I phoned to make sure they got my email because my phone had been failing to send mail and they were extremely helpful and friendly, 100% for customer service from my experience.
Sue Pasternak
Sign up for the latest offers and news
Receive specially curated news and articles, and be the first to hear about exclusive rates and exciting offers when you sign up with us.