Cash in the attic - the old collectables worth big money today
We've all got things lying around at home that we occasionally think could be worth something. Whether it's an old trinket that looks a little bit like something you might find on Antiques Roadshow, or a picture signed by an artist you don't recognise, homes across the UK likely have the odd thing that could – just maybe – be worth big money.
Using our expertise in growing money, we looked at some of the items that could be worth the most money now, and the average yearly interest rate of a selection of the top collectables. If you've got any of these gathering dust at home, it could be well worth clearing off the dust and cashing in.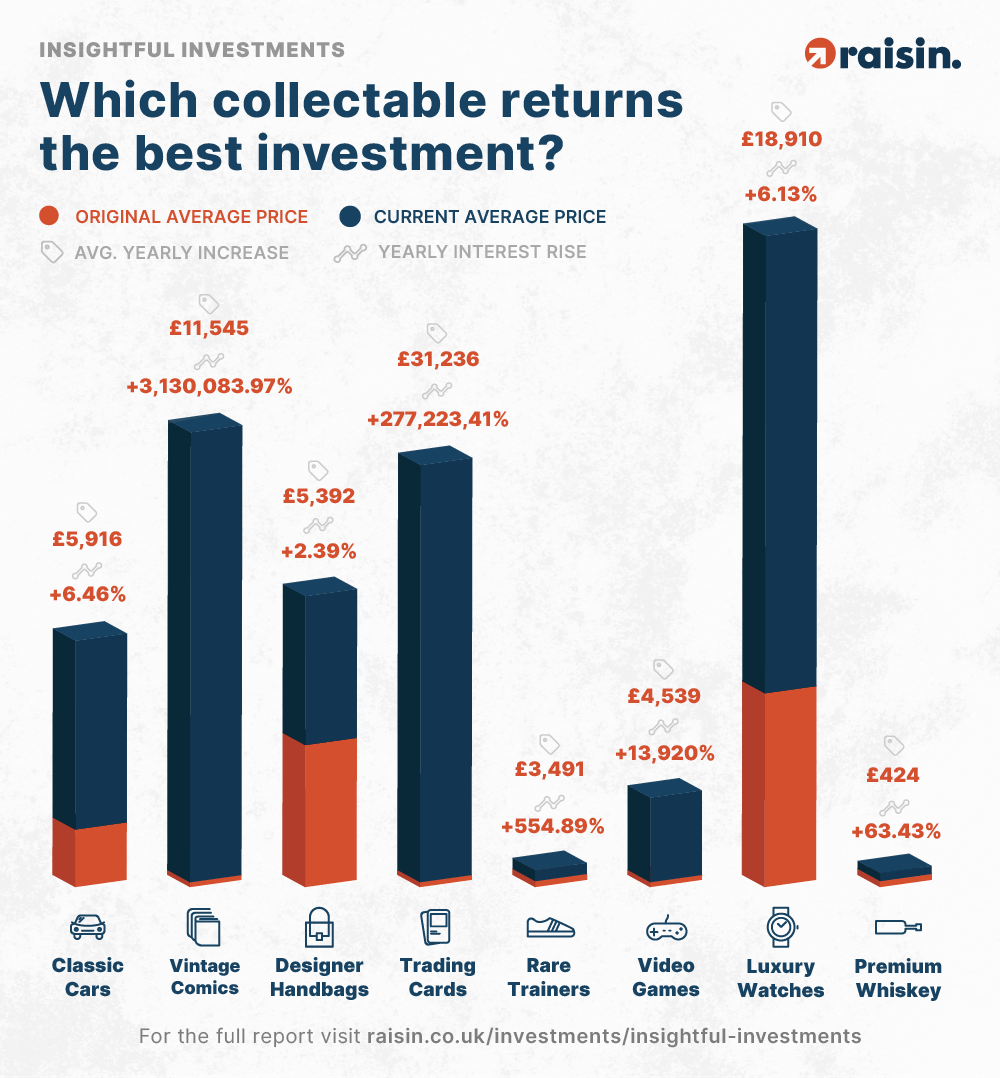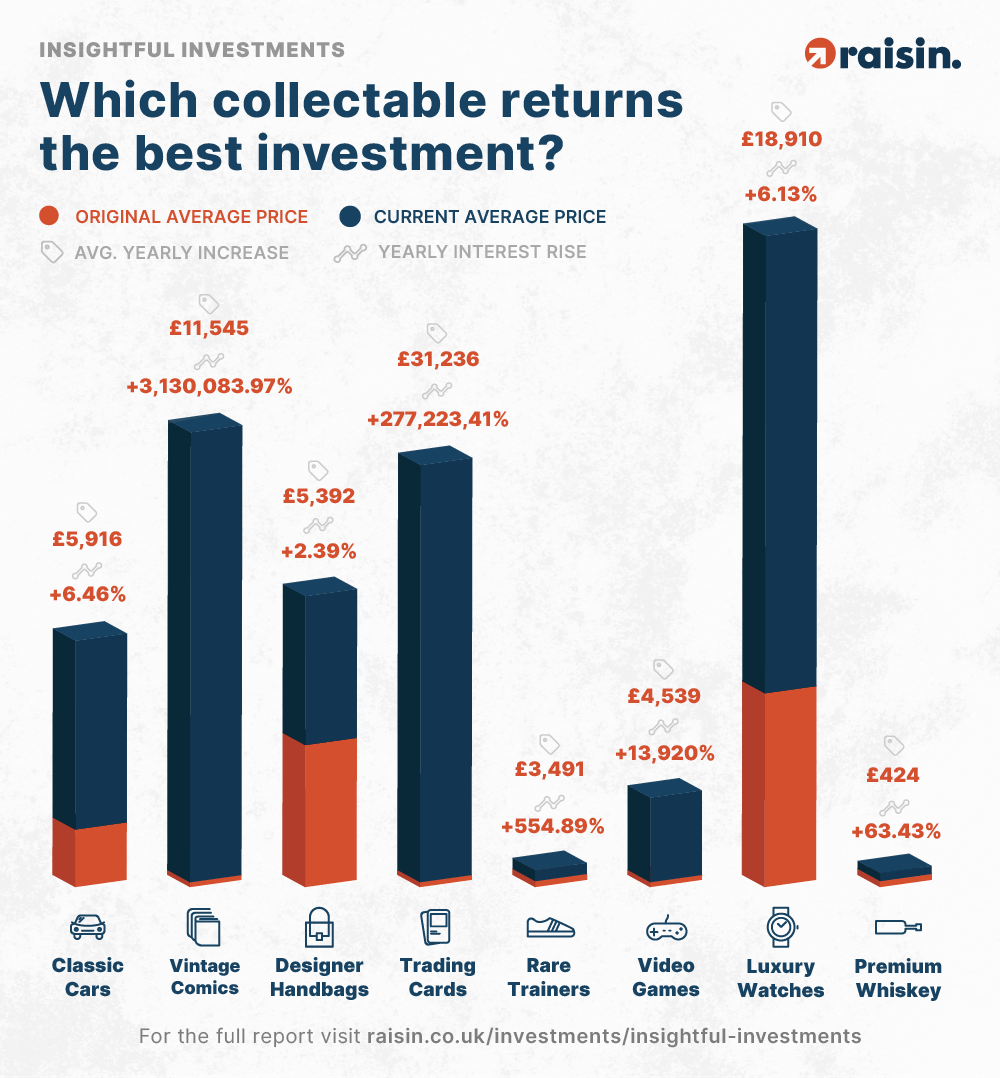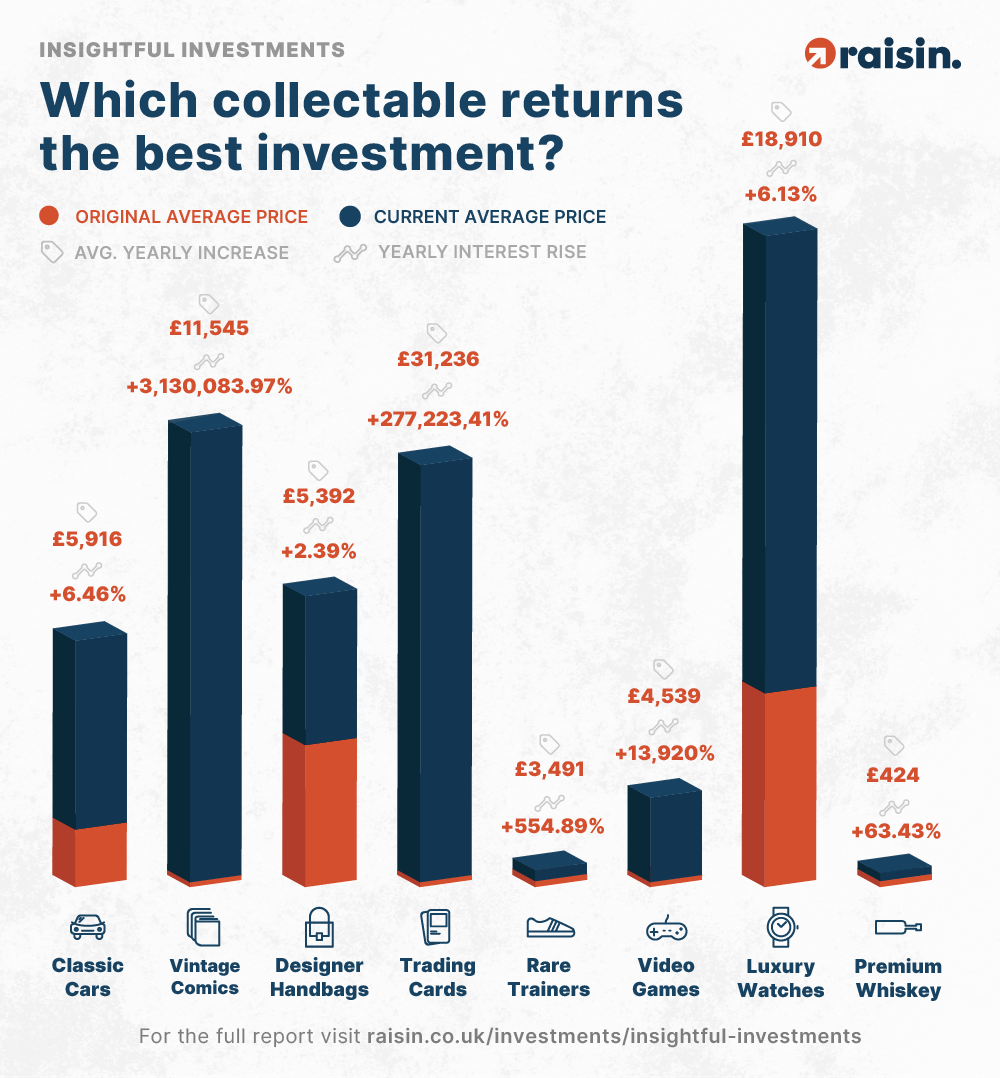 Comic Books: from cheap thrills to big bills
It's some of life's cheapest entertainment that has gone on to be some of the most expensive items, with things such as comic books and playing cards selling for huge sums as collectors look to own the rarest editions.
In 2014, an original copy of Action Comics #1 (where we first meet Superman) sold for a staggering £2.4 million, when you consider that it initially sold for a mere 10p in 1938, you don't need supervision to see that this is a huge leap in value. The difference in value is largely down to how rare an item it is – fewer than 100 copies still exist, with many of them in poor condition due to their age. The copy sold in our example was described as being in 'pristine' condition, with the owner clearly knowing the value of what they held in their hands. Even in okay condition, it's likely that if you own a copy of Action Comics #1, you're sitting on one of the most valuable comics in existence.
Other comics have also done well, with Detective Comics #27 going for £814,994 having originally cost only pocket money. This issue is famous for the introduction of another superhero star – this time Batman. As Detective Comics went on to shorten their name to DC, it's easy to see why the value of this comic is as high as it is. The low starting cost of vintage comic books means that the average interest rate can reach an astronomical 3,130,084%!
Trading cards get swapped for huge fortunes
Printed pictures of an even smaller size also go for big money. A baseball trading card featuring Honus Wagner, who made his name way back in 1909, was first listed in auction in 1993 for £37. Still a lot for a trading card, you might think. Well, that was nothing compared to the price it later sold for, bringing in a staggering £2,365,381, which is the equivalent of a 6,239,900% increase. You could say this card was a home run.
Sport of a different kind pays off too. Pokemon cards, in particular 1st editions, are some of the rarest around. A 1st edition Charizard sold at auction for £172,996, well exceeding its 1999 price of £2.50 for ten cards.
Watches increase in value as time ticks on
Watches have, for a long time, been items of high value, and certain brands cost more than most. A Patek Philippe Stainless Steel (Ref. 130) would set you back £1,242,870 when it was first sold, but as of 2015, its price tag had grown! With an auction sale of £3,617,503, we're not sure we'd ever feel safe putting it on our wrist, let alone wearing it outside.
If your budget won't stretch quite that far, a Tag Heuer Carrera once sold for £227,440 having initially cost a very reasonable £67 back in 1963. Time to check the back of the drawers, we think.
Your round? Whiskey sells for £50,000
Got any old bottles of whiskey lying around? They can sell for incredible prices, with some bottles going for over a million due to their age and heritage. A bottle of Port Ellen 12-year-old Queen's Visit 1980, created to mark, you guessed it, the Queen's visit, was given to 40 members of staff free of charge at the time. In 2017 a bottle sold for £50,000, making it a royally good investment.
Not all whiskey pays off though – tests recently showed that a collection of bottles valued at £635,000 were all found to be fake, leaving the owner with an unexpected sour taste in their mouth.
Investing in cars could see your money stall
Cars are already a big-ticket item, and it could take some time for them to pay you back. While some models, such as a 1989 Porsche 911 Turbo, have doubled their original £58,376 value to £117,259, other cars have aged without growing as much in price.
A 1980 Austin/ MG Metro would sell at around £3,000 forty years ago, and despite being a classic on the roads, is now only worth £5,000. The time and expense you have to put into keeping a car roadworthy could make motors an investment of both money and effort that will simply never pay off.
Classic video games increase in value by £24,433
The games that brought you joy in your childhood could bring you a considerable payout now. The original Super Mario Bros for NES has substantially increased in value, with a version still in the shrink wrap selling for a whopping £86,389 since releasing in the mid-eighties, with the titular characters going on to define a generation of virtual fun.
There are smaller profits to be made in gaming too. A limited edition of the first release of World of Warcraft would have cost you £60 in 2004, but could now bring home £568, or upwards of £3,000 if you've left it unopened.
Risk versus reward - is investing in collectables the best way to make money?
While it might be tempting to think collectables will always pay off, that's not always the case. While some things increase in value with time, others just grow old, take up space, and the time and money you've put into maintenance might not result in a profit.
The most assured way to protect and grow your funds is with a fixed rate savings bonds from our marketplace. With a fixed rate bond, you'll get a guaranteed return on your money, and you won't have to go to an auction house to get it back. Our partner banks also offer notice accounts and easy access savings accounts, where your money can accrue interest without gathering dust.
Get the inside scoop
Want to be in-the-know on all things savings?
Of course you do. Sign up and be the first to find out about top rates as soon as they land,
exclusive account holder-only offers, and the latest money news.
Good news!
You're now just one step away from receiving exclusive rates and offers as soon as they land.
To complete your registration, please confirm your email address by clicking the link in the email we've just sent you. If you can't see the email in your inbox, it may have gone to your junk or spam folder instead.