Goldman Sachs and PayPal are scrambling for shares in a German-founded financial technology company on a mission to democratise savings and investments.
Investment bank Goldman Sachs has shown considerable interest by investing €25 million, while Paypal jumped on board back in 2017, bringing an undisclosed multi-million figure to the table. But just who is this fintech that everyone's fighting over? Of course; it's Raisin UK, known in Germany as WeltSparen.
From Berlin and Manchester, Raisin simplifies saving and investing and provides universal access to some of the best financial products in the whole of Europe, and it's free to register.
Register for a Raisin UK Account
The Raisin success story
You might be wondering what motivated Goldman Sachs and PayPal to invest? Stephen Taylor, the CMO of PayPal EMEA says it's the fact that "Raisin and PayPal share a mutual vision of democratising the financial services industry."
Beyond shared visions for the financial industry, part of the appeal to investors has been Raisin's astonishing growth. Since 2018, Raisin UK has helped UK savers to find the perfect home for their savings through accounts with competitive interest rates. In the German market, Raisin also offers investment and pension products, which combines to a total brokered amount of over €21 billion.
Stephen Taylor states that "Raisin is a pioneer in the field of cross-border savings deposits, and without a doubt offers a unique value proposition in the European market."
Our recipe for success is simple:
We make it easier for savers to earn money from their savings
We provide banks with happy customers
We earn a commission for introducing happy customers to banks
This recipe for success is a winning situation for everyone involved and it's the driving force that is making Raisin one of the most prominent and important fintechs in Europe.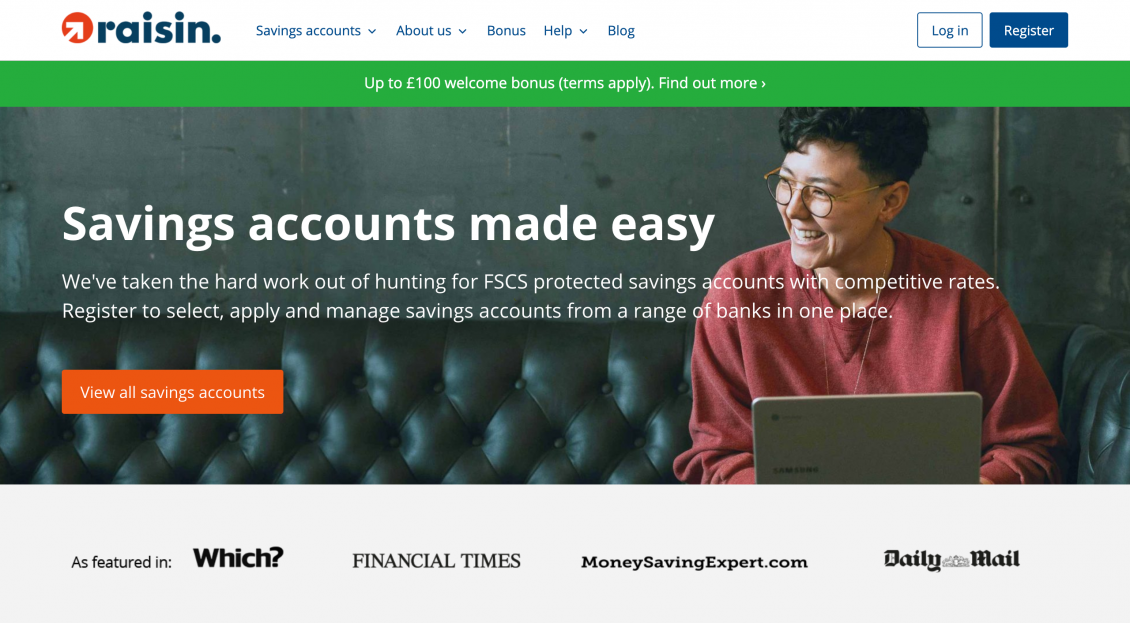 Growing in Europe and across the Atlantic
Our business model has enabled us to expand beyond Germany early on, bringing Raisin to new markets including Spain, Austria and the Netherlands. Over two years ago, PBF Solutions became Raisin UK and began offering savings accounts from a variety of partner banks in the UK.
Last year, Raisin made another quantum leap in growth by acquiring Frankfurt-based MHB Bank and rebranding it as Raisin Bank, facilitating our expansion into new markets, including Ireland and the USA.
Numbers that speak for themselves
Raisin's success is evident from the numbers, which can only be good news for investors PayPal and Goldman Sachs. Across our eight online marketplaces serving over 28 countries, Raisin now boasts an impressive 90 partner banks, representing an unparalleled pan-European offering.
Rana Yared, the Managing Director of Goldman Sachs says "Raisin offers a unique savings marketplace with a strong business model, impressive growth and a loyal customer base."
How do customers feel about Raisin?
Almost every single one of their 240,000 customers would recommend Raisin to a friend (93%). This number is even higher than PayPal (86%). A key factor in why people recommend Raisin is our user-friendly interface, alongside our welcome and refer a friend bonus offers.
Dr. Tamaz Georgadze, the CEO and Co-founder of Raisin says, "even those customers who are initially sceptical end up recommending us to a friend when they see for themselves that it works and that they've successfully increased their wealth via our platform".
Investors PayPal and Goldman Sachs already know that the business model works, but thanks to our rapid growth, even more people are hearing about Raisin's success, backed by our "made in Germany" financial technology.