In times gone by, who we chose to bank with depended mainly on whether there was a branch nearby.
But since many of us now bank online, a bricks and mortar building doesn't matter so much anymore. You no longer have to go and sit in an office to talk about your savings – you can do it all from the comfort of your home.
So what is it that convinces us to switch our financial accounts and sign up to a new bank?
We reveal all.
How do Brits do their banking?
According to a survey of over 2,000 people on how the UK does their banking, we Brits are a fiercely loyal bunch (sometimes to a fault) and for a nation that loves to shop around for a great deal, this doesn't seem to apply when it comes to how we bank.
We like to stick with what we know
35% of people have stayed with the same bank account they opened with their parents when they were still a child – that's a third of all people in the UK. What's even more shocking, is that for those under the age of 35, that figure becomes more than half!
We live in the now
Almost half of Brits don't have a savings account, which means that they're not investing in their future. For those that do have a savings account, over a third of people say that they NEVER check interest rates for other savings accounts – meaning they might not be getting the best bang for their buck by refusing to shop around for a better deal.
We're less interested in the interest
While interest rates have been less-than-impressive for some time, there are still some savings accounts with better interest than others. Apparently, over half of Brits don't check interest rates before opening a bank account.
So what are the reasons that Brits are choosing their bank accounts? Well, we've looked into search engine data to find out what people are searching for the most each month.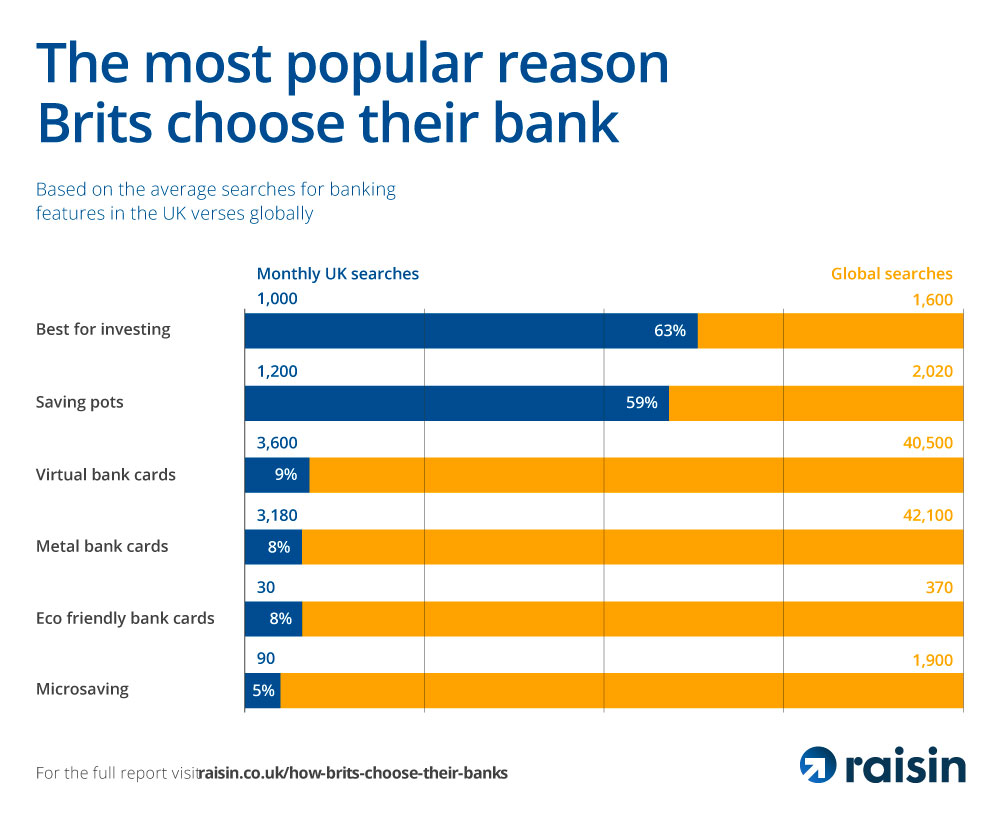 What are the most in-demand banking features in the UK?
No longer is it enough for a bank just to look after your money – now modern customers expect much, much more. Early payments, mobile apps and fancy cards are just the tip of the iceberg when it comes to what people look for from a bank in 2022.
Virtual cards are the most-desired banking accessory
Virtual cards are basically the same as physical cards, just with one major difference – they live on your phone. They allow you to pay for items through Apple or Android Pay by simply tapping enabled devices such as your phone or a smartwatch.
Virtual cards are searched for 3,600 times a month on average, making them the feature people want more than anything with their finances.
Metal credit cards are searched for 1,300 times a month
If you've got a metal credit card, you want people to know about it. They do the exact same thing as a regular, plastic credit card, but they do it in a much showier way. Not all banks offer them, but that doesn't stop people searching for them – 1,300 people a month look them up on average. That's slightly more than metal bank cards (1,000 searches a month) and metal debit cards (880 searches a month). Expect a heavier wallet.
Savings pots are in high demand
Savings pots are a great way to keep track of your money, and allow you to easily transfer money across from your current account. Many allow you to set savings targets, helping you work towards a certain goal such as a holiday, a new car or even a house deposit. 720 people search for them every month in the savings-savvy UK.
Money pots get 480 searches a month
Similar to saving pots, money pots are an easy way to transfer money and sort out your finances. People might use them to save for special occasions, or split their monthly income to cover things like rent, bills and petrol. You can lock some of these pots, meaning if the money is in there, it can't come out until you need it.
Microsaving gets small searches for small deposits
Microsaving does exactly what it says on the tin – lets you save a small amount of money at a time. You can microsave by rounding up payments (some banking apps will allow you to turn on this feature so this happens automatically) and putting the extra pennies into a separate pot, or by transferring a set amount into a separate pot every day. For example, challenges such as the 1p a day challenge, where an extra penny gets saved every day, can help you save £660 over the year if you stick to it.
People are using banking apps more than ever
Banking apps are becoming more and more popular, giving people instant access to their funds and making it easier for them to manage their money.
For many, banking apps have become the new banking branches. 35% of women say they use their banking apps at least once a week – a 9% increase since 2019. 23% use them every day, which is up by 6%. Men aren't far behind, either. 31% use banking apps weekly, up by 3% since 2019, while 24% use them every day – a 6% increase.
Which are the top most popular banks in the UK?
It's always nice to be liked, and these banks are liked more than most by their customers. Of all the banks we surveyed, 70% of the most popular still had physical branches you could go into, showing that even though we all appreciate modern conveniences, many of us still enjoy talking face to face about our finances.
Nationwide is the most popular bank in the UK
Despite technically being a building society, Nationwide takes top spot for banking popularity. Building societies are owned by their members, unlike banks which are operated by their shareholders and floated on the stock market. Nationwide started as one back in 1884, and now scores 57% for popularity.
Halifax is popular with 51% of its customers
Everyone remembers Howard, the face of Halifax adverts during the early 2000s. The 'bank that gives you extra' scores 51% for popularity, and 100% for catchy TV jingles. It started life as a building society, named after the West Yorkshire town in which it was founded, but now forms part of the Lloyds Banking Group.
Santander is popular for more than just Ant and Dec
Santander is one of the largest banks in the UK, providing financial services for over 14 million people. Their popularity is in no small part down to their sponsorship deals – you'll see their name on McLaren F1 cars, London's bike hire scheme, and even Rory Mcllroy, making them a household name. They have a popularity score of 48%.
NatWest is 44% popular
NatWest, or the National Westminster Bank if you want to be formal, is one of the newer banks in our top five, having only been founded in 1968. In 2000 it became part of the Royal Bank of Scotland Group, before taking over the group completely. With a score of 44%, just under half of its 7.5 million customers are happy with its performance.
Barclaycard beats its parent company with a score of 44%
Despite being part of Barclays, Barclaycard beat their parent company to secure the final place in the top five. The company specialises in credit cards and contactless payments, and introduced the first ever credit card to the UK in 1966. Now they're focused on innovation, providing their customers with new ways to bank, pay and save. Sorry Barclays, you made something too good.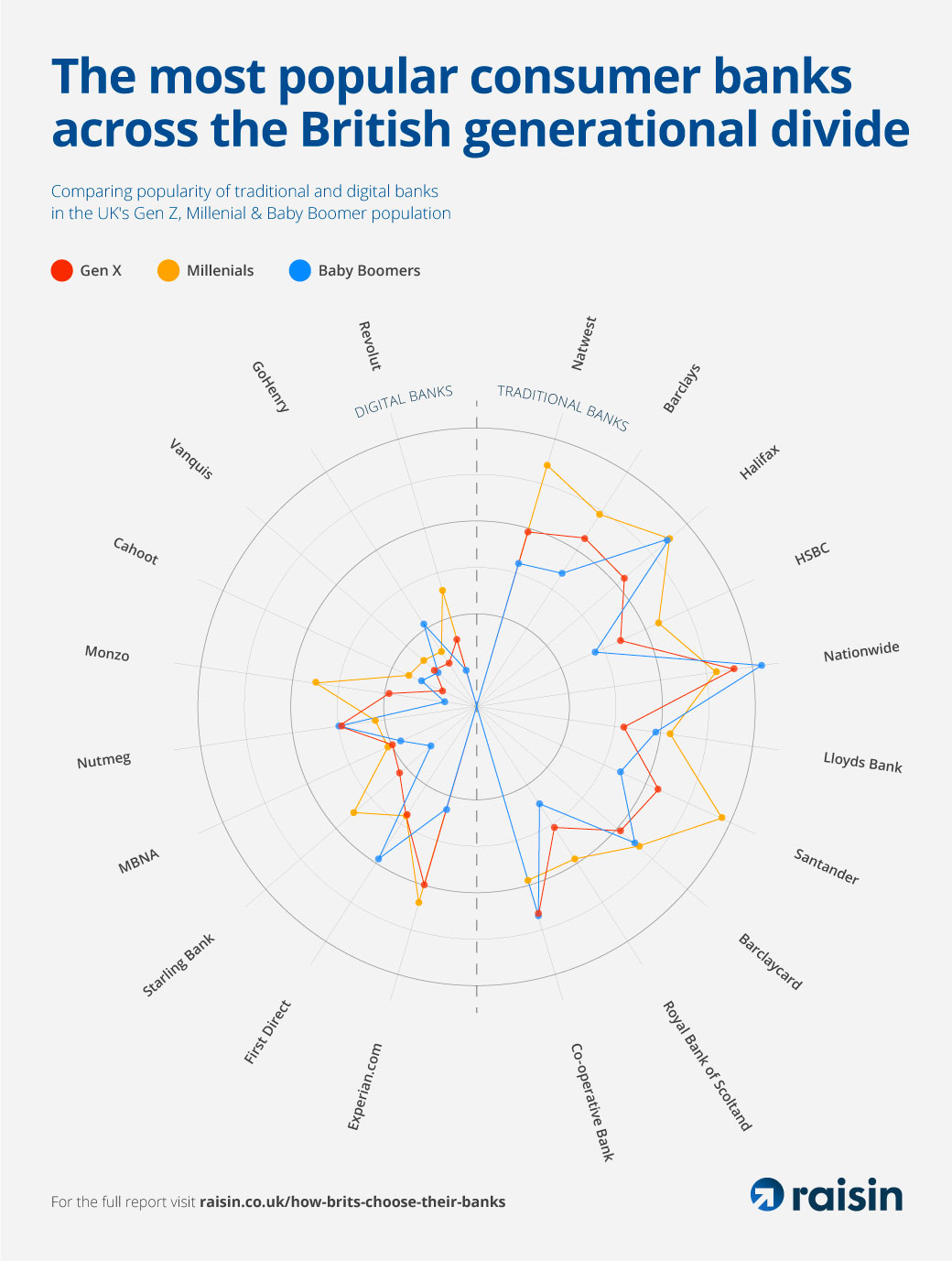 How do you handle your finances?
Whether you prefer a bricks and mortar banking experience, or enjoy tapping your way through all your spending, Raisin offers you the chance to manage your money in a quick and simple way. Explore savings accounts, fixed-rate bonds & more and get your money doing more for you.