The world's favourite fashion brands
Everyone has their go-to fashion brand. Whether it's a name you just KNOW you look good in, or something you've been aspiring to wear since seeing your favourite celebrity in it, most of us have a brand we look out for when hitting the shops.
But which one is the most popular?
We've found out, looking at the world's online shopping habits to see which luxury fashion brands get searched for the most, who rules the fashion roost in different countries, and how much certain items are likely to set you back. Fancy something luxury for yourself? It could be time to start saving.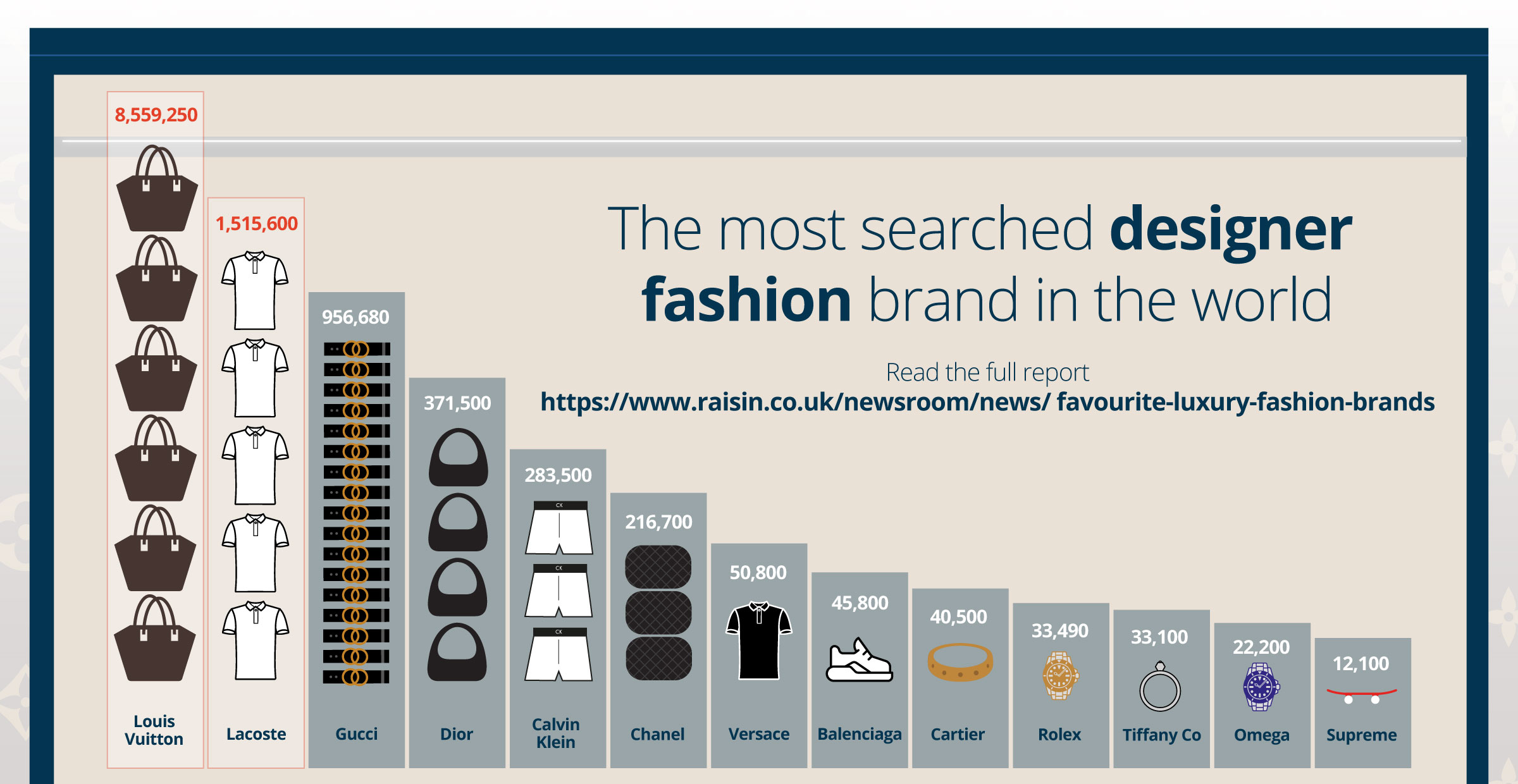 Louis Vuitton leads the catwalk in the UK
Perhaps the most famous fashion house in the world, Louis Vuitton has been turning heads ever since it was founded in 1854. Its reputation is founded on its handbags, with luxury ranges selling for thousands of pounds to celebrities, models and the social elite across the world.
In the UK, it's the most wanted fashion brand of them all. There's an average of 823,000 searches every month for the Parisian powerhouse, as fashion fans across the country look to get their hands on something a little bit special.
Second on Brits' shopping lists is Balenciaga. The Spanish fashion house was founded in 1919 by namesake Cristóbal Balenciaga and has gained a reputation for quirky, modern, feminine silhouettes. It is now owned by luxury group Kering, along with Alexander McQueen, Yves Saint Laurent and Gucci, and attracts 368,000 every month.
Speaking of Gucci, they complete the UK's top three. Despite well-reported family feuds in the 80s, the Italian fashion brand has consistently been a mainstay of the luxury fashion market. They also achieve 368,000 searches a month. With the release of 'House of Gucci', interest in vintage items is set to continue increasing in popularity.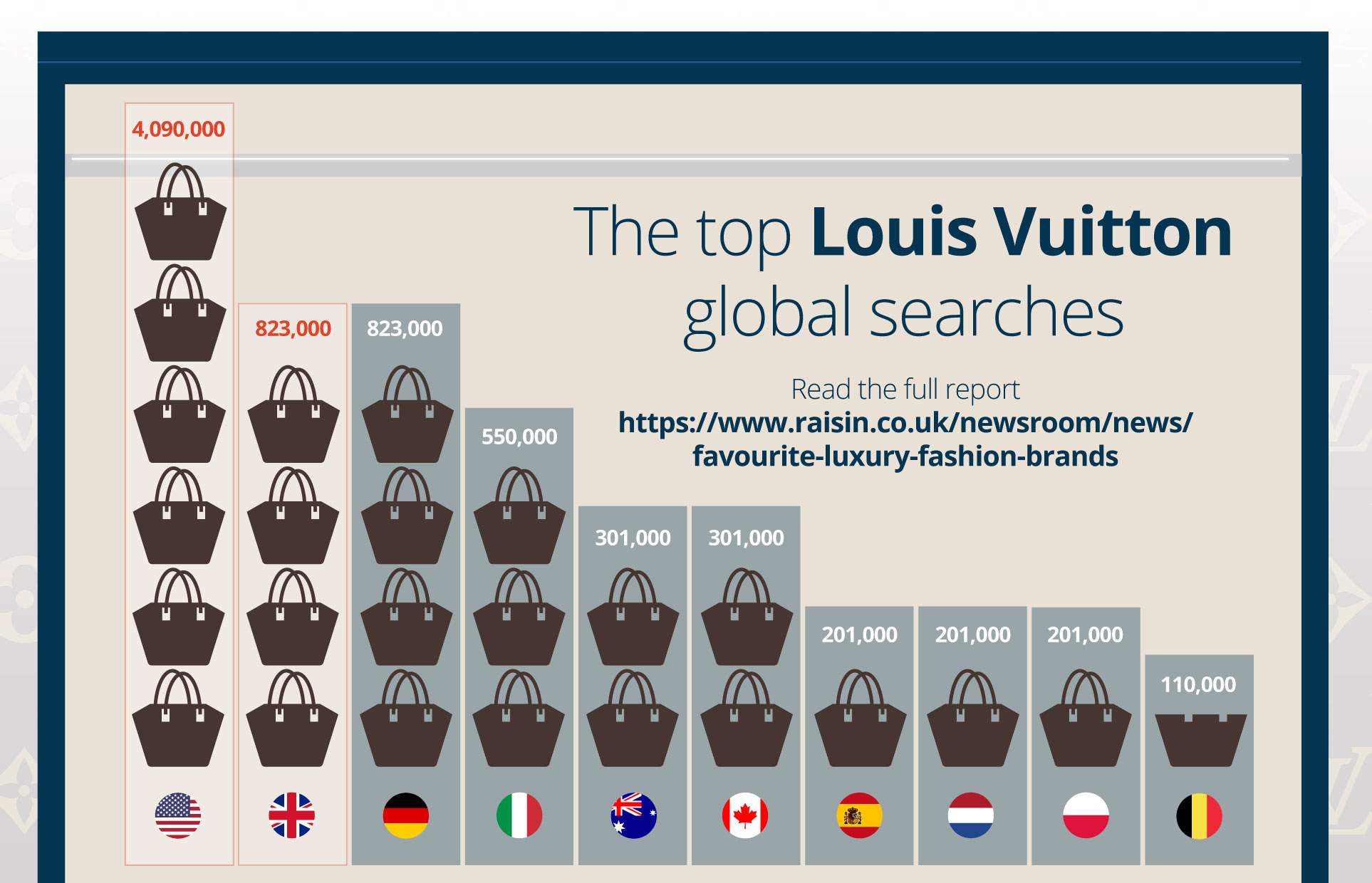 Louis Vuitton, Gucci and Coach are the top fashion brands in the USA
Over in America, Louis Vuitton continues its success story. The brand is hugely popular in the New York fashion scene, as well as in the wardrobes of many a Hollywood star. This aspirational image helps the brand achieve an average of 4.09m monthly searches, and probably a few million in their bank account too.
Gucci takes the second spot. The Italian fashion brand is the star of a new film, all about the family arguments that almost tore them apart four decades ago. But don't we all love a bit of drama? There are 1.83m average monthly searches for Gucci, suggesting the answer is, categorically, yes.
Coach completes America's top three. The brand was founded in New York in 1941, and the home favourite continues to be popular with 1m searches a month.
Louis Vuitton, Gucci and Channel are on top down-under
Australian fashion fans are just as into Louis Vuitton as the rest of us, racking up an average of 301,000 searches every month. A flight from Paris to Sydney would cost you around £1,000, much less than the price of one of LV's bags.
Gucci again earns second position, getting an average of 201,000 hits a month, leaving Chanel to complete the top three with 110,000 monthly searches. Chanel doesn't feature in many other leading global nations, although it does do well in another southern hemisphere country, topping the charts in Hong Kong – again with 110,000 monthly searches.
Louis Vuitton, Gucci and Balenciaga are Germany's favourite fashion brands 
Louis Vuitton has something of a mixed history with Germany, although they wouldn't want you talking about it. But since 1945 they've set about fixing their image, and in modern times get 823,000 German searches a month.
In something of a recurring theme in our survey, perpetual fashion bridesmaid Gucci again comes in second, with 246,000 monthly searches being nowhere near enough to topple LV off top spot.
Balenciaga completes Germany's luxury top three with 201,000 monthly searches.
Lacoste is France's most popular luxury fashion house
Founded by tennis player René Lacoste in 1933, Lacoste made its name by producing sportswear, all featuring the famous little crocodile which was René's nickname during his playing years. The fashion house has since gone on to create glasses, shoes, handbags, watches and beyond, making it a must-have for fashion fans across the world.
In France, loyalty sees it take top spot, bringing in 673,000 searches every month. It's been growing in popularity over the past year too – its searches have gone up by 22% since 2020.
In a rare second place, Louis Vuitton also has 673,000 monthly searches, but trends show that number is going nowhere, leaving Lacoste to push on and take firm control on the fashion court.
Another French fashion staple, Dior, comes in third. The brand was founded by Christian Dior in 1946, and unlike some of the other names in our report, can only be bought in Dior's own stores. However, it is owned by the same holding group that owns Louis Vuitton, so those 368,000 monthly searches make up one pretty powerful fashion conglomerate.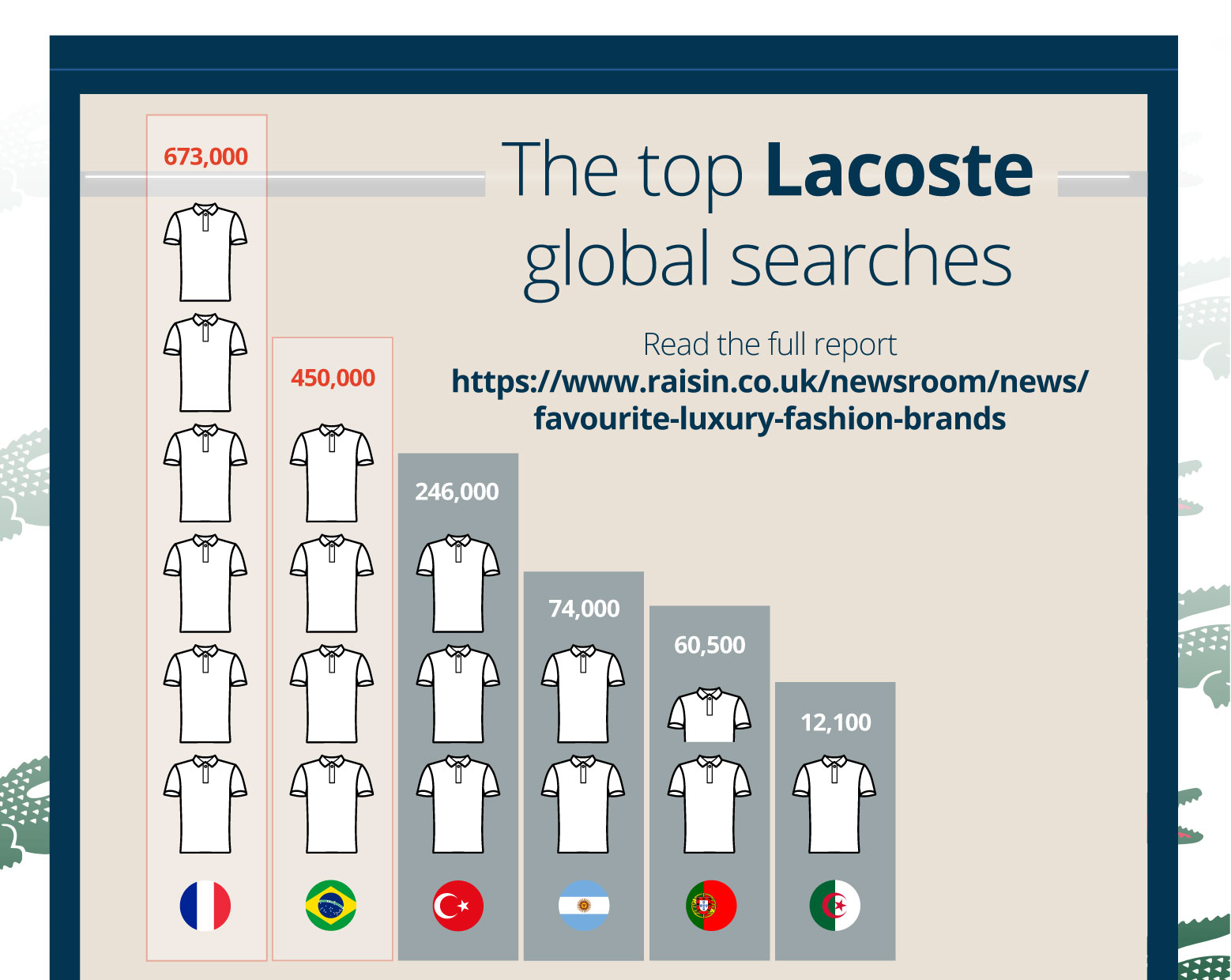 Louis Vuitton, Gucci and Lacoste are Spain's most searched-for fashion houses
With 201,000 searches a month, Louis Vuitton is the go-to luxury fashion brand for Spanish shoppers. That's more than Gucci in second place, which manage 135,000 searches, and Lacoste in third with 110,000. Despite being home to renowned fashion brands such as Balenciaga and Paco Rabanne, there's no place for any local love in Spaniards' wardrobes, who instead turn to France and Italy for their luxury looks.
Luxury v reality – how much does a brand add to the price tag?
While it's always nice to have something a little extra fancy in your closet, it's safe to say there are definitely more affordable ways to dress. Designer labels come with designer price tags, taking otherwise fairly affordable items and turning them into things most of us would have to save up for years for.
We've looked at the worst (but most luxurious) offenders for their price markups.
A Gucci shoulder bag would cost 4,453.61% more than a highstreet version
A shoulder bag is a practical thing, isn't it? It can fit your laptop in, your money, and if you pack carefully, even your lunch. But we're not sure how confident we'd be storing anything spillable in a Gucci shoulder bag, which could set you back around £1,802.62.
However, if you were to buy a high street alternative, you could get the same practicality for only £39.59 – a significantly more affordable option that you wouldn't feel bad about spilling your lunch on at all.
A Louis Vuitton belt would set you back 1,742.20% more than the average price
If you want a really expensive way to stop your trousers falling down, you could pick up a Louis Vuitton belt for a mere £581.52. If, however, you'd rather buy a belt that you wouldn't feel bad about punching an extra hole through if you ate a bit too much at Christmas, you could buy one on the high street for a fraction of the cost at £31.57.
Buying a Burberry scarf would be 2,017.98% more expensive than average
The average price for a Burberry scarf is £441.67, making it a very pricey thing to wrap around your neck. To quote everyone's grans, would it even keep you warm? If you were to head to a high street store, you could find one for only £20.85, around 22 times more affordable than one from Burberry.
A cap from Dsquared² costs 1,005.48% than a store alternative
Two things to note about Dsquared² – one, their baseball caps cost around £142.28, and two, they made us find the superscript button on our keyboards. The brand was formed in 1996, making it much more modern than many of the fashion houses featured in our report. But if you're looking to save money for something more than a hat, you could buy a cheaper one for only £12.87 from most high street stores.
Balenciaga trainers cost 1,572.58% more than on the highstreet
Trainers are often some of the most expensive fashion items on the market, with the likes of Nike, Adidas and even Kanye West selling pairs for thousands of pounds. If you like your trainers so expensive you never dare wear them, you could get a pair from Balenciaga for £592.54.
Or, if you'd rather find a pair that's just as good for a trip to the pub as it is a game of five-a-side, you could find one for £35.43.

Looking to save up for some luxury of your own?
Whether you want to put your money towards a piece of luxury fashion that will wow on the catwalk (or in the office), or you'd rather save for a new house, car or holiday, we can help.
Our easy access savings account is great for short term goals or as a regular saver, letting you put money in and take it out again whenever you like. Open your account today and we'll even give you a £50 bonus to get your savings started.
Methodology
A list of brands was compiled based on previous articles and data sources that are related to luxury product items. The search volumes for these brand names were then collected for each country along with their 12 month trend. The top 3 brands for each country were then calculated in order of search volume. If two brands had the same search volume the brand with the higher trend was ranked higher.
To calculate mark up costs, several like for like products were chosen, the prices of these products were then collected from several sources – high end (original brand, Selfridges and Stock X) and low end (Primark, ASOS, River Island) the average prices were then calculated for both the high end and low end products. The % difference between the two was then used to show the mark up.
This article may contain information about partner banks, savings accounts, rates and bonus offers which were correct at the time of publication.