The day you open your first bank account is a great milestone on the journey to adulthood. Perhaps feeling nostalgic, more than a third (35%) of us still have the account we opened way back with our parents, according to new research by Raisin UK.
But, with almost half (48%) only having one account – rising to 50% of those aged 16-24 – it is important we remain savvy to ensure we are getting the best deal, especially given the current turbulent circumstances.
Keeping an eye on and comparing savings rates, while assessing the state of the main current account, remains extremely important – especially given 43% have never changed their main bank account, while of those that have, over 50% did so without checking the interest rates.
Feeling empowered to make crucial decisions when it comes to our money stems from better financial education, but rather worryingly, research has shown this isn't the case with younger generations. External influences play a large part when it comes to money matters, with 60% of 18 to 25-year-olds still having the bank account that they opened with their parents/guardians.
A further quarter of 18 to 25-year-olds who have changed their main bank account, did so because they would receive money from the bank to switch, while 15% of 18 to 25-year-olds changed their main bank account due to liking the look of the new bank card.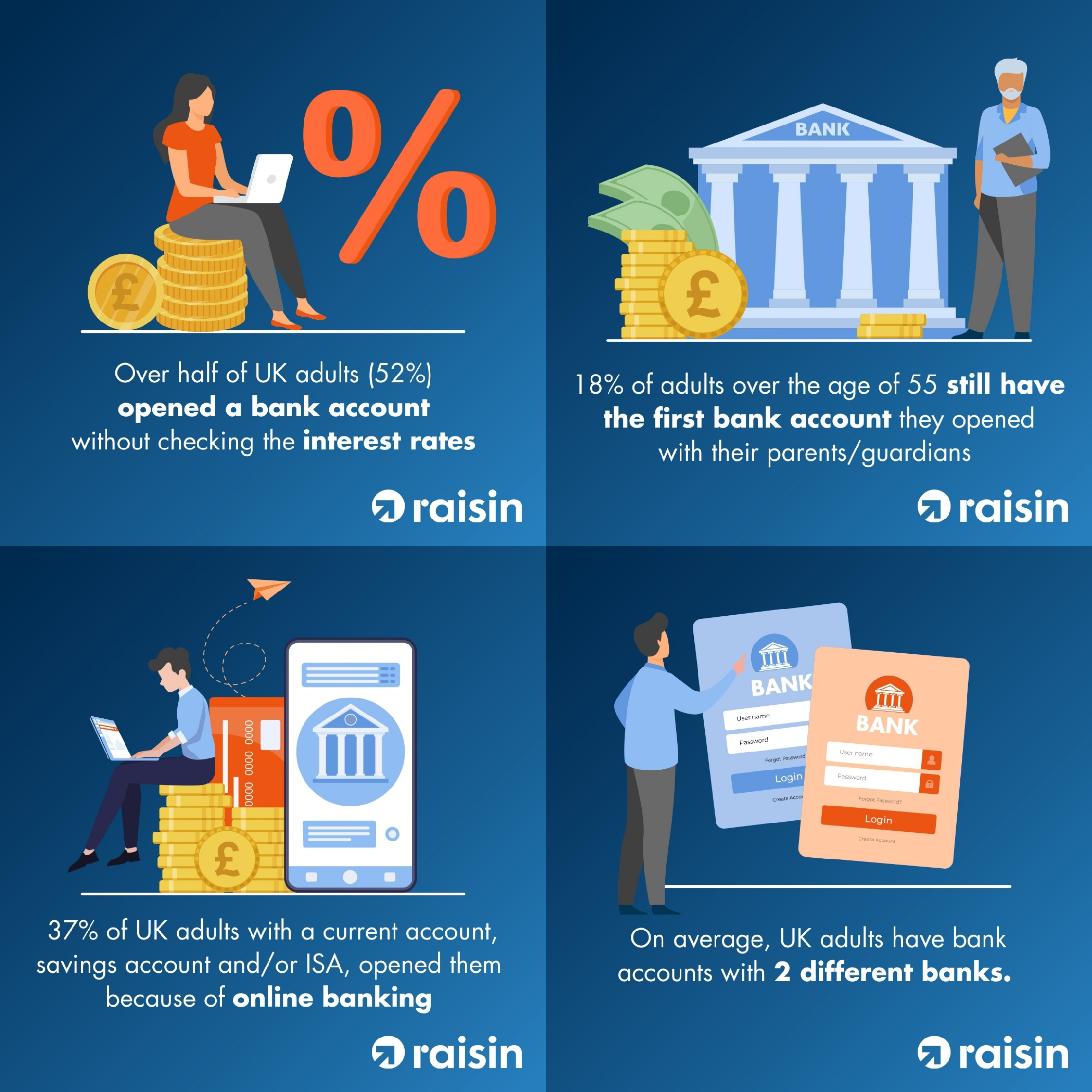 Ease of switching, rather than competitive returns on hard-earned cash, also play a big role in decision making with 37% of UK adults with a current account, savings account and/or ISA, opening them because of marketing offers in their online banking with only one in four saying due to interest rates.
Commenting on the research, Kevin Mountford, said: "Now that they're able to, many young people will be eager to go out and spend their hard-earned cash after years of saving. But as prices continue to soar, it's important now more than ever that they know how to make their money go further.
"With inflation fast approaching 7%, interest rates and the cost of living to increase, making smarter moves with your money now could help you save a lot more in the long run. Low or no paying interest accounts, whether current or savings, are often the cash cows for big banks – designed to keep customers within their banking system through easier to switch products or by attracting new customers with introductory offers.
"The market is incredibly competitive thanks to online and challenger banks vying for your money, do your research to find the best deals and rates – and get into a habit of at least checking every six months."