Everything you need to know about saving for a wedding
Understanding wedding costs and how to save for a wedding in the UK can help shape your plans for your special day. On this page, you'll find out how much you might need to save for your wedding, and get tips to help you save more effectively. We also share ideas for planning a wedding on a budget and explore different types of wedding savings accounts.
Key things to know when saving for a wedding
Wedding costs:

The average cost of a wedding can vary dramatically and will depend on what you want from your day. It may also depend on where you live and the type of wedding you're planning.

Wedding budget:

A lot of couples budget too little for their wedding or have already spent more than initially planned.

Research:

Research and comparison shopping is one of the best ways to keep track of wedding costs and save more.

Wedding savings accounts: If you open a dedicated wedding savings account, it might be worth choosing one that offers flexibility so you can easily access your money if you need to pay for something urgently.
How much to save for a wedding?
The total amount you need to save for your wedding will vary. An average UK wedding costs about £17,000* (excluding your honeymoon), including the average costs for wedding cakes, wedding and engagement rings, rehearsal dinners, reception, décor, professional photography, etc. 
Of course, you can choose to spend more or less than this depending on the type of wedding you want, how many guests you invite and your priorities for your special day. A simple affair in the garden with home catering and a small guest list is going to cost a lot less than a fairytale castle with black tie dinner and extended friends and family. 
Where you get married and have your wedding will also impact your wedding budget and costs. For example, a wedding in London could be more expensive than having a wedding in Scotland as the cost of living is higher, meaning that even purchasing food, hiring venues and buying flowers will come in at a higher price.
You could also consider holding your wedding abroad, as this could even come in cheaper than having a wedding closer to home. For example, destination weddings in Sri Lanka average about £12,857, and in Mauritius they can come in around £12,492 – plus you are more likely to be guaranteed good weather.
Get the inside scoop
Want to be in-the-know on all things savings?
Of course you do. Sign up and be the first to find out about top rates as soon as they land,
exclusive account holder-only offers, and the latest money news.
Good news!
You're now just one step away from receiving exclusive rates and offers as soon as they land.
To complete your registration, please confirm your email address by clicking the link in the email we've just sent you. If you can't see the email in your inbox, it may have gone to your junk or spam folder instead.
Four ways to save for a wedding
The longer you have to save for your wedding, the more money you'll have for your special day, and the easier it will be to budget. These four tips might also help you save more effectively.
1. Set a realistic wedding budget
Planning what you want for your wedding day is pretty easy, but having the budget to make those dreams a reality is the hard part. Having a budget can help you keep track of your spending and choices. It's easy for wedding costs to add up, and it's important to know what you've spent and how much you've still got left to spend. Start by making a list of everything you want and putting a cost against it, before refining it into a budget that's realistic for you. It's a good idea to have clear estimates for everything you want, and compare costs as well. 
It's also worth noting that a whopping 74% of couples end up going over budget when it comes to saving for their wedding, so be sure to factor in every little detail and overestimate your outgoings rather than underestimate to be on the safe side.
2. Calculate your monthly income
Once you have an idea of what your target budget is for your wedding, you can calculate how much you'll need to save each month. It's important to be realistic about what you can achieve and how you can manage your money to achieve it. When you have a target number to save to and a date set, it will be easier to calculate exactly how much you need to set aside each month to meet that target.
If your target and timescale is looking too tight, you may need to reduce your expectations or lengthen your saving time. A good way of calculating your wedding budget and savings goals is to work out the number of months you have left until your big day and how much you can save each month. Don't forget to factor in any savings or wedding contributions you have already. The final tally of that equation will be your wedding budget.
3. Start saving for your wedding as soon as you can
The earlier you can start saving for your wedding, the easier it will be for you to manage the costs. Opening a savings account is one of the best ways to set money aside while earning interest. 
Comparing different types of wedding savings accounts will help you get one that suits you and your wedding savings goals.
If you want the flexibility of accessing your savings at any time, an easy access account might be right for you. You could also consider a notice account, which provides the flexibility of easy access with the more competitive interest rates of a fixed rate bond. Fixed rate bonds may be best if you already have a lump sum that you can lock away for a set amount of time and aren't getting married for a while, as you'll typically earn a higher interest rate.
Make sure you always check the terms and conditions of any account you open as some types of wedding savings accounts may charge for early withdrawal.
4. Monitor your wedding savings
Keeping track of your money as you save for your wedding will help you keep on top of your budget and costs. It's important to shop around and compare wedding savings accounts, so you get the best interest rate for the type of savings account that suits you. 
How to save for a wedding quickly
If you're planning to get married soon after getting engaged, you could look at adjusting your monthly expenses and see where you can save by reducing your expenditure. Opening a competitive variable rate notice account may also help increase your savings in the short term.
Of course, lowering your overall wedding spend will also mean you reach your savings goal that much faster. The good news is there are plenty of ways you can reduce costs if you're planning a wedding on a tight budget. Read on to find out more.
How to plan a wedding on a budget
A good first step is to agree on the kind of wedding you want, and bear in mind that keeping it simple generally means that you'll save money. Rather than thinking about the finer details at this point, consider what you want to do and what your priorities are for your wedding day (beyond getting married).
Once you've decided on the kind of wedding you want, set your budget. List everything you'll need to pay for and how much each aspect of your wedding might cost, so you have a total cost. Once you have your total wedding cost, you need to do what many people find to be the hardest part of planning their wedding; you need to work out how much you can spend. This should include how much you already have saved, and how much you'll be able to save up to your wedding day. If your family is making a financial contribution to your special day, include that, too. 
Once you know how much your wedding might cost and how much you'll be able to spend, you'll then know where you need to cut costs and make savings. It's a good idea to put your list in order of priority so you know you'll be spending your money on the things that mean the most to you, while saving money on the things that might be less important.
14 quick wedding-on-a-budget tips
Wondering how to plan the wedding of your dreams without blowing the budget? Hopefully some of our savings tips below will help you have a cheap wedding and make your money go that little bit further.
1. Choose an unconventional day or season for your wedding
The biggest cost of most weddings is the venue, but if you're prepared to get married out of season or on a weekday, you might find that venue costs start to drop. The 'wedding season' in the UK typically runs from May to October, meaning you're likely to find cheaper prices throughout late autumn, winter and early spring.
2. Consider an alternative approach to your wedding
While many people have dreams of a big white wedding at a grand hotel or venue, others are happy to cut costs with a more unconventional approach. This might mean going to a town hall or registry office to tie the knot, followed by a celebration at your own home or a family member or friend's house. A good way of looking at this is the more unusual, the more likely your guests are to remember the day. 
3. Double-check that everything's included
When you've chosen your venue, make sure that everything you'll need on the day is included in the cost, so you don't get any unexpected bills. It's not unheard of to be charged extra for things like cake knives, crockery and linen. It's important to ask your venue as many questions as possible, no matter how small or obvious the answer may seem. You could end up saving a lot of money. Some venues might also be open to dropping some extras that you don't feel are necessary, in order to save you some cash. 
4. Look for cheaper venues
The good news is that there are now a lot of different types of wedding venues to choose from and many are good value, especially if you can keep your guest list down. Look for a venue that hosts simple celebrations with basic food and drink. Your day will still be very special.
5. Ask to be informed of cancellations
Weddings are cancelled for all different kinds of reasons, which can be good news for you if you'd like to score your dream venue at a discounted price. Just keep in mind that this will often mean little notice, and that could have a knock-on effect on your guestlist and other things that you need to have ready for the big day. 
6. Make use of family heirlooms
Rather than splashing the cash on new rings, you can save money and make it extra special by using the rings of family members and loved ones that you have lost. While you might have to pay to get the rings resized, this often won't come anywhere near to the cost of a new ring. The same goes for wedding dresses too, which can be altered to suit your style and shape while bringing something special and sentimental to your big day.  
7. DIY invitations, RSVPs, table plans and cards
Planning a wedding on a budget means you'll probably have to do some DIY. Making your own wedding invites, RSVPs, table plans and table cards can save you a substantial amount of money. You could also hand out your invites rather than mailing them, and email wedding invites are becoming increasingly popular, too.
8. Make use of talented friends
Other expensive aspects of a wedding day include things like photography, hair and makeup and the DJ. If you're having a wedding on a budget and happen to have friends with talents in any of these areas, consider asking them to do it as a wedding gift for you, or for a small charge to save you some cash. 
9. Skip the formalities
Weddings might be considered an old-fashioned tradition, which is why you can get away with scrapping some of the things that many people do on their big day. This includes things like canapés, three-course meals and champagne toasts, swapping them for more budget-friendly and relaxed options such as a buffet and the bring-your-own-booze approach. 
10. Shop second-hand 
When it comes to things like suits, shoes and your dress, it's unlikely that you're going to wear them again. A great way to avoid this expense is to shop second-hand instead, which will not only save you money but reduce your carbon footprint, too. 
11. Drop the 'W' word
Just like any other special celebration, there's often a sneaky hidden surcharge for wedding essentials. When shopping for your dress, decorations and other items, avoid using the term 'wedding' and see how much you can save. 
12. Include a contingency in your budget
When you're planning your wedding budget, it's a good idea to include a 5-10% contingency so that you'll be able to cover any unexpected costs. If you don't end up needing this money, it could act as a great starter for an emergency fund, or you could use it toward a honeymoon for the two of you to enjoy.
13. Open a wedding savings account
Organising your finances is one of the best things you can do if you're planning a wedding on a budget. Opening a savings account that's dedicated to your wedding will mean you're less likely to be tempted to spend your funds, and you'll also earn interest, so you've got that little bit extra in your budget. 
14. Compare, compare, compare
It's not just important to compare savings accounts. Comparing costs for everything you'll be buying, from venues and cakes to photographers and honeymoon travel companies, will help you find the best budget-saving options.
How can I maximise my wedding savings?
As we've already explained, if you're saving for a wedding you might consider opening a wedding savings account so you can earn interest on your savings. Depending on the amount of time you have to save before your wedding day, it's worth comparing different types of savings accounts so you can get the most from your savings. 
If you have one or two years to save and a lump sum to deposit, the competitive interest rates you'd earn with a fixed rate bond might be right for you. If you have less time to save but still want to maximise your savings, you might consider a notice account.
How to open savings accounts at raisin.co.uk?
Quickly and easily open a wedding savings account for your wedding with competitive interest rates from a range of UK banks by registering for a Raisin UK Account and logging in to apply. It's free to open an account, and once you've been approved, you just need to transfer your deposit and watch your wedding savings grow.
* https://weddingplanner.co.uk/wedding-inspiration/the-costs-of-a-wedding-in-2020
The fictional wedding calculator
We look at the costs of weddings from TV and film, and see how long the characters would need to save up to afford their big days.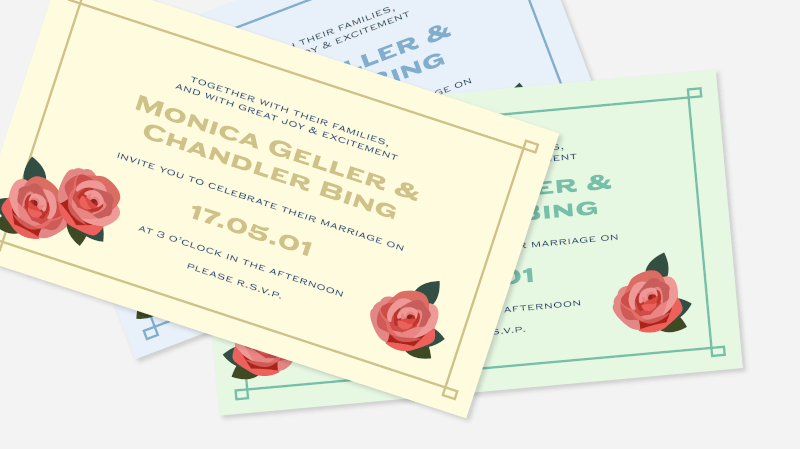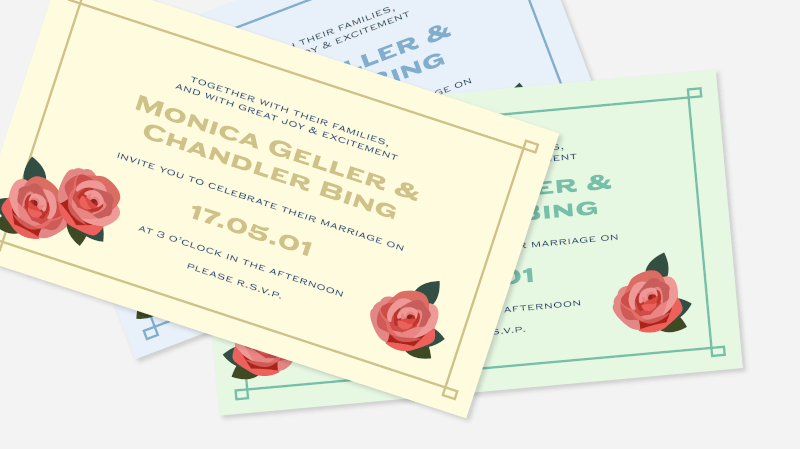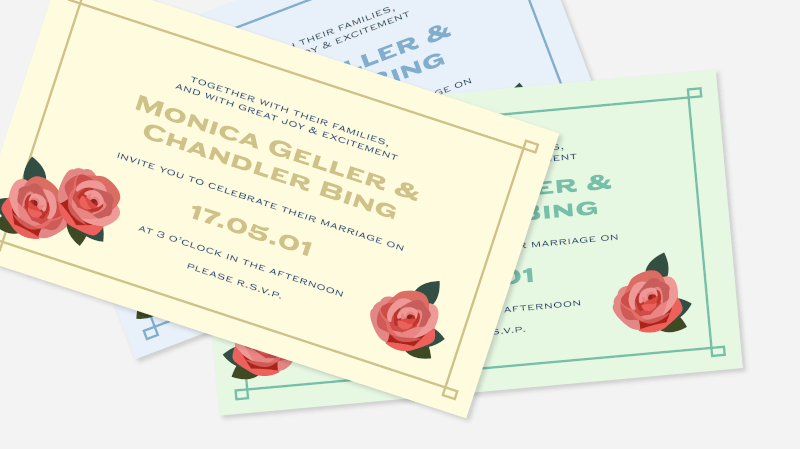 They're the moments that made us smile, sigh, or even brought tears to our eyes. Weddings on TV and film show the happiest moments for some of our favourite characters, and are often what the whole plot has been leading up to. They can take hours, months or even years to happen, and if we've been following the romance from the start, it almost feels like we're one of the guests.
Of course, weddings in real-life can take months or years of planning and saving, which is why thinking ahead and setting up a savings account specifically for your big day is a great idea. Whether you opt for a high interest fixed rate bond or a flexible easy access account, you stand a better chance of affording your dream wedding.
But back to the small and silver screen – just how much do these fantasy weddings cost, and could the bride and groom really afford them on their wages? We put all the soppy, romantic stuff to one side and got to the heart of the issue.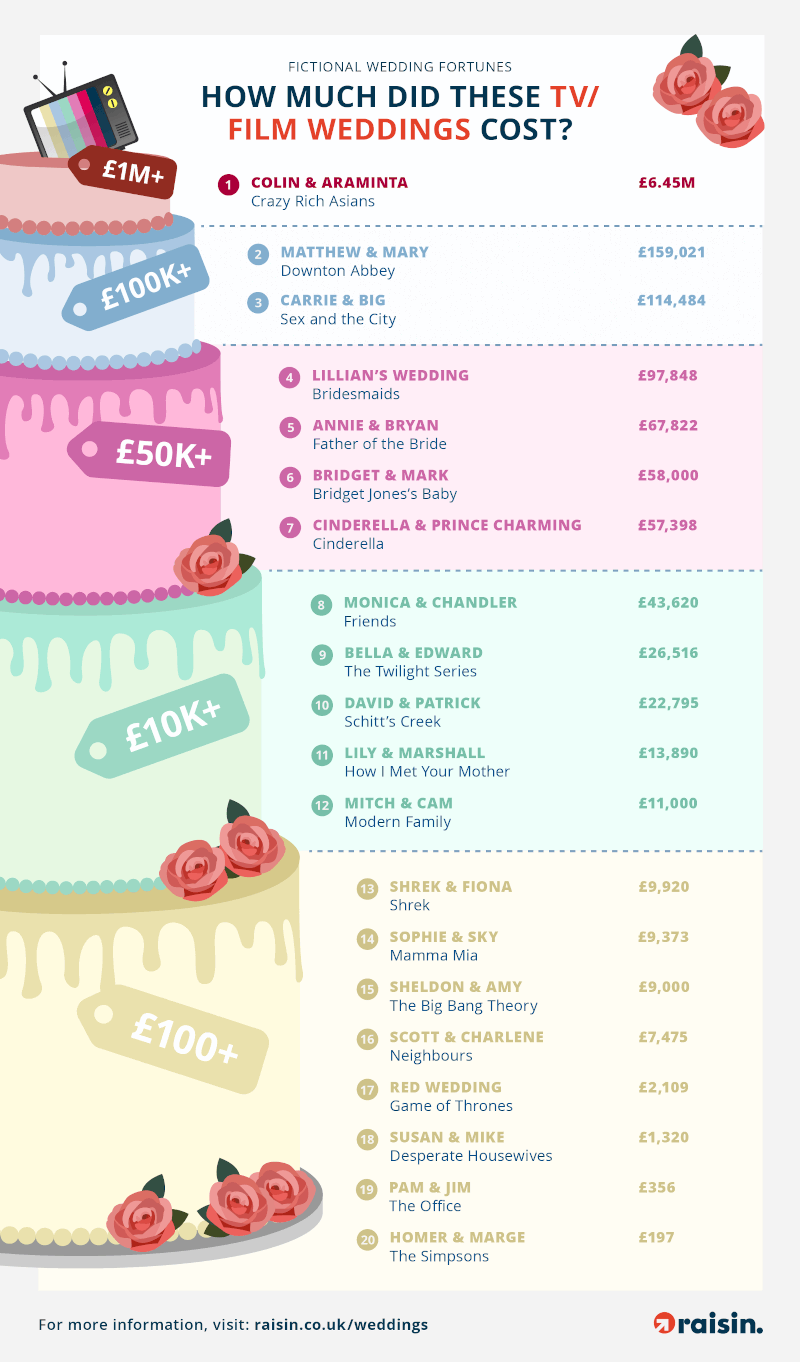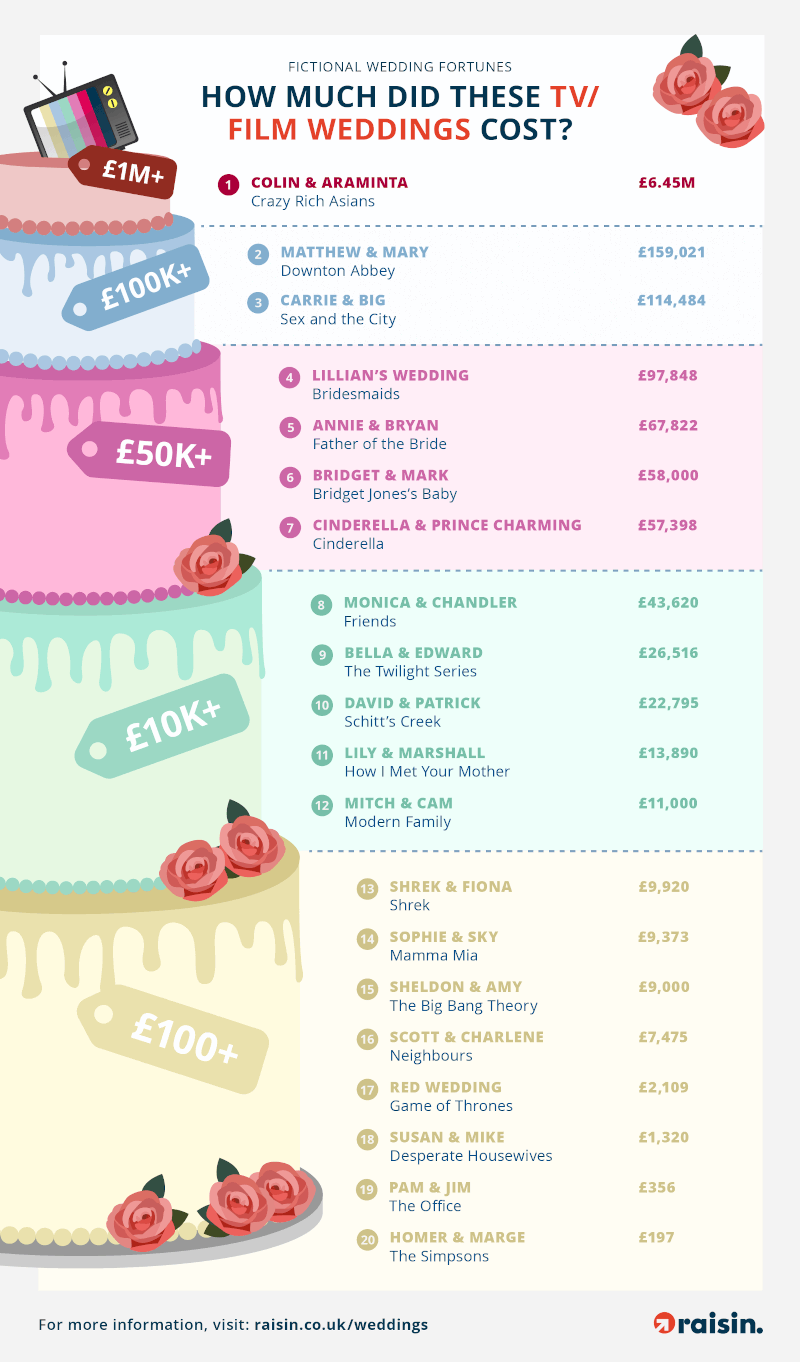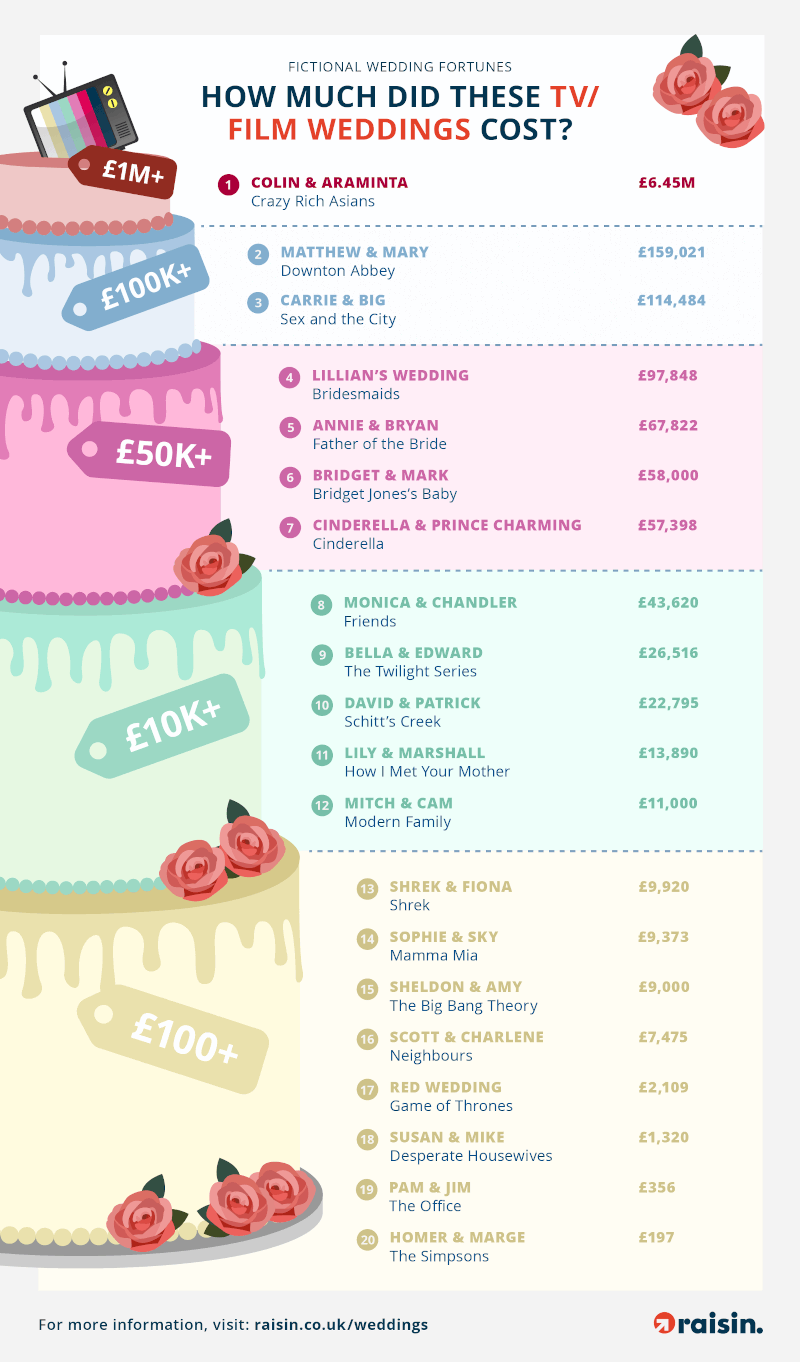 The big spenders
Some of the most lavish on-screen weddings have seen hundreds of thousands splashed out on extravagant venues, food and entertainment. However, the most expensive of all was that of Colin and Araminta from Crazy Rich Asians. As the title suggests, they certainly were crazy rich, with huge sums of family fortune helping them spend a whopping £6.45 million on their romantic bash.
Given that Araminta is heir to a hotel chain's wealth, this amount of money would have been small change for such an occasion. We don't imagine they needed to save at all.
Other high risers were Matthew and Mary from Downton Abbey, whose wedding set them back £159,021. Not a small sum of money by any means, but when your dad is the Earl of Grantham (worth an estimated £800 million in today's money) we reckon this wedding didn't break the bank.
Carrie and Big come in third place, with the Sex and the City pair splashing out £114,484 for their long-awaited celebration. As Big was a financier and a fairly prolific investor, he was rumoured to earn millions. Meanwhile, Carrie was a freelance writer charging Vogue 50 cents per word, so she was doing alright too.
The fourth most expensive wedding is that of Lillian in Bridesmaids. Costing around £97,848, the ceremony was primarily funded by her dad, which always comes in handy if you're lucky enough.
Wrapping up our top five is Annie and Bryan's wedding from Father of the Bride. In the film, Bryan's parents live in a Bel-Air mansion, so it's safe to suggest where they might have found the £67,822 needed for their ceremony.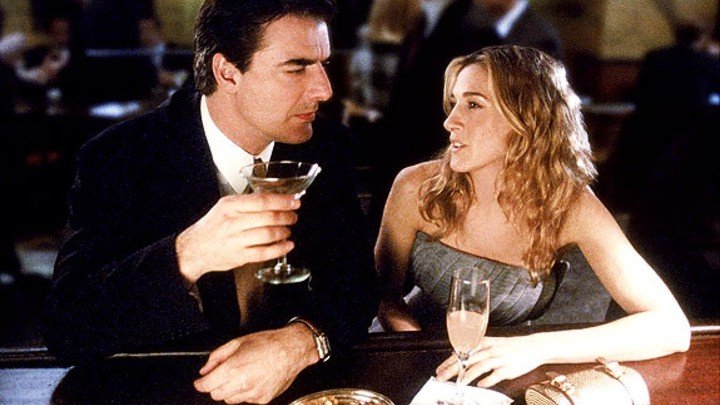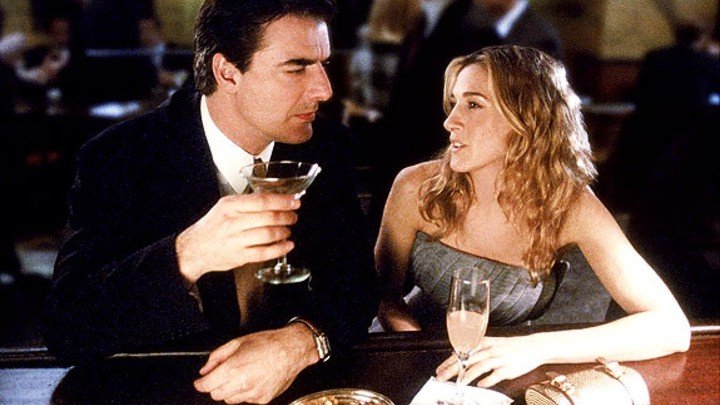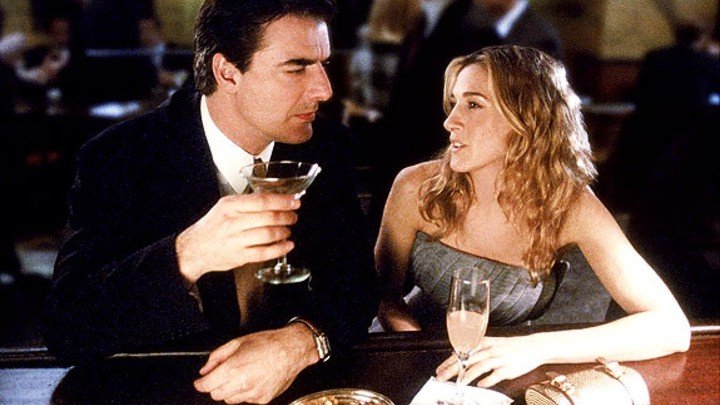 Image source: Carrie & Big from Sex and the City splashed out more than £100,000 for their aborted Manhattan nuptials
The around averages
The average UK wedding costs £31,974, putting the next five fictional lovers wedding costs around the middle of the road, making them much more reasonable to save for if you're in a well-paying job.
With a long-term romantic interest in 'Bridget Jones's Baby', Bridget Jones and Mark Darcy's wedding is at the top of the list. At £58,000, this wedding price tag might have been a little out of reach on Bridget's publishing salary, but as Mark is a successful barrister, he could easily afford it.
Next up is one of the most famous weddings of all time. When Cinderella married her Prince Charming, it became a dream for many young girls across the world. The prince's wealth undoubtedly helped, as their big day cost £57,398 to put together, with a little help from the Fairy Godmother coming as a wedding gift.
Could it be any more romantic? When Chandler finally tied the knot with Monica, Friends fans worldwide let out a small cry. At £43,620, we'd imagine the married couple did too. However, given how much money they were saving on their rent-controlled apartment, it could well have been affordable.
Bella and Edward's wedding came in at just under average, costing the vampire and his wife around £26,516. Saving up for a wedding is definitely easier if you get to live forever, and as Edward's adopted father was a doctor, his salary no doubt helped too.
At £22,795, the wedding of Schitt's Creek's David and Patrick might have been a little much after the Rose family lost their fortune. But given how the couple ran a store, the father's motel business was taking off, and their friends helped with the bulk of the occasion, the couple were thrifty when it came to their planning.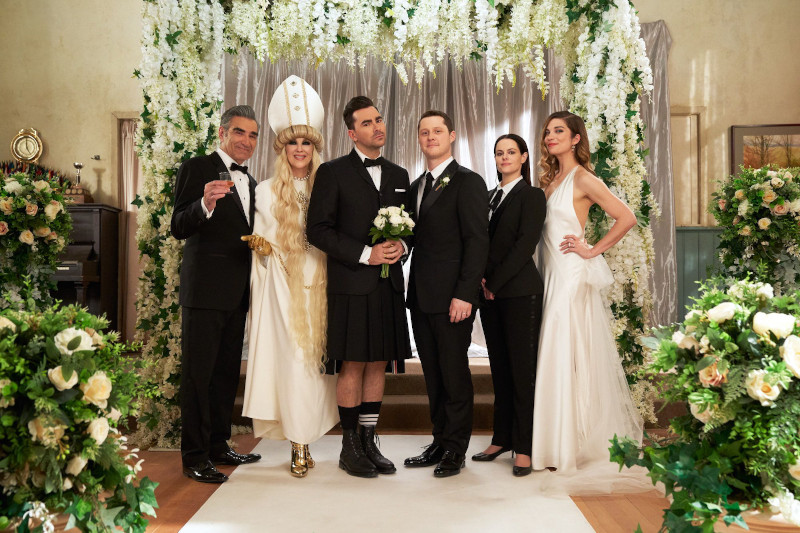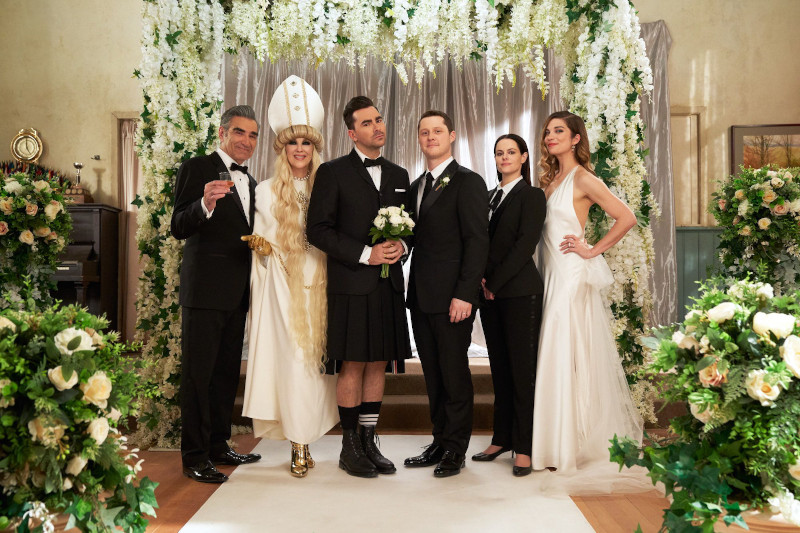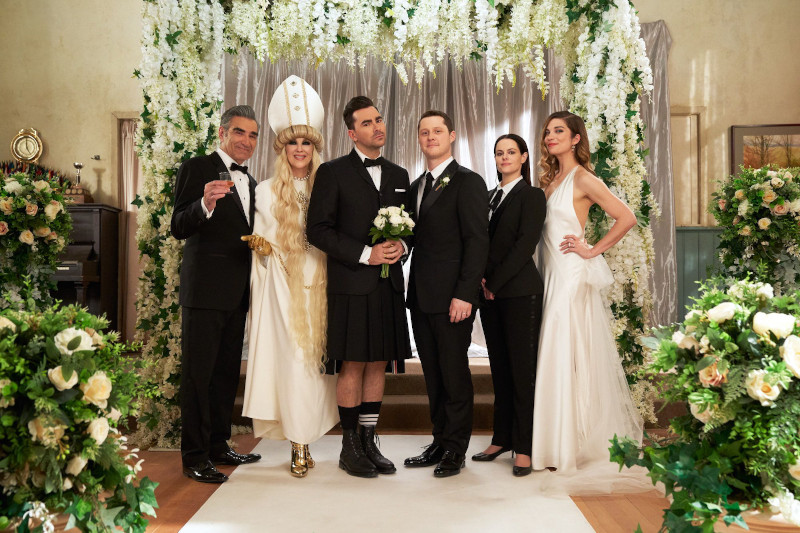 Image source: David and Patrick's nuptials from Schitt's Creek were a focal point of the series finale
The budget brides
You don't have to spend big on a special occasion. In fact, some of the big screen's most famous marriages have come in way under budget and still packed a punch right in the feelings.
In How I Met Your Mother, Lily and Marshall put on their outdoor wedding for only £13,890, using nature to set the scene for their long-awaited party.
Another of TV's famous couples, Mitch and Cam from Modern Family, spent even less. Their wedding cost only £11,000, which given Mitch's work as a lawyer should have been easy enough to save up for.
Shrek and Princess Fiona slashed costs on their big day in a land long ago, forking out only £9,920 to tie the knot. Admittedly, Fiona's royal background may well have helped her save up the funds, although we're not sure how they afford Donkey's wild after-party.
At the bottom end of our wedding scale, Mamma Mia's Sophie and Sky only spent £9,373 on their big day, which is fair enough, given how Sophie's mum stole the spotlight and we never actually see the two walk down the aisle. We'll leave what happened next up to your imagination.
The cheapest wedding from film or TV goes to Homer and Marge for their Vegas wedding in The Simpsons. Homer and Marge's romance has lasted more than thirty years for us, and is widely debated how much time that transpires too on-screen. Featured in the third season episode 'I Married Marge', by getting married in a Vegas chapel, they cut huge venue costs, spending only £197 on the whole occasion.
Recently celebrating thirty year on-screen, we're sure Marge and Homer would've had ample time to save for the meagre cost of their wedding.
Planning a wedding of your own?
Along with buying a house, your wedding day could easily become the most expensive thing you ever do. How big you go is up to you, but whatever you decide to do, our marketplace is home to savings accounts to help you grow your money and make every pound towards your wedding count.
It only takes a few minutes to register for a Raisin UK Account, then you can click to apply for savings accounts from a range of specialist banks.
See what our customers say about us on Trustpilot
Great New Service
Ive been a customer of Raisin since it launched in the UK. Although the business has recently gone through some changes I've been regularly updated and now able to open a very competitive 9 month fixed product.
Kevin
Very easy process to invest via the…
Very easy process to invest via the Raisin platform. Bonus come through on time. Communication was good throughout.
Thomas Ballard
Very Good Service!
I can really recommend Raisin! I was able to open a deposit without any real hassle. One point, it should be clearer on the registration page that you have to be really careful as to exactly how you enter your data. Even just a hyphen missing in a name can cause the application to fail! However, after three attempts, NO problem! Very friendly customer services team, by the way! Jean
Jean
Raisin uk
Raisin Uk from my experience are great , I phoned them to clarify something and I phoned to make sure they got my email because my phone had been failing to send mail and they were extremely helpful and friendly, 100% for customer service from my experience.
Sue Pasternak