Guilty pleasures, hidden fees and forgotten subscriptions cost Britain £129 billion every year — but austerity measures aren't the only way to cut costs. 
It's not an easy time for many people in the UK right now. Due to rising costs for food and energy, Brits are feeling the squeeze. New analysis by Raisin UK has highlighted fifteen avoidable expenses that add up to a big burden on household expenditure, where a daily cost of £12 per household turns into nearly £4,600 down the drain every year. 
Typical financial advice often advises people to avoid takeaways, coffees and other 'unessential' (but enjoyable) expenses. And while alcohol and tobacco costs the average Brit £1,272 a year, we believe in a mindset of mindfulness rather than misery. Just a few strategic changes can help households hang on to more of their cash. 
From food waste and forgotten subscription fees to phantom energy, here are the fifteen expenses we can all consider cutting back on.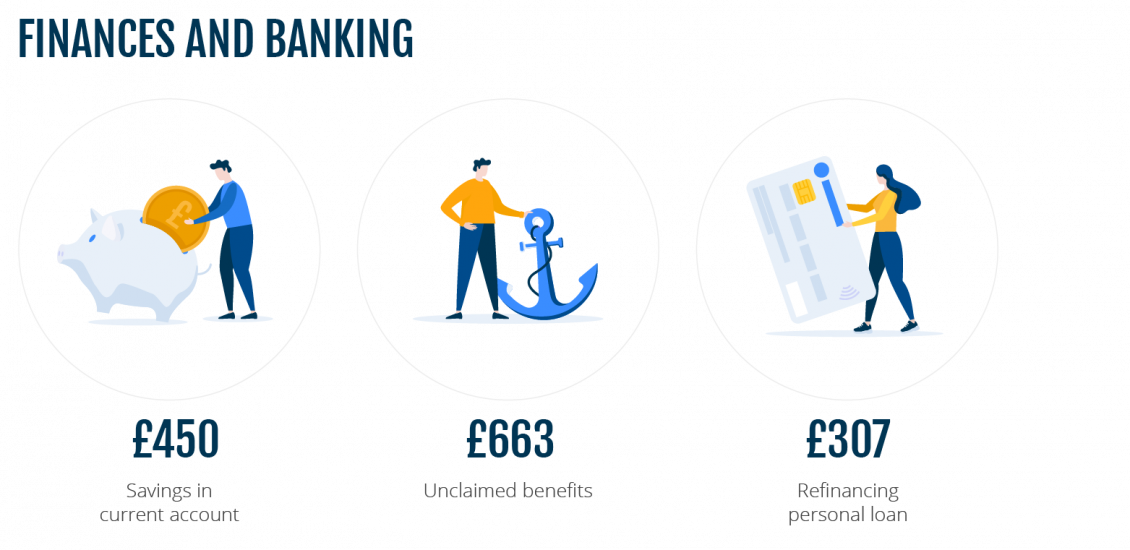 It starts with finances, of course: data shows that British households could save £307 a year by refinancing their personal loans*, and potentially moving this to a zero-interest credit card. Meanwhile, there are estimated to be 1.2 million households who are eligible for – but don't claim – Universal Credit. Similarly, an estimated £2.9 billion of Council Tax Support is currently unclaimed by 2.7 million eligible households each year. 
For the 7 in 10 households who have savings, keeping your money in a low, or zero-paying account is also money down the drain. Households with £10,000 of savings in a low-yield high-street saving account could bag an extra £307 a year by moving this to a more competitive 1 year savings account at 6.00% AER. If your savings are in a current account, it's even better news – move these savings to an easy access account now to earn an extra £450 a year!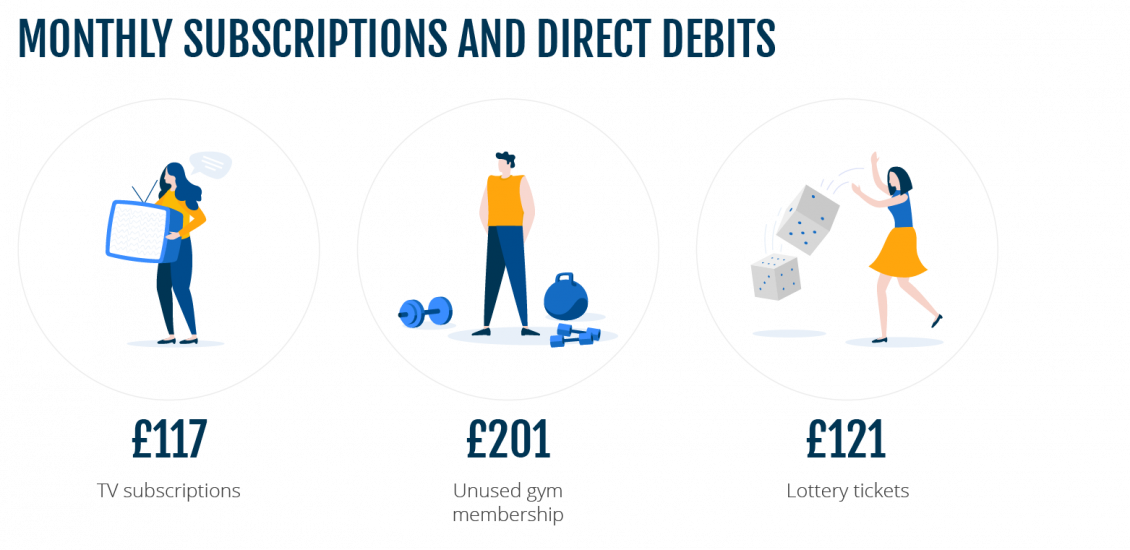 We're all guilty of signing up to subscriptions that don't feel too expensive on their own, until they all add up together. Unsurprisingly, one of the worst culprits for money down the drain is the gym – we calculate that the average household wastes £201 on unused memberships.
Not shopping around is also a sure fire way to spend extra money – the average household could reduce their mobile phone plans by £80 by looking around for better deals, while streaming subscriptions add another annual cost of £117 a year, making it worth checking whether you really are getting use out of all of them, and whether you could switch to family plans to save some extra cash. Feeling lucky? We also calculate that every year, Brits spend £121 on lottery tickets – well, you do have to be in it to win it!

Looking closer to home, make sure you check in your purse or wallet for long-forgotten gift cards — it's estimated that £400m worth of gift cards went unused in the UK last year. Our data also shows that households spend an average of £42 a year on bottled water, meaning investing in a refillable water bottle could be kinder on both your pocket and the planet.
Finally, don't forget to switch those plug sockets off and avoid standby mode — £147 a year goes down the drain from so-called 'vampire devices'. 
Raisin UK co-founder and personal finance expert, Kevin Mountford, advises people to 'trim the fat' from their spending, if possible, rather than remove it altogether: "We all have busy lives and can struggle to find the time to review our finances. However, the ongoing high cost of living presents us with a really tough balancing act. The Raisin UK research shows that we can all operate a little smarter and in many cases reduce expenditure on things we don't use or need, or just look for better deals. Hopefully this means we can still maintain some enjoyment by putting a bit more money back into our pockets."
How it adds up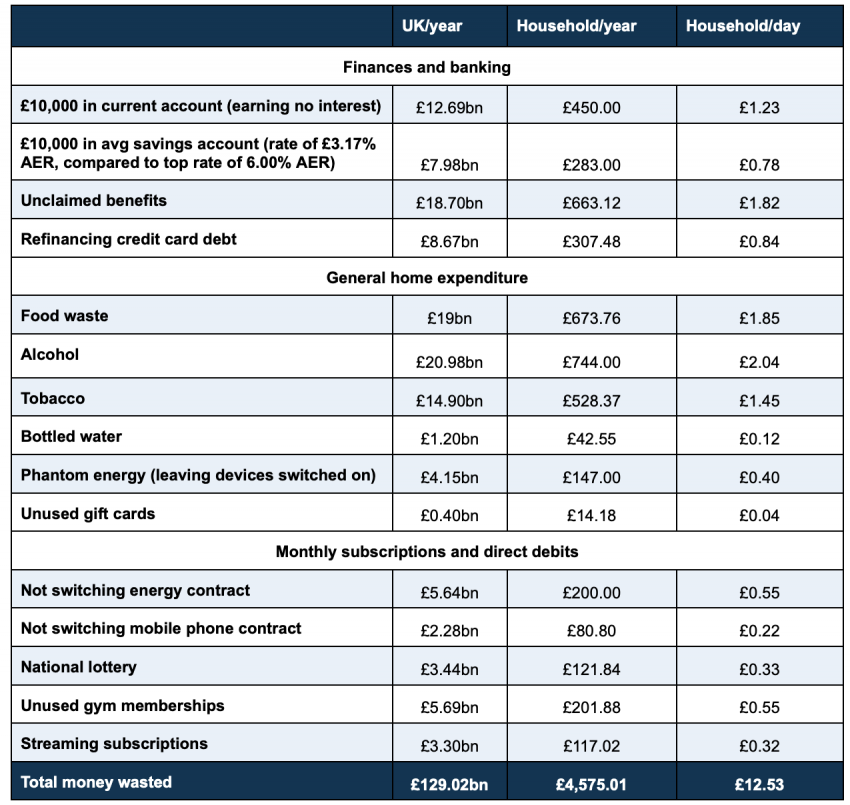 ---
Methodology
Raisin UK looked at 15 areas of spending and calculated the total cost per household per day and per year, based on census data. The census data and 15 areas of spending were based on the sources listed below.
Census data
Total number of UK households
The most-recent total number of British households (2022) is given as roughly 28.2 million according to figures from the Office for National Statistics.
Total number of UK inhabitants (15 and over)
Raisin UK used the most-recent Census data (2022) on the age distribution of Brits to deduce the percentage share of inhabitants 15 and up (82.6%). Extrapolated estimate figures from the Office for National Statistics put the current UK population at roughly 67.8 million, resulting in 56.7 million UK inhabitants 15 and over. 
Finance and Banking
Loss of interest (current accounts)
In a recent Financial Conduct Authority report, the Bank of England puts the estimated volume of non-interest bearing deposits at £250bn. This equals roughly £10,000 per household. If this money were to be invested in overnight savings accounts at an interest rate of 4.5%, this would earn the average household £450 a year in interest, or £12.69bn taking the UK at large.
Loss of interest (low-yield savings account)
An extra £10,000 per household kept in a low-yield savings account, with averages currently at 3.17%, shifted to a one-year term deposit at an interest rate of 6%, would earn households an extra £283 in interest.
Unclaimed benefits
In May 2023, Policy in Practice published a new analysis, estimating that £18.7bn pounds in benefits, for which people and households would be eligible, go unclaimed each year. This equals an average of £663 per household.
Credit card debt
The Money Charity Statistics Dashboard currently reports a total of £66.7bn in UK credit card debt. Debt Free Advice puts the average interest rate on credit card debt at 22%. With personal loans currently at average interest rates of roughly 9%, refinancing could bring £8.67bn in relief for Brits, or over £300 per household.
Monthly subscriptions and direct debits
Unused gym memberships
In 2019, Fridge Raiders carried out a survey amongst the UK population, finding that roughly £4bn is wasted each year. With monthly membership fees currently £10 higher than just 4 years ago, this figure will now have grown to £5.69bn, or just over £200 for the average household. 
Lotteries
The National Lottery is part of the fabric of British society. The company reports that, for every pound spent, roughly 57p is paid out in the form of winnings. The 2022/23 annual report puts the 'losses' of lottery players at £3.44bn, or £121 per household. 
Streaming subscriptions
Streaming services have heralded a new era of unprecedented convenience in media consumption. But do we really need Netflix, HBO+, Disney+, Amazon Prime, and Apple TV? The streaming market is massive, at an estimated £3.3bn, or roughly a tenner per average household per month. Surely, we could cut back on some of those subscriptions.
Not switching energy/gas suppliers
Switching can be a hassle, but it's usually worth your time and effort, especially if you haven't switched in a while. Better Housing Better Health reports government estimates that the average household can expect to save £200 a year by switching. That adds up to £5.6bn a year nationwide.
Not switching mobile plans
A recent which.com survey revealed that the 'Big Four' providers charge customers an average of £22.37 a month for their mobile plans. That's significantly more than the £19.01 bill other customers pay. If these users were all to switch, the average Brit could save roughly £40 a year, adding up to £2.28bn at the national level.
General home expenditure
Food waste
Food waste is a massive societal issue. In 2015, the UK ranked among the 'worst offenders' in the EU, of which it was then still part. In spite of reduction efforts, the Waste and Resources Action Programme puts the value of food waste at more than £19bn a year. That's £673 per household per year.
Unused gift cards
A 2023 Gitnux Marketdata Report puts the total value of unused gift cards over the course of five years at £2bn, or £400m annually. The total money wasted per household adds up to over £14 per year.
Bottled water
Virtually everyone in the UK has access to excellent tap water. Nevertheless, the bottled water market continues to thrive. Whether this is down to convenience, or unjustified fears over tap water quality: the tab, or tap, ran up to around £1.2bn a year in 2022.
Power waste
Phantom power, as e.g. guzzled by devices in standby, adds an average of £147 to the average annual UK household power bill, according to a study by British Gas as reported by the BBC. This would amount to £4.2bn a year when looking at the UK at large.
Tobacco
Smoking is an unhealthy habit, but tobacco consumption and revenues remain high. A Market Report puts the revenue from tobacco products in the UK at £14.9bn in 2021, with a more or less steady outlook. This is equivalent to £528 per household.
Alcohol
Like most developed countries, Brits love their drink. NimbleFins dove into the official statistics and discovered that the average UK household spends round about £744 on alcohol each year — "£484 for consumption at home and £260 on drinks out of the house". This adds up to a total tab just short of £21bn.