The last 12 months have been unpredictable, to say the least. With high streets being forced to shut – then hurriedly reopen under strict conditions – then shut again, it's been an incredibly challenging time for the economy. Research has suggested that almost half of small businesses had to seek funding to survive throughout the pandemic, but were confident they could bounce back.
While it might have helped many of us as consumers to save money, businesses have had to quickly adapt or risk going under.
We've looked at which local economy is best suited to cope with Covid-related challenges, based on the number of large businesses, business survival rate, birth and death rates, rate of people in employment, amount of the population receiving income support and the average government spend per head.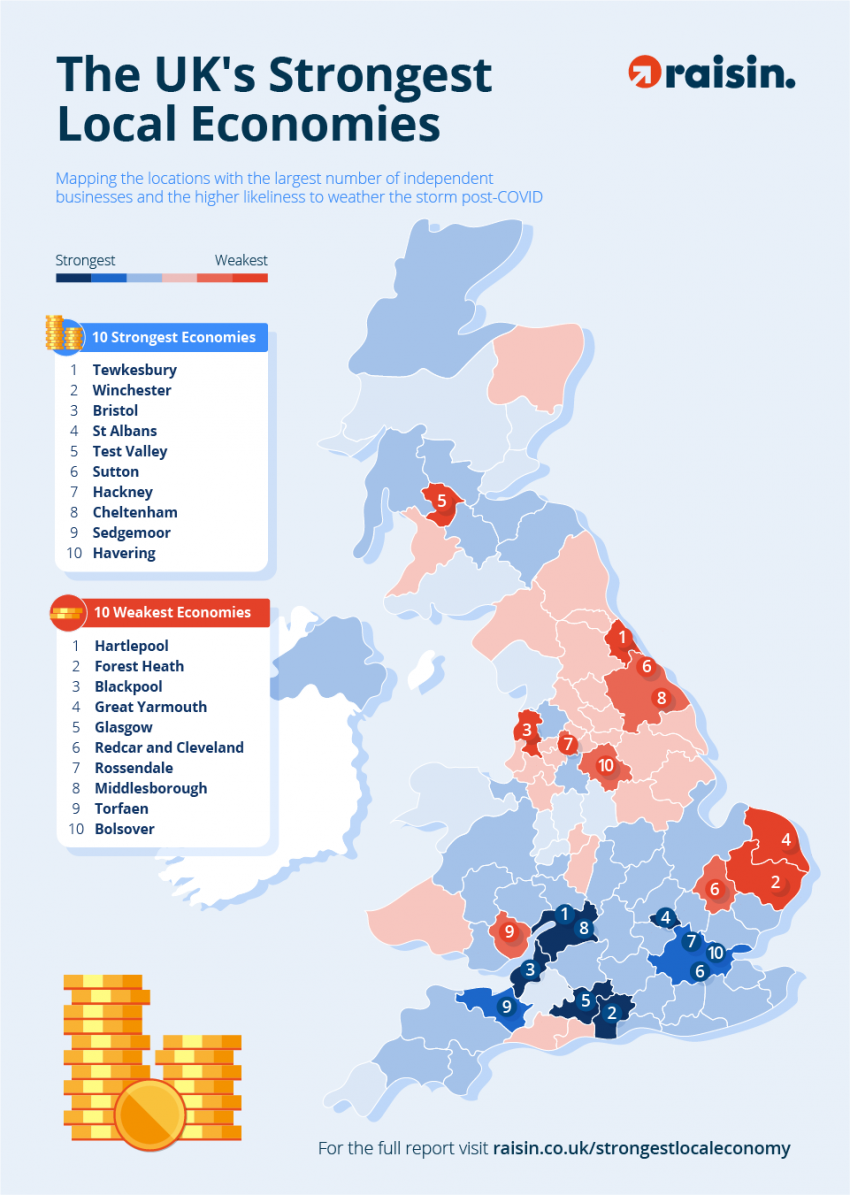 Medieval market town is the UK's strongest economy
A thriving medieval market town has proven itself to be just as successful in modern times. Tewkesbury, a beautiful town in the heart of Gloucestershire, comes out on top based on a mix of birth rates, employability and business prosperity. Of all its residents, 79.9% are in work, while local businesses have seen a 10% rise in growth since 2015.
Cornwall is also a region that's thriving, with a 29% uplift of growth in its population and businesses booming by 4.5% over the past five years.
Of the economies expected to bounce back from the pandemic the most, there's a clear divide between North and South. The strongest economy in the North West was Ribble Valley, which has enjoyed a 12.5% growth of large businesses and has a 45.8% survival rate of new businesses – but it still sits outside the top twenty strongest local economies in the UK.
The top 10 strongest economies
| | | |
| --- | --- | --- |
| Ranking | Area | Total Index Score |
| 1 | Tewkesbury, Gloucestershire | 1906 |
| 2 | Winchester, Hampshire | 1876 |
| 3 | Bristol | 1848 |
| 4 | St. Albans, Hertfordshire | 1831 |
| 5 | Test Valley, Hampshire | 1827 |
| 6 | Sutton, London | 1798 |
| 7 | Hackney, London | 1780 |
| 8 | Cheltenham, Gloucestershire | 1779 |
| 9 | Sedgemoor, Somerset | 1767 |
| 10 | Havering, London | 1764 |
Hartlepool is a town in trouble
At the other end of our index, it's bad news for Hartlepool. Sitting along the North Sea, the Durham town has seen a steady rate of decline in large businesses, with 4% fewer now than there were in 2015. Birth rates aren't that high there either, and with thriving cities such as Newcastle, Sunderland and Middlesborough on its doorstep, it's clear Hartlepool isn't being flooded with investment.
There are also problems for Blackpool, where a lack of seaside tourism has seen businesses suffer and trade grind to a halt. Great Yarmouth is another seaside resort to take the full force of Covid lockdowns, with 8% fewer large businesses in operation than there were six years ago.
The 10 weakest UK economies
| | | |
| --- | --- | --- |
| Ranking | Area | Total Index Score |
| 1 | Hartlepool, County Durham | 520 |
| 2 | Forest Heath, Suffolk | 545 |
| 3 | Blackpool, Lancashire | 581 |
| 4 | Great Yarmouth, Norfolk | 653 |
| 5 | Glasgow, Lanarkshire | 662 |
| 6 | Redcar and Cleveland, North Yorkshire | 730 |
| 7 | Rossendale, Lancashire | 764 |
| 8 | Middlesbrough, North Yorkshire | 787 |
| 9 | Torfaen, Monmouthshire | 792 |
| 10 | Bolsover, Derbyshire | 815 |

The regions best set to survive
Our economy index includes the number of businesses based in a particular region, the growth of those businesses, and the percentage of locals in employment. This allows us to see which area of the UK stands the best chance of post-Covid recovery.
It's the Isles of Scilly that comes out on top, with businesses having a 66.7% chance of survival over the next five years. While the islands off the coast of Cornwall might not be an economic powerhouse, their businesses have been relatively untouched by the Covid outbreak, with only three cases recorded since September 2020. The rise in British 'staycations' may also see Cornwall's tourism trade boom as the lockdown eases in the UK later this year.
Whilst large businesses have only grown by 4.55% in Cornwall over the past five years, a huge 79.9% of the population is in employment, leaving only 4.8% claiming benefits.
In second place is another island group, this time the Shetlands. Just like the Isles of Scilly, the Shetland Islands' remote location has allowed it to carefully control the spread of Covid-19, giving them a business survival score of 60%.
Completing the top three is Torridge. The Devonshire district scored 54.2%, with its 270 large businesses seeing a 5% growth over the last year. Not bad, all things considered.
The West Midlands' population is on the up
Our index also looked at births and deaths. Tracking population can be a real indication of how successful a city is, with new births showing a prosperous young society, while higher death rates suggest an older population less likely to be working.
The West Midlands is certainly an area where population isn't a problem. Our top three regions for an increase in population were all based there, with Wyre Forest (200%), Bromsgrove (185%), Kettering (142%) and Redditch (131%) all seeing an increase in births throughout 2019.
At the other end of the scale, the North West saw a steady decline in its numbers. Rossendale (-60%), Bury (-37%) and Warrington (-21%) all saw their population fall, suggesting they're perceived to be less attractive areas for young families.
London has more people on benefits than the rest of the UK
While the capital city might be home to some billion-pound businesses, it's also home to more people receiving benefits than anywhere else in the UK. Over 7.7% of London's population receives monthly financial support from the government, which is more than North East England (7.3%), the North West (6.3%) and the West Midlands (5.7%).
Despite this, London's employment rate sits at 75.4%, showing the disparity between Londoner's in the city that is supposedly paved with gold.
The South West has the highest rate of employment: 79.9% of the population there are employed, despite the area seeing a 22% decrease in large businesses throughout 2019.
The West Midlands sees business booming
Not only is the population of The West Midlands increasing, so is their number of businesses. Throughout 2019, the number of companies there employing more than 10 people has gone up by an average of 5%, with Bromsgrove leading the way with a 44% surge.
London has also seen an impressive rise, with its boroughs coming together to see a growth of 7% throughout the capital – meaning boroughs such as Hackney and Sutton have some of the strongest local economies in the UK overall.
On the other hand, things aren't looking as good in Scotland. North of the border, there has only been a 2% business growth, with Aberdeen actually seeing a 12% decrease in large companies in operation.
Could you boost your personal economy?
Have you been pinching the pounds throughout lockdown? There could be a smarter way for you to save. With Raisin UK, you can compare competitive savings accounts, including fixed rate bonds, notice savings accounts and easy access accounts, to find the best solution for you.
Methodology 
Using multiple data sources from ONS and the Commons Library including:
Businesses 5 year survival rate
CPI index
Employment rate
Govt. spending per head
% of population
Birth & death rates
Growth of large businesses
We created an index to look at which British towns, cities and regions have a strong local economy and ability to bounce back from the COVID-19 pandemic.