The nationwide study revealed the most important things we should aim to achieve before hitting 50, according to over-50s, with going to Glastonbury festival at least once (6%), owning a sports car (9%), and penning a novel (7%) all on the list.
However, at number one was achieving and sustaining a happy marriage, chosen by 36% of those polled.
In fact, family and relationships featured highly in the list, with having children (25%), having grandchildren (19%), and reconnecting with old friends (15%) all included.
Finance was a key factor too in terms of life achievements, with having a sustainable retirement plan in place (28%), reaching your savings goals (15%), owning your dream home (21%) and saving enough for a bucket list (17%) all scoring highly.
And travel was important, with experiencing a luxury holiday (2%), visiting Niagara Falls (13%), driving across America on Route 66 (9%) and going on a safari (8%) also making the cut.
Other achievements that featured on the list included finding love for gardening (15%), learning how to say 'no' (29%), finally being happy with your body (22%) and reading more than 100 books (13%).
There was good news for those worried about reaching the big 50, as 70% of the 1,000 over-50s polled said they were delighted to reach the half-century mark, and the same number claim that "life begins at 50", not 40.
The study, by Raisin UK Savings Marketplace, also revealed that four out of five of those polled admitted their priorities have changed since they turned 50.
In terms of what has shifted, two-thirds of them say they are wiser, 45% say they are now more comfortable in their own skin, 44% say they now appreciate the need for "me-time" and 41% say they don't sweat the small stuff.
When it comes to what pearls of wisdom they'd pass down to their younger selves, top of the list was "look after your health" (60%), followed by "save every month" (53%) and start saving for a pension (50%).
"This research proves how much we can achieve by the time we reach 50 but also how much we can prepare," says Kevin Mountford, co-founder of Raisin UK, who commissioned the research. "Starting to think practically about your financial future is one of the easiest ways to help you achieve your dream goals by the time you reach 50.
"Make your savings work as hard as they can by regularly shopping around for the best deals on rates – and don't be afraid to split your savings into pots and lock them away to earn you more valuable interest. At Raisin we've helped over 230,000 customers, across Europe, earn more interest on their savings by helping them search, save and manage from one convenient account."
The study found that the main thing that holds over 50s Brits back from living their best lives is cash, with 45% saying not having enough money stops them doing all they want.
Yet more than four in 10 (41%) claim it's a lack of energy that stops them doing everything they'd like to, while 35% say health problems get in the way of their aspirations.
And ageism is perceived to be a problem for some, with almost one in twenty (4%) blaming the number of wrinkles they have on their lack of success in their later years.
The study found that a huge 94% of over 50s agree with the phrase "you're only as young as you feel".
Regionally, Belfast is the city which has ticked off the most from their list with 62%, more than twice as many items as people in Newcastle who have only completed 27% of their list.
50 things to do before you're 50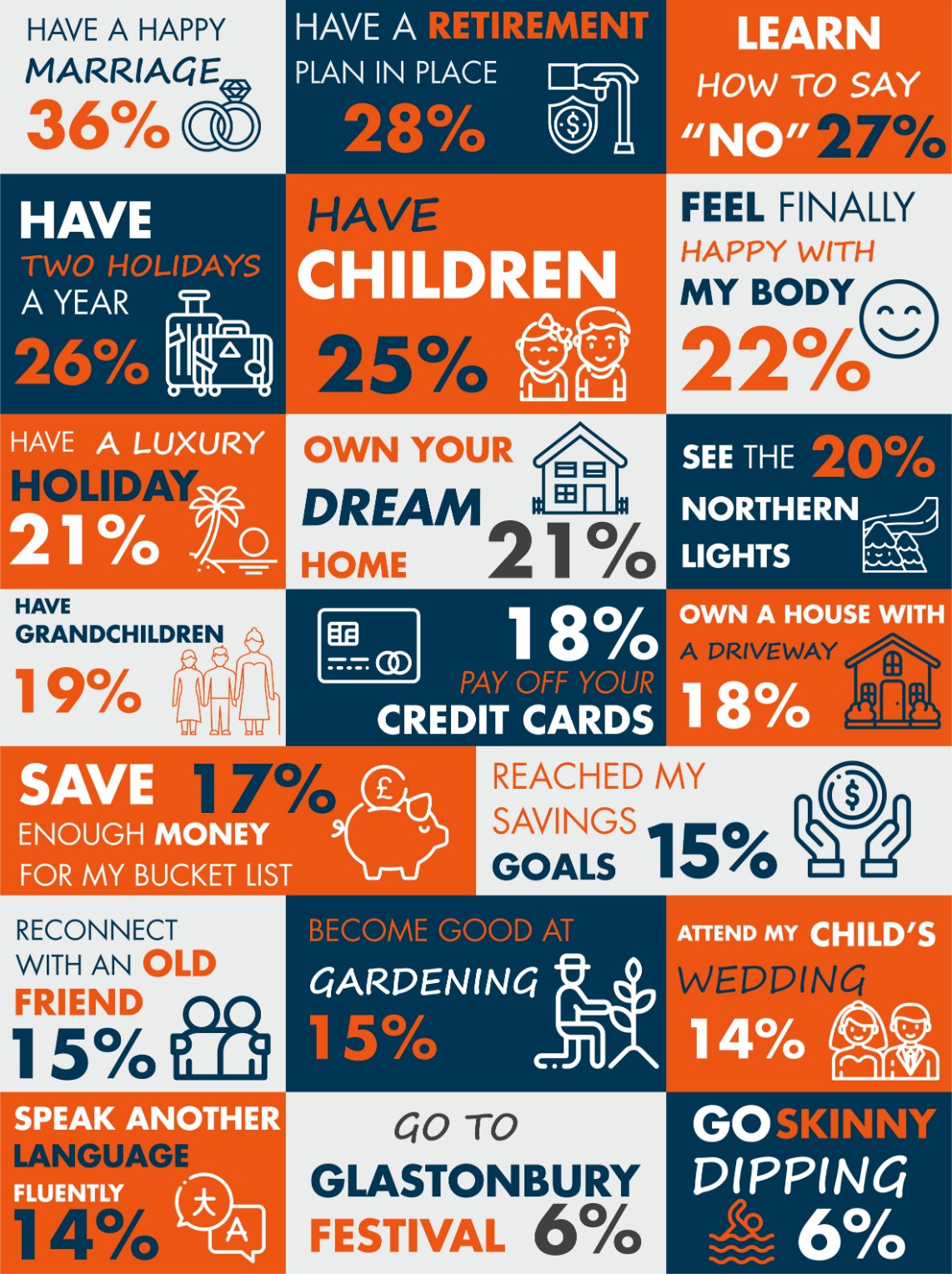 Have a happy marriage – 36%
Have a retirement plan in place – 28%
Learn how to say "No" – 27%
Have two holidays a year – 26%
Have children – 25%
Feel finally happy with my body – 22%
Have a luxury holiday – 21%
Own your dream home – 21%
See the Northern Lights – 20%
Have grandchildren -19%
Pay off your credit cards – 18%
Own a house with a driveway – 18%
Save enough money for my bucket list – 17%
Reached my savings goals – 15%
Reconnect with an old friend – 15%
Become good at gardening – 15%
Attend my child's wedding – 14%
Speak another language fluently – 14%
Learn to love your own company – 13%
Read more than 100 books – 13%
Make a million pounds – 13%
See Niagara Falls – 13%
Being able to forgive someone who upset you – 12%
Watch a sunrise – 12%
Live abroad for a year – 11%
Fly first class – 11%
Swim with dolphins – 10%
Own my own company – 9%
Be in your dream career – 9%
Own a sports car – 9%
Drive across America on Route 66 – 9%
Go on a safari – 8%
Learn to play an instrument – 8%
Walk along the Great Wall of China – 8%
Volunteer for a charity – 7%
Own at least an acre of land – 7%
Pen a novel – 7%
Walk my daughter down the aisle – 7%
Party until dawn – 7%
Have a huge birthday party – 6%
Have a walk-in wardrobe – 6%
Visit a vineyard – 6%
Go to Glastonbury festival – 6%
Go skinny dipping – 6%
Look up an ex – 5%
Eat at a Michelin star restaurant – 5%
Own a four-wheel-drive – 5%
Do something that scares you witless – 5%
Write a love letter to someone – 4%
Smoke cannabis in Amsterdam – 4%