Claim up to £50 for opening your first savings account (terms apply) ›
Wedding on a budget - Planning Tips
There's no getting around it, weddings are expensive and costs can get overwhelming. With wedding costs a staggering 3,000% higher than they were in the 1950s*, many couples in the UK are now planning their weddings on a budget, and they're still having an amazing day. On this page, you'll find out how to plan for a wedding on a budget, get wedding budget tips and understand how you can best maximise your wedding savings.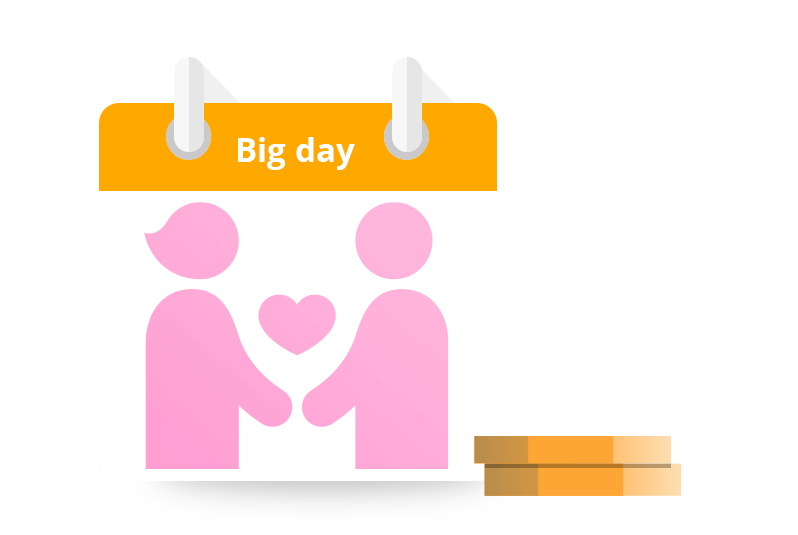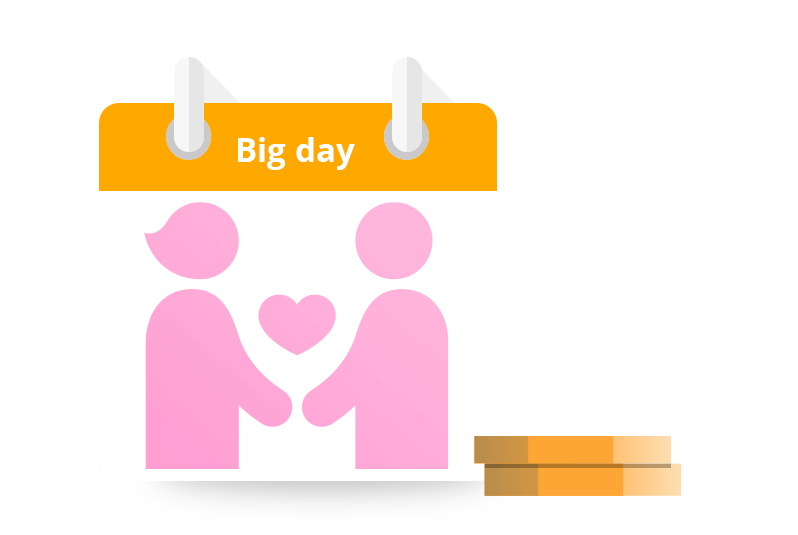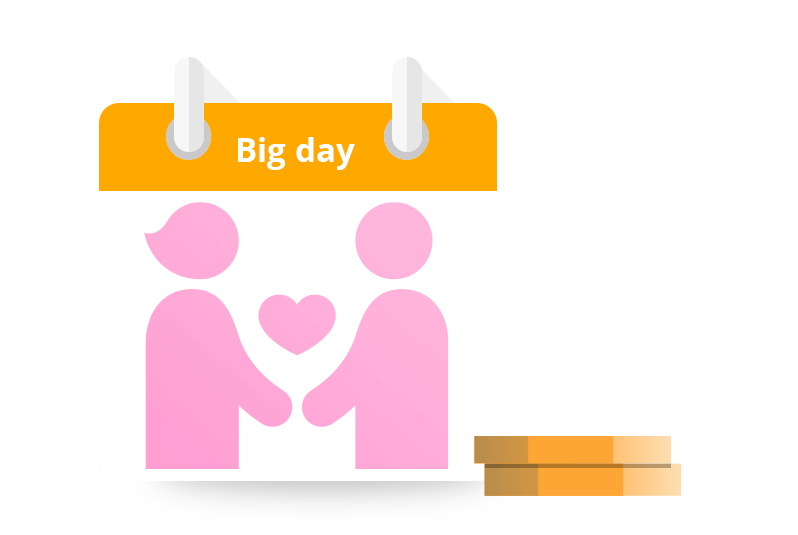 How do I plan a wedding on a budget?
While the average cost of a wedding in the UK in 2020 might be £17,000**, there are plenty of ways you can reduce costs if you're on a tight budget. 
A good first step is to agree on the kind of wedding you want, and bear in mind that keeping it simple generally means that you'll save money. Rather than thinking about the finer details at this point, consider what you want to do and what your priorities are for your wedding day (beyond getting married).
Once you've decided on the kind of wedding you want, set your budget. List everything you'll need to pay for and how much each aspect of your wedding might cost, so you have a total cost. Once you have your total wedding cost, you need to do what many people find to be the hardest part of planning their wedding; you need to work out how much you can spend. This should include how much you already have saved, and how much you'll be able to save up to your wedding day. If your family is making a financial contribution to your special day, include that, too. 
Once you know how much your wedding might cost and how much you'll be able to spend, you'll then know where you need to cut costs and make savings. It's a good idea to put your list in order of priority so you know you'll be spending your money on the things that mean the most to you, while saving money on the things that might be less important.
7 quick wedding budget tips
1. Choose an unconventional day or season for your wedding
The biggest cost of most weddings is the venue, but if you're prepared to get married out of season or on a weekday, you might find that venue costs start to drop. 
2. Double-check that everything's included
When you've chosen your venue, make sure that everything you'll need on the day is included in the cost, so you don't get any unexpected bills. It's not unheard of to be charged extra for things like cake knives, crockery and linen. It's important to ask your venue as many questions as possible, no matter how small or obvious the answer may seem. You could end up saving a lot of money.
3. Look for cheaper venues
The good news is that there are now a lot of different types of wedding venues to choose from and many are good value, especially if you can keep your guest list down. Look for a venue that hosts simple celebrations with basic food and drink. Your day will still be very special.
4. DIY invitations, RSVPs, table plans and cards
Planning a wedding on a budget means you'll probably have to do some DIY. Making your own wedding invites, RSVPs, table plans and table cards can save you a substantial amount of money. You could also hand out your invites rather than mailing them, and email wedding invites are becoming increasingly popular, too.
5. Include a contingency in your budget
When you're planning your wedding budget, it's a good idea to include a 5-10% contingency so that you'll be able to cover any unexpected costs.
6. Open a wedding savings account
Organising your finances is one of the best things you can do if you're planning a wedding on a budget. Opening a savings account that's dedicated to your wedding will mean you're less likely to be tempted to spend your funds, and you'll also earn interest, so you've got that little bit extra in your budget.
7. Compare, compare, compare
It's not just important to compare savings accounts. Comparing costs for everything you'll be buying, from venues and cakes to photographers and honeymoon travel companies, will help you find the best budget-saving options.
How can I maximise my wedding savings?
If you're saving for a wedding, you might consider opening a wedding savings account so you can earn interest on your savings. Depending on the amount of time you have to save before your wedding day, it's worth comparing different types of savings accounts so you can get the most from your savings. 
If you have one or two years to save and a lump sum to deposit, the competitive interest rates you'd earn with a fixed rate bond might be right for you. If you have less time to save but still want to maximise your savings, you might consider a notice account.
Open a savings account for your wedding
If you want to quickly and easily open a savings account for your wedding, register for a Raisin UK Account and log in apply today. It's free to register for a Raisin UK Account, and we don't charge you for opening savings accounts with competitive interest rates from a range of banks.
*https://www.weddingideasmag.com/wedding-costs-decades/
**https://weddingplanner.co.uk/wedding-inspiration/the-costs-of-a-wedding-in-2020#:~:text=The%20average%20cost%20(excl%20honeymoon,around%20the%20%C2%A317%2C000%20mark
Save time, make money
After you register for your one single login, you can conveniently view, purchase and manage savings
accounts with competitive interest rates in one place; the Raisin UK savings marketplace. Start
making money on your savings today.